About Chaitra Amavasya Rituals And Their Significance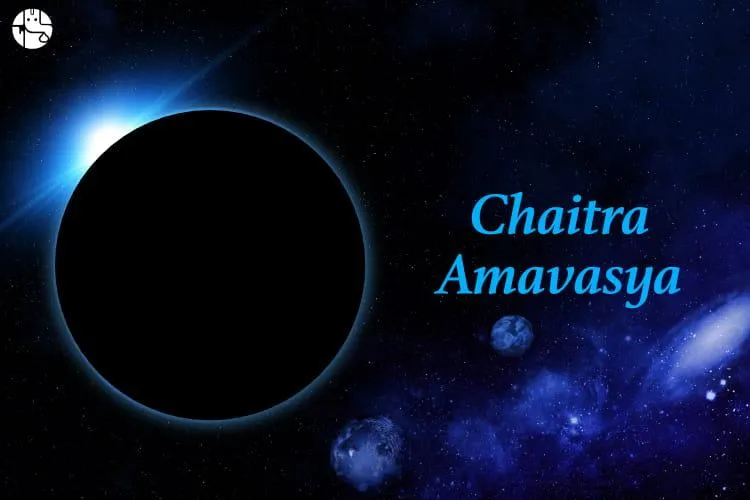 In Indian culture, many festivals and vrats are associated with Amavasya. The day and night of Amavasya hold great significance for Hindus. Chaitra Amavasya is the first and the most important Amavasya of the Hindu calendar which starts with the month of Chaitra. Also, the 9 Day Chaitra Navratri begins from the very next day of Chaitra Amavasya i.e from Pratipada tithi of Chaitra month. Chaitra Amavasya is also known as Phalgun Amavasya as per the Gujarati calendar. The day following Chaitra Amavasya is very important for Telugu, Kannada and Marathi people as well because it is celebrated as new year i.e Ugadi or Gudi Padwa.
---
Important dates and timings for Chaitra Amavasya 2023
Amavasya Tithi Begins – 01:50 AM, on March 21, 2023
Amavasya Tithi Ends – 10:55 PM, on Match 21, 2023
---
Significance Of Chaitra Amavasya
Since Chaitra Amavasya is the first Amavasya of the year, it is considered very essential for making important decisions in life and for spiritual activities. Chaitra Amavasya can help to remove suffering and negativities from life. On the day of Chaitra Amavasya, Lord Vishnu is worshipped by Hindus. Chaitra Amavasya is considered to be an auspicious event for a holy dip in the Ganga. It is said that a holy dip on Chaitra Amavasya removes the sins of the individuals and helps them to get the blessings of Lord Vishnu. Chaitra Amavasya is also an important day to perform the Shradh rituals for the deceased soul. It helps to remove pitru dosha and gain the blessings of ancestors. Facing never-ending troubles? Pitrudosha may be the reason for the pain and agony in your life. Know if your horoscope is afflicted by Pitru Dosha. Ask our expert astrologers!
---
Rituals For Chaitra Amavasya
It is believed that one should fast on Chaitra Amavasya for the salvation of forefathers. The rituals performed on this day are as follows:
Wake early in the morning and take a bath in a sacred river, lake or pond. Offer water to the Sun.
Observe fast and donate things to the poor, for the peaceful afterlife of forefathers.
Feed the poor or Brahmin after Pitru Shradh.
Light a mustard oil lamp under the Peepal tree. Offer blue flowers, black sesame seeds and mustard oil to Lord Shani.
For personalized rituals for Chaitra Amavasya, consult our expert astrologers!
---
Conclusion:
The one who worships Lord Vishnu on this day receives immense benefits and gets relieved from the sins. They are blessed with health, wealth and prosperity.
To Get Your Personalized Solutions, Talk To An Astrologer Now!
With Ganesha's Grace,
GaneshaSpeaks.com
---
---
Get 100% Cashback On First Consultation