Celebrate Gudi Padwa Festival, Invite Good Luck And Prosperity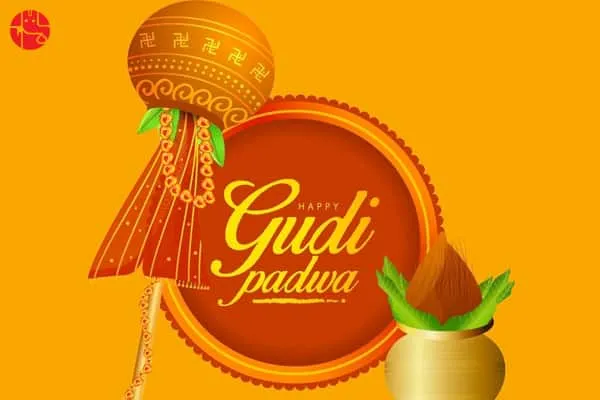 It's time to be in full spirits and to turn up with your best self, as Gudi Padwa is round the corner. Yes, we are talking about Gudi Padwa or the Marathi New Year, the vibrant festival that falls on Chaitra Shukla Pratipadā, the first day of the bright fortnight of the Hindu lunar month of Chaitra. According to the Vedic texts, it is considered the most powerful day of the year as Lord Brahmā created the Universe. Gudi Padwa or Marathi New Year is celebrated with an auspicious oil bath ceremony, followed by decorating the main door with a garland, performing rituals and hoisting flag known as Gudi. Come on, let's rock Gudi Padwa 2023 with enthusiasm, colour, and devotion.
---
Gudi Padwa Festival 2023 Date & Muhurat
Gudi Padwa 2023 falls on 23rd March. Gudi Padwa falls around 15 days after Holi. There is no specific Shubh Muhurat for Gudi Padwa. The entire day is auspicious and lucky.
Vikram Samvat begins on the Chaitra Shukla Pratipada, the first day of the full moon fortnight, which, in Marathi, is known as "Padwa". If Chaitra Shukla Pratipada exists on the sunrises of two consecutive days, the first day is considered for Gudi Padwa celebration.
---
Gudi Padwa Rituals:
– Prepare a rangoli at the entrance due to Gudi Padwa festival
– Hoist the flag "Gudi" and worship it within 5 to 10 minutes after the sunrise.
– Hoist the Gudi at the main entrance of your home. Place the Gudi on the right side of your main door, which is considered the active part of your soul.
– Place yellow silk adornments along with red flowers and mango tree twigs on the Gudi.
– Mark the auspicious Swastika with turmeric powder and vermillion.
– Light candles during Gudi Padwa festival.
– On the next day, drink the water from the copper pot, kept the bamboo sticks at the top of the Gudi. Since it is believed that the inner side of the Sun gets extremely active on the day of Gudi Padwa-Marathi New Year. The Divine consciousness, transmitted through frequencies at the time of sunrise, lasts long for the day. It is stored in the cells of an individual and is consumed later.
– Serve water to the needy people.
You can surge in your profession in 2023. Buy the 2023 Career Report to make it happen.
---
Spiritual And Cultural Significance Of Gudi Padwa Or Marathi New Year
– It's believed that our universe has been created by Lord Brahma on the auspicious occasion of Gudi Padwa celebration, that indicates the end of winter and the arrival of summer.
– The day is considered the victorious day in Ancient India when Satavahana King Gautamiputra Satakarni defeated the Sakas.
– Some people in Maharashtra also hoist the flag to commemorate the victories of Chhatrapati Shivaji.
– Gudi Padwa-Marathi New Year also marks the end of the winter crop season and the beginning of the summer harvest season. Farmers in especially in Maharashtra plough their agricultural lands on this auspicious day – of Gudi Padwa-Marathi New Year to ensure a good harvest throughout the year.
– Gudi Padwa Celebration-Marathi New Year Benefits
– It is believed that the hoisting of Gudi brings good luck and prosperity in life.
– It is believed that neem leaves on Gudi Padwa celebration-Marathi New Year purifies the blood and increases immunity. It brings natural freshness and nourishes your skin thereby enhancing healthy glow.
– You can invigorate your masculine consciousness with clean and pure soul.
– Gudi Padwa celebration on Marathi New Year is considered very auspicious to initiate new venture.
– If you do any new work or welcome any new furniture to your home or invest in a particular fund during Gudi Padwa celebration, it's believed that it will give you positive results.
– It's a great day for the farmers as Gudi Padwa celebration is considered the harvest festival. So, if you are planning on buying new seasonal fruits and vegetables, just go for it. It will give you a good health.
– Read this article – Pradosh Vrat 2023 – Dates, Benefits, Rituals and Story
---
Gudi Padwa Celebration:
– First, apply ayurvedic oil bath or massage therapy to nourish and revitalize your body in the early morning.
– Next, hoist the flag or 'Gudi' at the entrance of your home during the sunrise.
– Now, worship the hoisted flag just after the sunrise.
– Then, clean every nook and corner of your home.
– Prepare beautiful Rangoli with bright colours such as red, orange and yellow. Gudi Padwa celebration will not be complete without a vibrant Rangoli decoration.
– Decorate your entrance, living room and bathroom with Neem leaves and marigold flowers.
– Get dressed up in Gudi Padwa special attire. For women, wear Nauvari-a traditional a nine-yard Marathi style saree tucked at the back whereas men should wear Kurta Pajama along with a saffron turban during the auspicious Gudi Padwa celebration.
– Gather your family and relatives on the occasion of Gudi Padwa-Marathi New Year.
– Greet "Wish you a Happy Gudi Padwa 2023" or "Best Wishes for Gudi Padwa" to everyone.
– Bring Gudi Padwa special Marathi New Year Almanac or Panchang.
– Take Gudi Padwa special Neem leaves as Prasad.
– Prepare delicacies like Gudi Padwa special Sabudana Vada, Gudi Padwa special Shrikhand, Gudi Padwa special Puran Poli and Gudi Padwa special Kheer.
– Perform Gudi Padwa special Lezim dance on Gudi Padwa 2023-Marathi New Year.
We, at Ganeshaspeaks, wish you a Happy Gudi Padwa 2023.
With Ganesha's Grace,
GaneshaSpeaks.com
To Get Your Personalised Solutions! Talk To Astrologer Now.
---
---
Get 100% Cashback On First Consultation