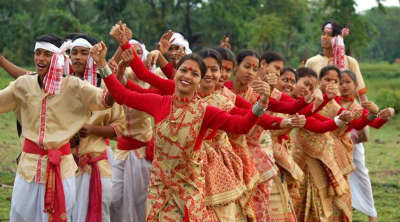 Bihu
Bihu is a set of three different cultural festivals of Assam and is celebrated by the Assamese around the world every year. These three varied types of Bihu are the most important festivals of Assam, celebrated with fun and abundance by all Assamese irrespetive of their caste, creed and belief.
The three types of Bihu are "Bohag Bihu" or Rongali Bihu, "Kongali Bihu" and "Bhogali Bihu" or Magh Bihu or Maghar Domahi. These are celebrated in the months of, middle April, middle October and middle January respectively. The Bihus have been celebrated in Assam since ancient times. Each Bihu coincides with a distinctive phase in the farming calendar. Bhogali Bihu comes from the word "Bhog" that is eating and enjoyment. Magh Bihu(Bihu of enjoyment) is a harvest festival, marking the end of harvesting season in the month of Maagha(January–February).
The celebrations of Magh Bihu commence on the last day of the month known as 'Pooh', usually the 29th of Pooh, which also coinsides with 14th of January in the Gregorian calender.. It is only one day of Magh Bihu in modern times, whereas, earlier, the festival would last for the whole month of Magh, and hence the name Magh Bihu. The night before is known as 'Uruka', 28th of the month Pooh, when people gather around a bonfire, cook dinner, and make merry.
Since the granaries are full, there is a lot of feasting during this period. On the eve of the day called uruka, young men are found making makeshift cottages called Bhelaghar, prferably near a river. They also make the Meji which is a very important part of the night. During the night, festive food is prepared and there is a communtiy feast everywhere along with, exchange of sweets and greetings. The night is spent singing Bihu Songs, beating dhols and playing games. Boys are seen roaming about and stealing firewood and vegetables for fun.
On the day of Bihu everyone get together, after taking bath and the main Meji is burned. People gather around it and throw Pithas or rice cakes and betel nuts in it. They offer their prayers to Agni Dev and mark the end of the harvesting period. Prasad is then distributed by women amongst all those who are present. Thereafter they come back home carrying pieces of half burnt firewood for being thrown among fruit trees for favourable results. All the trees in the compound are tied to bamboo strips or paddy stems.
Different types of sports like Buffalo Fight, Cock Fight, Egg Fight, Nitingale Fight etc.. are held throughout the day. On this day the youngsters are seen giving the elders Gamosa which is a handwoven rectangular piece of white cloth with primarily a red border on three sides and red woven motifs on the fourth.
We can thus say that Bihu is in a way, a secular festival which brings in humanity, peace and brotherhood among the various castes and religions.
May this festival of zeal and verve fill your life with lots of energy and enthusiasm; and may it help you bring happiness and prosperity to you and your loved ones. Heartiest Bihu greetings… from Ganesha!