12 worship methods of 12 zodiac signs on Basant Panchami 2023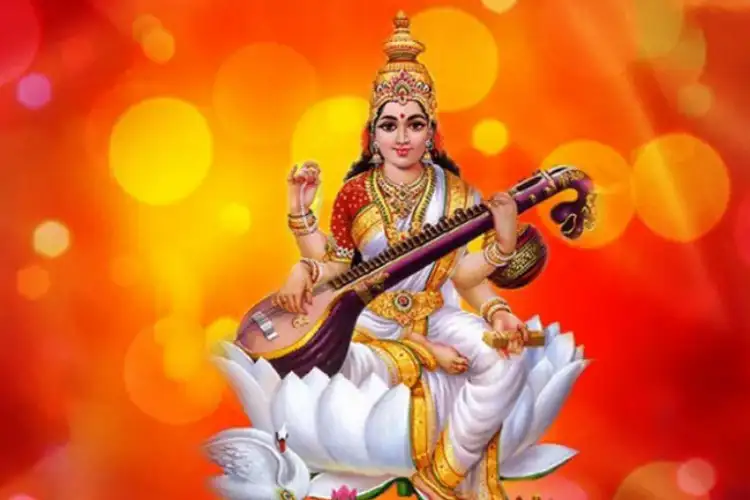 Basant Panchami (Basant Panchami 2023) is also celebrated as the birth anniversary of Saraswati, the goddess of knowledge and wisdom. Just as the day of Diwali is most important for the worship of Goddess Lakshmi, the goddess of wealth. The festival of Navratri is significant for Durga, the goddess of power. In the same way, the festival of Basant Panchami (Basant Panchami 2023) is celebrated for the worship of Saraswati, the goddess of knowledge, music, arts, science and crafts. Vasant Panchami (Vasant Panchami 2023) is celebrated on the fifth day of Shukla Paksha of the month of Magha according to the Hindu calendar. Know on which day Basant Panchami will be this year…
When is Basant Panchami 2023 (Kab hai Basant Panchami 2023)
Basant Panchami 2023 – January 25, 2023, day – Wednesday
Basant Panchami Saraswati Puja Muhurat – After 12:34 PM
Special Muhurta for Basant Panchami 2023 Puja – 12.41 pm
Panchami Tithi Begins – January 25, 2023 at 12:34 PM
Panchami Tithi ends – January 26, 2023 at 10:28 am
What to do on Basant Panchami 2023
On this auspicious occasion of Basant Panchami, worship Goddess Saraswati at home.
There is also a tradition of flying kites on this day in many parts of the country.
On the day of Basant Panchami, you should wear white or yellow clothes.
Offering mustard or marigold flowers during the worship of Mother Saraswati will be beneficial.
This is the best day to start the education of children.
Saraswati Puja must be done on this auspicious day in schools and colleges.
This would be the best day for starting an educational institution or any new industry.
You can also do tarpan for your ancestors on the auspicious occasion of Basant Panchami. This opens the door to success.
(What are your chances of success in 2023, get your FREE Kundli Report for 2023)
According to the zodiac, know what to do on Basant Panchami (Basant Panchami 2023) to please the mother?
According to mythology, astrology also plays an important role in pleasing any deity. In order to please the goddess of wisdom and knowledge on Basant Panchami (Vasant Panchami 2023), many measures have been mentioned in astrology. According to astrology, if one worships Mother Saraswati, then all the problems related to knowledge, art, music and speech go away. Know according to your zodiac know the ways to please Mother Saraswati
Aries
Due to the playfulness of the mind of the people of Aries, lack of concentration is often seen in them. If you want to get rid of this problem and want to please Goddess Saraswati on this Basant Panchami 2023 and seek her blessings, then offer a red colored pen at the feet of Mother Goddess. This will maintain your concentration. Also you should recite Saraswati Kavach.
Taurus
It is often seen in Taurus people that they face problems in understanding and remembering things for a longer period of time, so if you want to improve yourself, then this Vasant Panchami 2023, worship Mother Goddess in the color of green. Donate a pen. Apart from this, after offering yellow rice, apply white sandalwood to the idol of the mother.
Gemini
According to astrology, the mind of the people of Gemini zodiac is very sharp, but they are not able to put it in one place. That's why they are always in a state of confusion regarding their own decisions. You should offer white or transparent pen to Saraswati Mata on this Basant Panchami 2023. Along with this, a garland of white flowers should be offered to the mother by chanting the Gayatri Mantra. This also removes the defects of the horoscope.
(Any special beneficial yoga or malefic dosha in your horoscope? Get your FREE horoscope report only here)
Cancer zodiac sign
Along with good intelligence, the combination of knowledge is also good in the people of Cancer. But, in the initial time, they do not get the right direction, due to which they have to face many problems. Offer a red colored pen to Saraswati this year on Basant Panchami 2023 for a better tomorrow. Along with chanting any Saraswati mantra, offer white colored flowers and sandalwood.
Leo sun sign
The people of Leo zodiac are very intelligent, but the responsibilities on their head are so much that they often lag behind. If you want your better tomorrow, then Vasant Panchami 2023 offer yellow colored pen to mother and distribute prasad among the poor by offering Kheer to Saraswati Devi.
Virgo sun sign
The people of Virgo zodiac also have excellent intelligence, and they also perform very well in the field of education. But, their inner self-confidence can sometimes prove to be fatal for them. That's why Basant Panchami 2023 to get control over your superstition, you should offer blue colored pen to Mother Saraswati and chant Gayatri Mantra after Saraswati yantra.
Libra
Librans easily get caught up in the world of glamour, and don't pay attention to other things while showing off. Due to such circumstances their education gets affected and their career comes to an end. To deal with this, their black colored or blue colored pen should be offered to Mother Saraswati on this Basant Panchami and after worshiping Mother Saraswati with complete rituals, yellow rice should be offered.
Scorpio
The problem with Scorpio people is that they want to perform well, they work hard for it, but everything turns against their hard work. That means even the work being done gets spoiled. These people are not capable of taking the right decision at the right time. To make their future better, these people should offer yellow pen to Maa Saraswati on Basant Panchami 2023. Along with this, chanting the mantras of Goddess Saraswati should be done by reciting Saraswati Kavach.
(What 2023 has brought for your zodiac sign, read horoscope 2023, click here)
Sagittarius
Sagittarius sign people have to face many problems in the initial phase of life. These people are deprived of desired education. Although very few become successful in making a career. To improve their future, they should offer a red colored pen to the mother. Also, on Basant Panchami 2023, after worshiping Saraswati, Lord Ganesha should also be worshiped and 5 girls should be donated yellow clothes.
Capricorn
The positive side of the people of Capricorn is that these people take the right decision at the right time. These people also perform well in competitions and education. But, in many cases they may have to face problems, they deviate from their goal. To focus on your goal this Vasant Panchami 2023 you should offer white or transparent pen to Mata Rani and chant white sandalwood beads will be extremely beneficial.
Aquarius
The intelligence of the people of Aquarius is very sharp, that's why they also become careless. The result of this carelessness is that these people fail to reach a high position. To get rid of this problem, you should present a green colored pen to Mother Saraswati on this Basant Panchami. Along with this, donating food grains to the poor will be very beneficial for you.
Pisces
Pisces people are very emotional. Sometimes they are also troubled by the thought of harming others or themselves. If you do not get such thoughts, then better times will come for you. You will also live peacefully and perform well everywhere. To prevent such thoughts from entering you, you should offer a white colored pen to Mata Rani on Vasant Panchami 2023. Along with this, there will be progress in your career as well.
(If you haven't been able to make the right career decision yet, talk to our expert astrologers once, get the correct analysis of your horoscope and easy solutions, first consultation with 100% cashback!)
With the blessings of Ganesha
Bhavesh N Pattani
ganeshaspeaks.com