Why do You need to Perform Saraswati Puja on Vasant Panchmi 2023?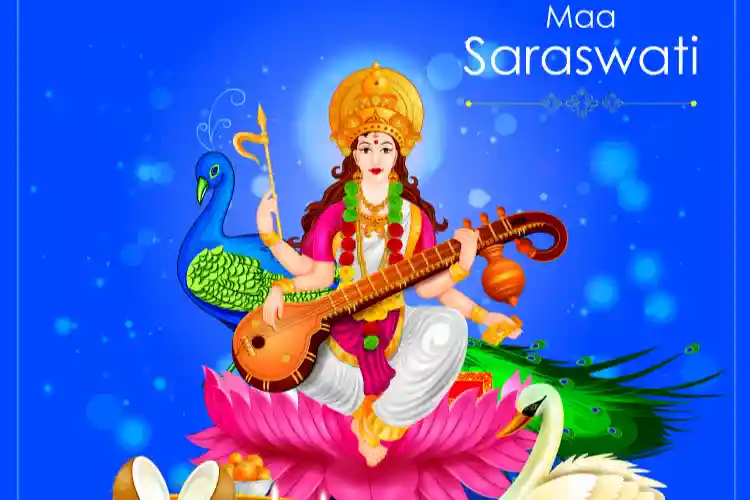 Vasant or Basant Panchmi is the 5th day of the Magha month as per the Hindu calendar. The festival usually occurs between February and March every year, and with that, the beautiful spring season begins. In fact, the name Vasant literally means 'Spring' in English, whereas Panchami means the 5th day. This explains the occurrence of Vasant Panchami on this particular day. So why do we celebrate Vasant Panchami and why such hype about it?
Well, you may know the love Hindus have for Saraswati Maa, and this festival is celebrated to perform rituals in her name. Moreover, the other Hindu festivals like Holi commence after this one, so people start preparing for the events to take place in advance. Cool isn't it!
Get your Puja performed online with the help of renowned Pandits and bring auspicious energies into your home, personal and professional life and that too with zero hassles!
---
Vasant Panchmi 2023 Date and Time
Purvahna Kaal is the time period between sunrise and noon and is said to determine the Muhurat of Vasant Panchmi. So the Panchmi tithi occurring during this Kaal marks the fest of Basant Panchmi. Because of this, Vasant Panchmi can also coincide with the tithi of Chaturthi. This year Vasant Panchami is falling on the 25th of January 2023, Wednesday.
Vasant Panchami Puja Muhurat: after 12:34 PM
Vasant Panchami Madhyahna Moment:
12:35 

PM
Panchami Tithi Begins:
12:34 

PM

 

on

 Jan 25, 2023
Panchami Tithi Ends:
10:28 

AM

 

on

 Jan 26, 2023
Unlock the secrets of your Janampatri and solve your problems with our expert astrologer's guidance to lead a prosperous year ahead.
---
Vasant Panchami And Saraswati Puja Significance
Spring is also regarded as the "King" of all seasons marked by the auspicious day of Basant Panchmi. In addition to this, it is the celebration of the agricultural fields beginning to ripen with beautiful mustard flowers. To make it a cheerful festival, people wear yellow clothes, consume yellow sweets, and adorn their homes. They also offer yellow flowers to the Goddess as yellow is believed to be her favourite colour.
Do You Know? There are 18 harvest festivals celebrated in India throughout the year and Vasant Panchami is one of them.
Saraswati Devi is the epitome of creative energy and is highly revered as the Goddess of wisdom, knowledge, learning, music, and art. In India, many people regard this day as a pious event for their children to start writing their first-ever letters or words. Many grown ups also begin their learning in a creative field.
On this day, devotees worship Goddess Saraswati to get her divine blessings of enormous knowledge and come out of lethargy and unawareness. Saraswati puja consists of a ritual wherein education is executed for children. It is also referred to as Vidyarambham or Aksharabhyasam, one of the key rituals of this fest. Most of the schools and colleges organise a puja on their premises to attain the Goddess grace. Vasant Panchmi is also regarded as the day of Abuja, a favourable time to begin all the auspicious tasks.
Didn't grab our 2023 Report yet? Don't miss the chance of dealing with problems beforehand, and bring happiness and abundance in life.
---
Performing Saraswati Puja At Home
The puja ritual starts by waking up early, cleaning your home, and taking a bath.
As the Goddess loves yellow colour, you can apply a paste of haldi (turmeric) and neem all over your body before going for the bath. You can wear yellow clothes or ones in the tone of yellow.
Then you need to set up an idol of Goddess Saraswati in your puja room or altar. For this, first place a fresh white or yellow cloth on a table or stool. Keep the idol in the centre. You should also place Lord Ganesha's statue along the Goddess's side.
As per the availability, keep your books, notebooks, music instruments or any creative piece close to the table or stool.
Adorn a plate using kumkum, haldi, rice, and flowers. Offer the same to both the deities. Light a diya and burn some incense sticks to offer prayers to the deities. With eyes closed and palms joined at the heart centre, recite the mantra for Saraswati Puja along with Aarti in the end.
After performing the rituals, distribute the prasadam among everyone.
To Get Your Personalised Solutions! Talk To The Best Astrologer Now.
With Ganesha's Grace,
The GaneshaSpeaks.com Team
Astrologers trained by Shri Bejan Daruwalla.
More Expert Astrologers
---
---
Get 100% Cashback On First Consultation