Importance of Aja Ekadashi: Story and How to Fast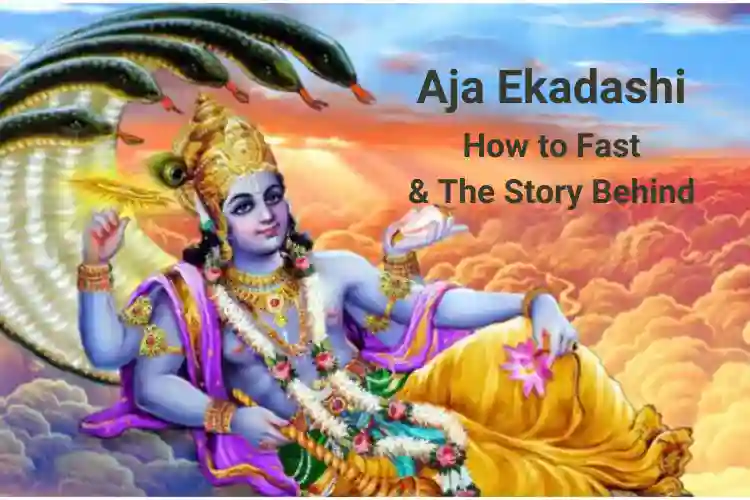 A major Ekadashi is coming our way in September. Aja Ekadashi will be celebrated on September 10, 2023. According to religious beliefs, all your desires are likley to be fulfilled by observing a fast on the day of Aja Ekadashi. Though Ekadashi will start on Sunday, September 10, 2023, according to the date of Udaya.
Ekadashi Tithi Begins – 07:17 PM on Sep 09, 2023
Ekadashi Tithi Ends – 09:28 PM on Sep 10, 2023
---
Things to Keep in Mind While Keeping a Fast on Aja Ekadashi
Lord Krishna has described the importance of Aja Ekadashi. According to him, one who observes the Ekadashi should take a vow of fasting in the morning. After taking a bath, one should worship Lord Vishnu and observe silence for a few minutes. Those familiar with the Ekadashi would also know how Tulsi Puja holds particular importance on this day. You can also book an Online Vishnu Puja, performed by our most experienced purohits.
Keep chanting the divine mantras of Lord Vishnu in your mind. Vishnu Sahasranama can also be recited. If you are unable to read or chant, you can listen to it. Perform the aarti of Lord Vishnu by mixing turmeric in ghee. Those who are observing fast should only eat fruits. Patients and pregnant women should not do fasting. You should also recite the Aja Ekadashi story. In the evening, after the aarti of Lord Vishnu, you may have prasad. On the second day, after donating the necessary items to the needy, you can break the fast.
---
What's the Story Behind Aja Ekadashi?
King Harishchandra believed in self-respect and principles of truth. He donated everything to sage Vishwamitra. Vishwamitra asked for 500 gold coins after that, which the King was unable to give. To repay Vishwamitra's debt, he started working in a crematorium.
One day his wife brought their son's dead body to the crematorium. But she did not have the money to perform the funeral. Harishchandra, performing his duty towards his employer, did not allow the body to be burnt. Harishchandra's wife tore her sari and paid the fee for the dead body. It was Ekadashi that day, and his family remained hungry for the whole day and kept chanting the name of Hari. Lord Vishnu was pleased with this fast of Harishchandra and his devotion to his duty. He gave Harish Chandra his kingdom back, along with his son.
Your Accurate Personalised Astrology Predictions Are Just A Call Away – Talk To Expert Astrologer Now!
With Ganesha's Grace,
Astrologers trained by Shri Bejan Daruwalla
The GaneshaSpeaks Team
---
---
Get 100% Cashback On First Consultation