All About Adhik Maas – The Extra Month In Hindu Calendar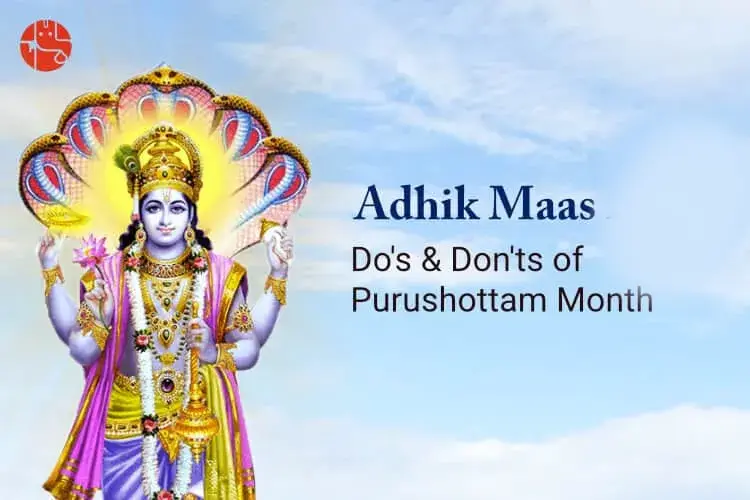 The festival season has started in India, and we have a different period approaching this month. The Hindu calendar works a bit differently and has an additional month in it, namely Adhik Maas. This particular month is believed to be unfavourable. Hence, every type of auspicious work is avoided during this month. This month is also referred to as 'Mal Maas' or 'Dhondyacha Mahina' among people of various communities. As auspicious activities are not done this time, people observe religious fasts and perform related rituals during Adhik Maas.
---
Adhik Maas 2023 Date
Adhik Maas commences after a cycle of 32.5 months approximately. It is believed that Lord Vishnu had named this month after his name. Hence, it is also known as Purushottam Maas or Purushottam month. Below are the dates for Adhik Maas 2023:
Adhik Maas Start Date: 18th of July, 2023, Tuesday
Adhik Maas End Date: 16th of August, 2023, Wednesday
Know About The Special Conjunction Of Adhik Maas And Shravan Maas in 2023
---
Benefits of Worshipping Lord Shiva and Vishnu in Adhik Maas 2023
Worshipping Lord Shiva and Lord Vishnu in Adhik Maas gives auspicious results. Lord Vishnu is the master of Adhik month and Lord Shiva is the master of Sawan month. In such a situation, worshipping in the month of Sawan gives blessings to both Lord Vishnu and Shiva.
Do you desire information regarding the Sawan mass in 2023 and Shiv Puja? Click Here.
---
Rituals Observed During Purushottam Month
Many religious rituals are performed by devotees throughout Purushottam month. These include: observing Vrat (fasting), narrating holy scriptures, chanting mantras, praying, conducting havan and related Puja Vidhi. Normally, Vrats of specific timelines such as weekly, half-day, full-day, fortnight, or a full month, are observed. You can observe the fast in different forms like taking only liquids or no liquids, consuming only fruits or vegetarian food, as per your tolerance. People say that those who accumulate Satkarma by doing the right deeds during this month triumph over their senses and come out completely from the cycle of life after life.
Purushottampuri is a village in Maharashtra which has a temple of Lord Purushottam. It is known to be a rare temple that is constructed using bricks and floats over water. Each time during Purushottam Maas, there is a fair arrangement where people in huge numbers gather from different places and seek the Lord's blessings.
---
Meaning And Significance Of Adhik Maas
As per Astrology, the Sun has its transitory movement in one star or zodiac sign each month. However, at the time of Purushottam month, it is motionless, and hence, Surya Sankranti does not occur during this period. This influences the motion of the Moon too, and the environment also goes through a change at this time. So, to stay away from the ill effects of these altering climatic conditions in terms of health, it is suggested to adhere to various promised devout observances and righteous deeds. Hence, Adhik Maas is an important month to be virtuous and avoid negative impacts.
During this month, devotees can observe fast, 'Avachit Bhojan', 'Nakta Bhojan' or take food only once. Those who are weak can hold one of the mentioned Vrats for 1 day during Adhik Maas. If you are unable to give donations/offerings during this period, you can give them during 'Shukla' and 'Krishna' time. This can be done on days such as Dwadashi, Chaturdashi, Krishna Ashtami, Navami, Poornima, Amavasya and on 'Vyatipat' and 'Vaidhriti' Yoga. You can follow the below rituals during this time:
Worship Purushottam Shri Krishna with puja Vidhi and do chantings of his name. Try to remain in continuous oneness with the Lord.
Eat the food as per the type of fast in silence. This way, your inner strength is enhanced. Having meals without talking helps to absolve one's sins.
Taking one holy bath in River Ganga, if possible, enables one to let go of sins.
Keeping a diya (lamp) lit for the entire month in your puja room deems auspicious for financial gains as it attracts Goddess Lakshmi.
If possible, you can visit a pilgrimage place to seek blessings during this time.
Donating betel leaves during Adhik month improves one's fate.
Worshipping and feeding a cow also deems favourable.
In case you are not able to follow these rituals, you can still seek blessings of God Purushottam this month by performing Vishnu Puja with the recitation of Vishnu Sahasranama online and boost wealth and prosperity in life. Our renowned Pandits will perform puja with Shodashopachara steps along with Vedic processes and hymns to appease Lord Vishnu in this inauspicious month.
---
What To Avoid During Adhik Maas?
One should avoid the initiation and ending of Kamya Karma. Marriages, Maha Daan, Apurva Devdarshan, Griha Arambh, Vastu Shanti, Sanyas Grahan, Nootanvrat Grahan Deeksha, sacred thread ceremonies, Chaul, Deva-Pratishtha, and others must be avoided during Purushottam month.
Talk To Expert Astrologers To Know More About Your Horoscope. 
---
What Can Be Done During Adhik Maas?
As you need to avoid certain things during Purushottam Maas, there are a few things that are allowed. Here is the list of it:
Normal household chores that are necessary can be done. Works without which you are unable to progress ahead may be continued.
General work such as Jwar Shanti, Parjanyeshti, and similar other things can also be done. Re-installation of an idol may be carried out.
Samskaras like Grahan Shraddh, Jaat Karma, Naam Karma, Anna Prashan, and others are allowed.
Shraddh associated with Manvadi and Yugadi can be conducted along with Teertha Shraddh, Darsha Shraddh, and Nitya Shraddh.
Perform Vishnu Puja With An Accurate Vedic Process At Your Convenience, Book Now
---
Ending Note
Following rituals and observing Vrats with utmost devotion can take away obstacles from one's path. Utilise this month to pay homage to Lord Purushottam and receive immense blessings in life.
With Ganesha's Grace,
GaneshaSpeaks.com
---
---
Get 100% Cashback On First Consultation