Will the Aish-Abhi knot remain intact?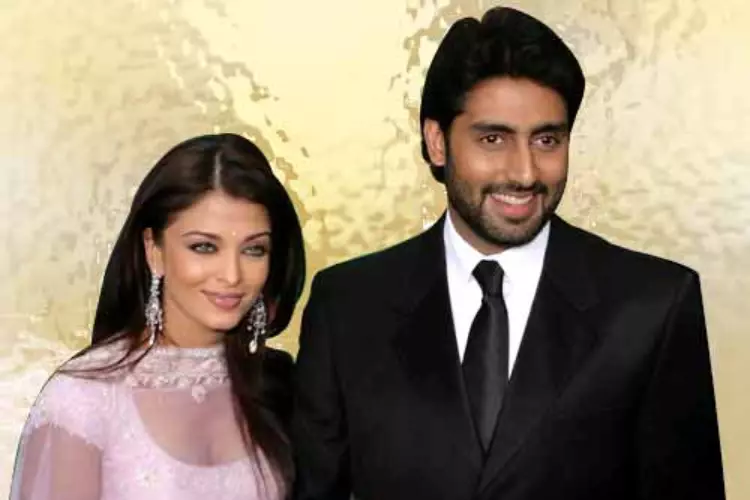 Lives of celebrities are always puzzled with a lot of questions. Bollywood couples, like their Hollywood counterparts, also facing differences and stress. Separation between two star celebrities has become very common in Bollywood too. Abhishek Bachchan and Aishwarya Rai make the hottest star couples in India and the questions in the minds of their fans are: will Aish and Abhi stay together or eventually go their separate ways like many others? If they remain together, would the marriage be trouble-free? Are they going to face ups and downs in married life or it will be a smooth sailing? Ganesha explains this with the help of Vedic and Western Astrology.
Sort Out Your Relationship Issues. Avail the Relationships Ask Question: Detailed Advice Report. 
---
Aishwarya Rai's horoscope
Aishwarya Rai Bachchan
Date of birth- November 01, 1973
Time of birth- 04 hours 05 min
Place of birth- Mangalore
Aishwarya Rai's horoscope
---
Abhishek Bachchan Surya Kundli
Abhishek Bachchan
Date of birth- February 05, 1976
Time of birth- Unknown
Place of birth- Bombay
Abhishek Bachchan Surya Kundli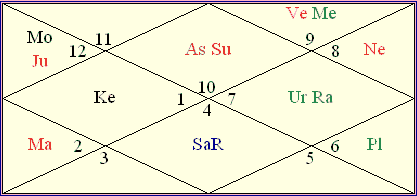 Venus the significator of love plays a key role in Aish-Abhi's charts
Ganesha observes that Aishwarya has Venus in Sagittarius posited with Rahu and Moon. Abhishek also has Venus in Sagittarius but it is posited with Mercury. Both having Venus in Sagittarius, seems very good and at the first glance the only problem that seems is Aishwarya's Rahu falling on Abhishek's Venus. However, studying in detail, Ganesha notes that Abhi's Mercury in Sagittarius controls Aishwarya's Rahu. As per Vedic Astrology principles, Mercury has full control over Rahu, hence it should not be considered inimical. Venus in Sagittarius indicates that both of them are very warmhearted and idealistic about love and related matters. They have great understanding about each other's needs in love. Both of them will be loyal to each other. Vedic Astrology confirms a strong emotional bond between the two.
---
Role of Eros and Psyche in Aishwarya and Abhishek's charts
Eros and Psyche are two Asteroids playing a major role in love and relationship matters. Eros is KaamDev or Cupid and Psyche is Rati as per Indian Mythology. Whenever either of these two planets is in mutual contact or at least a good contact in both male and female's horoscopes, the relationship is long lasting and the couple generally manages to overcome all the hurdles coming their way on the path of love.
Western Tropical planetary positions in Abhishek Bachchan's chart
Western Tropical Planetary Positions in Aishwarya Rai's chart
Ganesha observes that Abhi has Psyche in Gemini at 8 degrees and Aishwarya's Psyche is in Sagittarius at 6 degrees. This means that there is opposition between Psyche and we all know that 'Opposites attract'! No wonder Aish and Abhi were attracted to each other during the shooting of the movie Guru. Now see the magic of transit. When Aish and Abhi were attracted towards each other, transiting Jupiter was passing through Sagittarius (as per Western Astrology) over Aishwarya's Psyche and it was aspecting Abhishek's Psyche!! This is what brought them together and finally they got married. Considering these points, Ganesha feels that the couple is destined to be together.
---
Are Aish and Abhi likely to face ups and downs in their relationship?
Period starting from November 19, 2009 to June 06, 2011 is likely to be a little tough for the couple as transiting Rahu will be passing through Sagittarius over their Venus during that phase and Aishwarya will be experiencing Rahu Return. Moreover, Saturn will be transiting over Aishwarya's Ascendant during the same phase so she will have to deal with some odd situations on the personal front. Both of them will have to avoid differences during the said period. Besides this, no major upheavals are foreseen for the couple in the nearer future.
---
Any good news in the nearer future?
Aish will be under the influence of Jupiter return from December 2008. Jupiter will be transiting through her fifth house of progeny and related matters whereas Jupiter will be transiting over Abhishek's Natal Sun. Considering these points, Ganesha strongly feels that the couple may plan for a baby during the next year and may also be blessed with one.
Ganesha wishes good luck to Aish and Abhi.
With Ganesha's Grace,
Talk To Ganesha Expert Astrologers
GaneshaSpeaks.com
---
---
Get 100% Cashback On First Consultation