What is in store for Priyanka Chopra till her coming Birthday?
Introduction
After her classic performance in Fashion and her eye-popping jalwa in Dostana, it seems that Priyanka Chopra is riding high on the wheels of success, splashing her colors all around and painting the B-town wild. In the light of this, Ganesha predicts her fate till her coming birthday.
---
Astro Details
Date Of Birth – July 18, 1982
Place Of Birth – Jamshedpur (India)
Time Of Birth – Unknown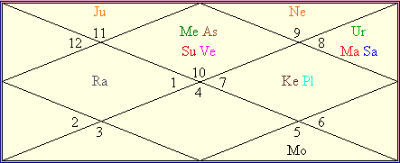 Notice that Guru, the lord of her ninth house of bhagya and luck, will be debilitated and will also be in conjunction with transiting Rahu.
Transiting Guru and Rahu are trine to the natal Shani, the lord of the seventh house of public acclaim and fame.
Transiting Guru and Rahu are trine to the natal Mangal, the lord of her tenth house of career.
Progressed Moon is in the tenth house of the natal chart and in the ninth house of the progressed chart.
Get Your Hand-written Janampatri By Our Experts.
---
Predictions
11 November 2008 – 15 December 2008,
A contract will be terminated, possibly.
22 November 2008 – 2 December 2008,
This is also a trying time for Priyanka but she may get a couple of good banner films during this period.
12 December 2008 – 28 December 2008,
Any films released during this period may do well at the box office. She will be praised for her work and will be acknowledged and acclaimed. Love issues will be very difficult to handle and she may face problems on the relationship front.
7 January 2009 – 17 January 2009,
The results of hard work and labor are up for fruition and plucking now. She seems to roll in fame and glory. She may win some award, or will at least be nominated for the same. She may even get some good and high profile assignments (hosting an event or something of such sort). The films released during this period will also do well.
17 January 2009 – 22 February 2009,
This is not an easy time. She may be hospitalized during this period. Her relationships will be tested and possibly be terminated. She may face criticism from some quarters, who are jealous of her professional success. She may give certain statements which may invite trouble.
25 January 2009 – 2 February 2009,
During this period her personal and professional relationships may take a noticeable turn for the better. She may get some new offers too which may be good for her in the long run. It could also be the time for taking some marriage decisions.
1 March 2009 – 24 March 2009,
This is one of the best periods for making contacts with people, both for social or professional reasons. Marriage decisions too are possible here or she may take some other important decision regarding her relations, if she does not decide on marriage. Again, the new releases during this period will bring her accolades.
17 March 2009 – 22 April 2009,
A tough time for her professionally. She may be pulled away from the glam and glory that she was basking in till now. This is not a favorable period for the release of any of her films.
8 April 2009 – 20 April 2009,
This is an excellent period for taking up and signing new projects. The films released during this period may get an above average success.
For Instant Solutions! Talk To an Astrologer Now.
Get Your Free Daily Horoscope Report
Wishing her good luck
With Ganesha's Grace,
Rikhav Khimasia
www.GaneshaSpeaks.com
---
---
Get 100% Cashback On First Consultation