The ARMY Can't Get Enough of BTS Members' Success & Stars Tell Us Why!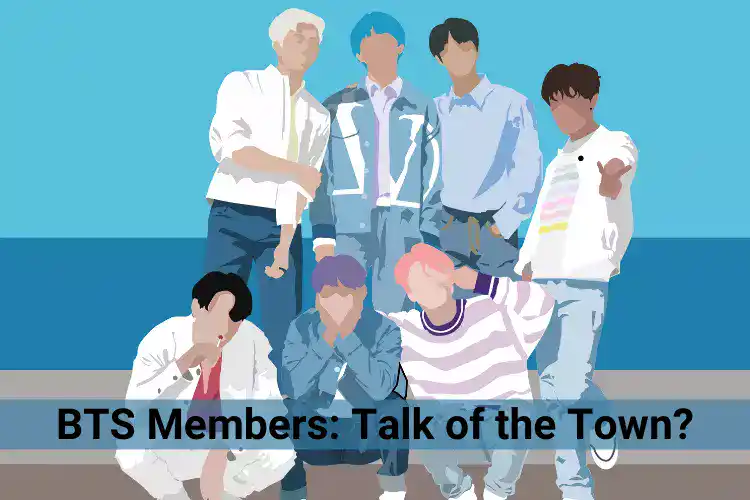 Korean boy group BTS has redefined the inclusion of Korean music on the world stage. They have become one of the most well-known boy bands in the world, with sold-out tours, seven studio albums, and more number-one hits than we can count. The boys have more than 50 million followers on social media. In 2020, the Bangtan Boys (BTS) became the first K-pop act to perform at the Grammys. They also featured in Lil Nas X's "Old Town Road" performance in Jan 2020 in Los Angeles, California.
Since the members are individually getting so much success, can we expect each one to become a rockstar on their own? Or will the band stick together?
K-pop band have been able to add not one but at least five more feathers to their hat. For instance, BTS recently collaborated with British rock band 'Coldplay' on their latest track, "My Universe".
From leading the 'Male K-pop Idol Rankings' for Oct 2021 to hitting a benchmark for a song to collaborating and getting their song featured in a famous movie franchise, they have come a long way.
---
Jung Ho-Seok: "I'm your hope. You're my hope. I'm…J-HOPE!"
J-hope joined YouTube's elite squad as his song recently crossed 300 million views and 10.5 million likes as of Oct 20, 2021. His solo song 'Chicken Noodle Soup' featuring Becky G, released in 2019, created some storm on the video platform. This has also made J-hope the third Korean artist among the Top 100 Most Liked Music Videos.
J-hope's horoscope suggests a favourable time for him from Nov 22, 2021, to May 2022. Due to the Jupiter transit, the growth chart looks like a mountain. The upward curve can be seen for a year or so, followed by a drop after that!
---
Park Ji-Min aka Jimin
BTS' Jimin also snagged up an achievement of his own as he has topped the list for the 33rd consecutive month in the Boy Group Member Brand Reputation Ranking. In Jimin's birth chart, five out of nine planets are favourable for him. The positive strength of these planets would make the K-pop idol gain fame internationally in the coming times. The stars also whispered about the name and fame Jimin would earn, but finances might not roll in so much.
The other members who topped the list besides Jimin in the Male K-pop Idol Brand Reputation Rankings for Oct 2021 are V and Jungkook!
---
Grabbing the Headlines with Friends: Kim Taehyung, aka V
Originally known as Kim Taehyung aka V, along with Jimin, sang a song called 'Friends' for BTS's album 'Map of Soul: 7', which was released in Feb 2020. It was reported that this song 'Friends' would feature as one of the soundtracks in Marvel's upcoming movie 'Eternals'. This is not the first time that a BTS member has been associated with a Marvel film. Back in 2015, RM (BTS's leader) had also worked on the single titled 'Fantastic' for the movie 'Fantastic Four'.
Overall, V's birth chart appears to be positive. Jupiter and Saturn are in their own house, which is an exceptional combo. In V's solar chart, Venus will transit in the first house when 'Eternals' releases on Nov 5, 2021, giving him the stardom from his song 'Friends'.
---
Jeon Jung-Kook: Golden Maknae
BTS' maknae, which literally translates to the youngest person in a group, Jungkook's solo song 'Still With You', celebrated 500 days since its release. Jungkook took social media by storm when he introduced his family member 'Bahm', a male Doberman, on the first episode of the reality series 'BTS In the Soop Season 2'. Yes, the band also has a South Korean reality show running. And ever since the appearance, the BTS ARMY has been going gaga over the show and Jungkook's pet, Bahm.
Being the youngest among the seven members is adored by all, but it looks like the stars may not have reached that conclusion yet. His birth chart is uneven, unstable, and unpredictable. The coming two years are pretty sound for him. But then the wheel of popularity may roll back down, bringing in the negative events one-by-one from Jan 20, 2023.
Now the question is, what does this mean for the band? Will the boys' solo hits affect the band and the ARMY?
We just hope we get to see BTS (all of them) together for long.
Name, fame, or controversy: What's in store for you? – Talk To an Expert Astrologer Now!
With Ganesha's Grace,
GaneshaSpeaks.com
---
---
Get 100% Cashback On First Consultation