Stars favour star studded Kambakkht Ishq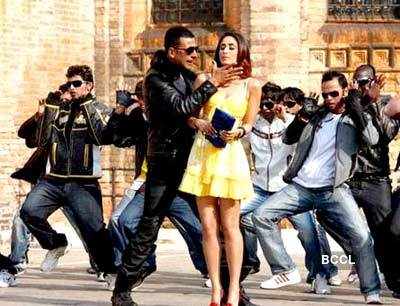 Akshay Kumar has had to fight many on-screen adversaries in the past, but the challenges posed in his forthcoming film Kambakkht Ishq are far more formidable. In the film, he first locks horns with Kareena Kapoor, nicknamed Barbie Doll by one of her designers for her svelte look in this film. Then he locks lips with her – an incredible 10 times.
The producers of the film have not only packed the film with a battery of Hollywood stars like Slyvester Stallone, Brandon Routh and Denise Richards, they have also made sure Akki gets to kiss one of them. No 'pints' for guessing that we're talking about Hollywood sex siren of the 90s, Denise Richards, who has set the tone by conferring Akki with the title of a 'good kisser'. However, Bebo is still mum on his kissing prowess!
With its release only a few days away, the film, which is based on the battle of sexes involving a shallow Hollywood stuntman and an ambitious model, has already generated a lot of curiosity in the film industry. It remains to be seen whether all this anticipation amounts to anything at the Box Office. Ganesha uses Numerology and Vedic Astrology System to predict the fate of this film.
Numerological Luck Factor
Ganesha notes that as per Chaldean Numerology, the sum of the film's name, Kambakkht Ishq, is 33, which is a master number and has a major influence of the natural benefic planet Jupiter. Now, the sum of the constituents of 33 is 6, which is ruled by Venus, significator of arts and is again a natural benefic planet. Thus, the numerological luck factor is very strong. This indicates the film should have remarkable success at the Box Office. The release time chart, however, will also play a vital role.
Kambakkht Ishq
Release date: 3rd July, 2009
Release Time Chart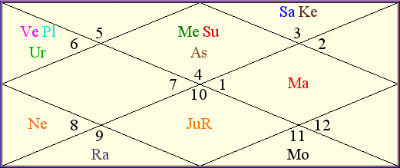 Kambakkht Ishq
Sarvashtakvarga of the Release Time Chart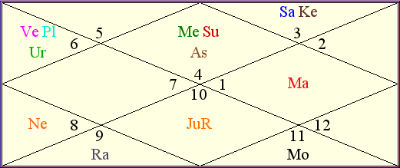 Astrological Points
Leo Ascendant with Saturn in the Ascendant
Venus is in the 10th House
Yogakarka Mars is swagruhi
Mercury is swagruhi in the 11th House of gains
Moon, Lord of the 12th House of losses, is weak due to debilitation
In Sarvashtakvarga, there are 30 auspicious bindus in the House of gains, whereas House of Karma i.e., 10th House, contains 26 auspicious bindus
In Sarvashtakvarga, 12th House of losses contains only 20 auspicious bindus
Astrological Prediction
Kambakkht Ishq may have better than average start with some houseful boards in northern and western territories.
Venus's position and Sarvashtakvarga both spell success. Ganesha also predicts that producers of this film will rake in a lot of moolah.They will not only recover good sum but will also be able to run this film in different show timings at different locations and territories because of Saturn's position in the ascendant.
As the title suggests, the film has love as its theme, with swagruhi Venus in the 10th House of karma. However, it may also have interesting action sequences because Mars is also occupying its own sign in the release time chart.
In short, Ganesha promises Box Office success for Kambakkht Ishq.
Good luck and may Lord Ganesha bless the cast and crew of Kambakkht Ishq.
With Ganesha's Grace,
Bhavesh N. Pattni
www.GaneshaSpeaks.com