Shuddh Desi Romance

Shuddh Desi Romance, a rom-com directed by Maneesh Sharma of the Band Baaja Baaraat fame, is going to hit the silver-screen on September 6th, 2013. It is a saga of love, attraction and commitment, and the defining feature of this film is its setting in the 'desi heartland' of India. It somehow signals the arrival of the small town India, long lost in the glitz and glamour of the dazzling metros. Featuring Sushant Singh Rajput, Parineeti Chopra and débutante Vaani Kapoor in leading roles, Shuddh Desi Romance is being released under the prestigious Yash Raj Films banner. Ganesha analyses the fortunes of this film and reveals whether this rom-com will be able to make the cut in the box office. Read on to know more about its fortunes.....



Shuddh Desi Romance Release time chart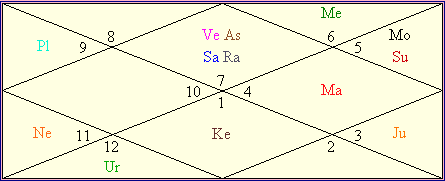 Astrological observations
Shuddh Desi Romance will be releasing with a Libra Ascendant.
Venus will be Swagruhi in Libra with Rahu and exalted Saturn.
Mars will be debilitated, thus weak in the 10th House. However, the Lord of the 10th House Moon is placed in the 11th House with Swagruhi Sun, which is an added advantage and it is new-moon!
Fifth House of performance's Lord Saturn is exalted in the Ascendant but is placed with Rahu and Venus.
Mercury the Bhagya Bhuvan Lord is exalted in the 12th House.
Astrological predictions
Considering all the astrological points, Ganesha expects the film Shuddh Desi Romance to have a considerably good opening in India and overseas. However, the scope of opening to full houses in all the major pockets is less.
The performances of the lead actors will be good, and they would manage to justify their characters well; audience would them.
Music and cinematography of the movie will also be very good, as Venus and both the luminaries are very well placed.
As per Sarvashtakvarga, there are more Auspicious Bindus in the 11th House of gains as compared to 10th House of success, so film is likely to recover the cost and as well earn decent profit over it too.
Though the film Shuddh Desi Romance is not a block-buster material, its songs shall certainly become popular and shall rule the charts for the coming few weeks.
Movie's first week's business and the first weekend's business will be good.

Ganesha wishes good luck to the cast and crew of the movie Shuddh Desi Romance.

Ganesha's Grace,
Bhavesh N. Pattni
The GaneshaSpeaks Team