Shraddha Kapoor All Set to Lure The Audience to The Small Screen With Naagin Trilogy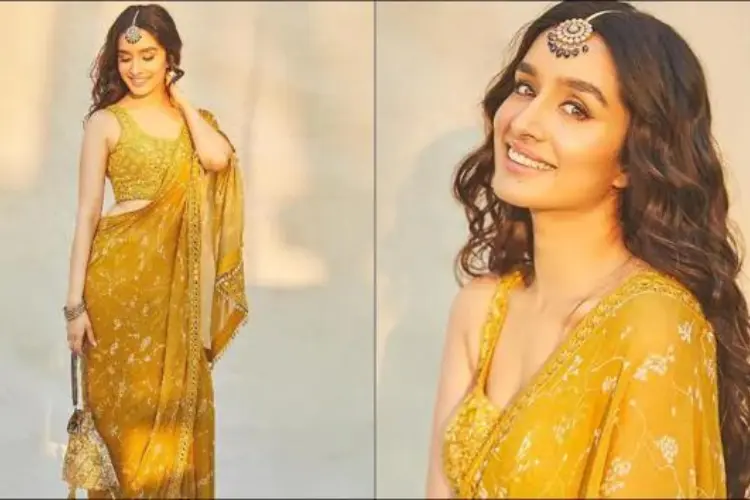 A little sheer, a little fun-loving, a ton hot, Shraddha Kapoor turned up the warmth in Bollywood with her full-fledged arrival in early 2013. Shraddha, who accomplished popularity after her promising young lady next door performance in Aashiqui 2, is known for her witty personality and jolly nature.
At 16 years old, Shraddha Kapoor dismissed a film offered by Salman Khan, as she needed to focus on her schooling and become a psychologist. The entertainer is additionally a learned singer, as her maternal grandfather, the cousin of singing legend Lata Mangeshkar, and her mom are old-time vocalists. The entertainer made her singing presentation in 2014 with the mainstream melody Galliyan from her film Ek Villain. Even though her first film Luv Ka The End didn't work in the cinematic world, her presentation was valued by experts. Hence, Shraddha Kapoor was offered the lead female job in Aurangzeb as a piece of her arrangement with Yash Raj Films. Notwithstanding, she endorsed Vishesh Films' Aashiqui 2 considering all things, alongside these lines dropping the three-film contract with YRF.
The 33-year-old entertainer, who has been important for persuasive motion pictures like Ek Villain, Rock On 2, Street Dancer 3D, Haider and Stree, lives with her folks – Shakti Shivangi Kapoor – and sibling, Sidharth Kapoor.
Don't Miss to Check out what Abhishek Bachchan's stars tell about his success.
---
About Shraddha Kapoor
Date of Birth: 3rd March 1987
Birth Time: 06:00 pm
Place of Birth: Mumbai (Maharashtra)
Shraddha Kapoor
---
Shraddha Kapoor's Kundli - Things that Matter The Most!
According to Shraddha's Surya Kundali, the Lagna house is of Aquarius. Lord of the ascendant house, Saturn is present in the 10th house in Mercury's Nakshatra. Also, Mars aspects Saturn. Meanwhile, the lord of the 3rd house shows that the 'Ek Villain' actress has achieved a milestone in Bollywood due to her hard work. The conjunction of Sun and Mercury in Shatabhisha Nakshatra inspires her to boost self-confidence while improving her social behaviour.
On the other end, Saturn from the 10th house is aspecting Venus. As the morning star is in the 11th house from the position of Moon, it helps to get favourable results in her acting career. It may help her to form the image of a successful actress. The conjunction of Moon and Rahu helps her to be ambitious. On the other hand, Jupiter and Moon (Gaj Kesari Yoga) conjunction enable her to strengthen the economic structure and achieve gains.
Ever wondered why you are feeling low on some days of the week while some days it's just over-inflation of energy? Well, the heavenly bodies play a crucial role in making or breaking your mood. In Shraddha's horoscope, Mars placed in the 3rd house, represents that she is likely to stay active in her work and maintain good fitness. Ketu posited in the 8th house in Hasta Nakshatra provides intuition power and helps her to discover spirituality in life. Following planetary analysis, it may not be wrong to say that her hard work can allow her to be the celebrated face worldwide.
Currently, the Sun and Venus transiting in Aquarius are passing over the natal Sun and Mercury. Mars and Rahu are transiting in the Taurus sign from the 4th house. Moon is passing through Libra sign from the 9th house on Shraddha's birthday. While Ketu is passing over the lord of the 1st house, Saturn placed in the 10th house. Mercury, Saturn, and Jupiter are moving over the natal Venus in the 12th house.
Find out how planets influence your progress in 2023 from FREE 2023 Horoscope Readings!
---
Shraddha Kapoor Horoscope Prediction 2021: First Collaboration With Ranbir Kapoor
As per the analysis of all planets, Shraddha will collaborate with Ranbir Kapoor for the first time. It may be interesting to watch the Kapoor duo with their paramount acting skills. In 2021, until 6th April 2021, Jupiter will remain in Capricorn sign. Known for the remarkable shifts, Jupiter will join Capricorn yet again from 14th September 2021 to 20th November 2021. Awe, Jupiter in Capricorn is transiting over Venus placed in the 12th house. While in the remaining period, Jupiter will be in the last air sign Aquarius. Yeah, Jupiter is entering the Aquarius zodiac sign for the first time after 13 years on 6th April, 2021 and will remain there until 14th September 2021. Also, it will complete a retrograde and progressive cycle in Capricorn on 20th November, and will enter Aquarius once again from 20th November 2021 to 14th April 2022. During the transit period of Jupiter in Aquarius, it will pass over the lord of the 7th house, Sun. However, transiting Jupiter will aspect the 7th house giving favourable outcomes to Saaho actress. Transiting Ketu in Scorpio is passing over Saturn may create small issues in her life, but it will also help her to come out of these troubles.
Planetary transits in 2023 can bring many transformations to your career and business. Explore all imminent events from your Personalised Career Report!
---
Shraddha Kapoor's Health & Fitness Status in 2021
After Reviewing Shraddha's Surya Kundali and the position of planets, it can be said that Shraddha will continue to maintain good health in 2021. However, Ketu transiting in the 10th house is passing over the lord of the 1st house, Saturn, indicating some minor health issues like common cold, throat infection, or fever due to the change in climate.
The 6th and the 8th house is aspected by Jupiter transiting in Opposite, Capricorn, till 6th April 2021 and from 14th September 2021 to 20th November 2021. But from 6th April 2021 to 14th September 2021 and from 20th November 2021 to 14th April 2022 Jupiter will be in Aquarius, passing over the lord of the 7th house, Sun. As the Sun is the provider of fitness and the lord of the 8th house, Mercury is also in the ascendant house. So, due to the blessings of transiting Jupiter of Capricorn and Aquarius, the actress will be able to maintain good health in 2021.
A stable financial growth, bumpy ride, or a quick success? How will your financial position be in the coming year? Get a Detailed Life Report now!
---
Shraddha Kapoor in Naagin Trilogy - Will It Add Flare To Her Success Story?
According to the Surya Kundali analysis and the positions of planets, Shraddha will develop her successful image at the box office. So the planetary influences will remain favourable for Nagin Trilogy also. Hence, the movie is likely to blast box office collection, adding one more Superhit in her filmography. Also, it will help her to earn immense fame. On Shraddha's birthday, Jupiter present in Capricorn is passing over the lord of 9th house, Venus. Whereas Jupiter transiting in the Aquarius sign will be passing through the lord of the 7th house, Sun. Here, Jupiter aspects the 7th and 9th house show that Shraddha is likely to earn name and fame. For the upcoming release of the Nagin trilogy, this combination will remain favourable. From 6th April 2021 to 14th September 2021 and from 20th November 2021 to 14th April 2022, the transit of Jupiter brings a suitable time for the actress to get married. Hence, there is a chance that Shraddha may tie a knot.
All in all, 2021 is supposed to be a jolly year for Shraddha Kapoor if she plays her cards right. The heavenly bodies are in her favour this year. She needs to stay calibrated throughout 2021, and success may be awarded to her like a crown.
Want to Lead a Celebrity Life? Consult Our Top Astrologers Now!
With Ganesha's Grace,
Astrologers trained by Shri Bejan Daruwalla
The GaneshaSpeaks Team
---
---
Get 100% Cashback On First Consultation