Sanjay Dutt Horoscope: The Year Ahead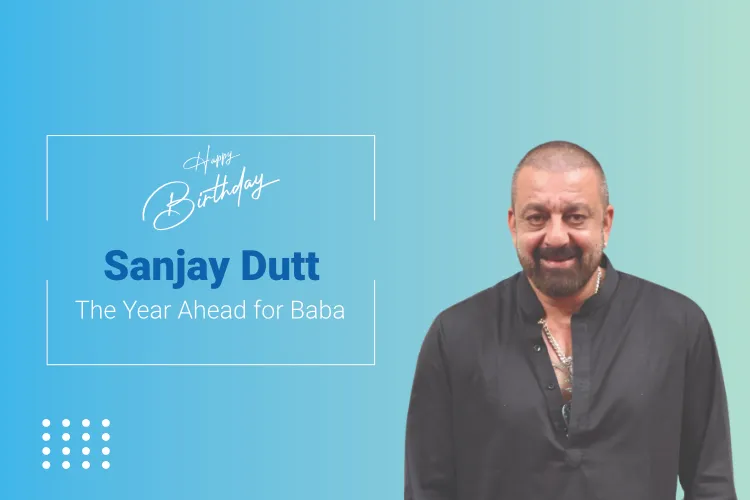 One of the most dashing actors and Munna Bhai of Bollywood is none other than Sanjay Dutt. Starting his career from Rocky, his acting performances were better in every film like Jeete Hai Shaan Se, Illaka, Saajan, Khalnayak, Vastav and Munnabhai. The role of Kanchaa portrayed by him in 'Agneepath' shows how well he can transform himself from good to bad guy with his acting ability. He also went through some of the toughest times in his personal life where he faced troubles. He overcame them all the way and is still working in films.
So, what makes him such a versatile actor in Bollywood?- What is the reason for his style in his speech, walk and dancing as per astrology? Let's discuss it with Sanjay Dutt Horoscope.
---
Sanjay Dutt Horoscope by Date of Birth
Sanjay Dutta Date of Birth: July 29, 1959.
Time of Birth: Unknown.
Place of Birth: Mumbai.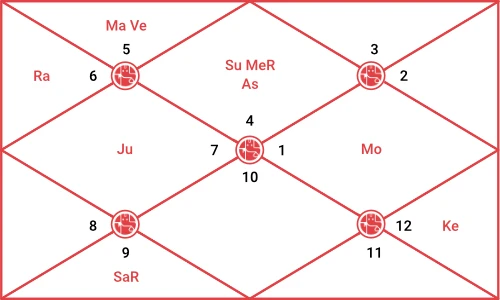 As per Sanjay Dutt horoscope, he is born as Sun in Cancer, which makes him a tenacious and empathic person. Cancer Sun blessed him with intuitive power as well. Sanjay Dutt zodiac sign is Taurus and the exalted Moon aspected by Rahu gives him mimicking ability which is one of the most important reasons for his versatility and we are not surprised by his roles in movies. Sanjay Dutt horoscope has the auspicious Budh-Aditya yoga which makes him a very bright and witty person. The acting lord Venus in the sign of Leo gives him the courage to perform on the grand stage and lead the masses. He was born as a star with Venus in leo.
Check what 2023 stored for you with your Free 2023 horoscope.
What does the 2023 year hold for Sanjay Dutt and what we can expect from him in the coming time? Let's talk about what will be the year for Sanju baba ahead.-
---
Year Ahead For Munnabhai
As per Sanjay Dutt horoscope, Saturn transit in Capricorn will be very good for him this time as it will be very helpful for him to lead masses. His performances in films will be widely appreciated and he will definitely do something new in life. Jupiter transit will bring something new this year which he will act on from next year. Mars transit in Leo will be extremely beneficial for him which will give him amazing leadership qualities and he will be bold in his approach this year. As he is going through Saturn mahadasha and Venus antardasha as this period will be extremely beneficial for him as many more positive changes in his life for sure. 2023 will be far better than 2022 for him.
---
Hospitalised At Start In 2023, How Will Be His Health?
As per Sanjay Dutt horoscope, Yes 2023 started very bad for him on a health level. The major reason for his health is that he was going through Saturn dasha and Ketu antardasha which was extremely bad for him. He went through that tough phase and tested positive. As dasha has ended and he enters a new dasha period which will bring all-around happiness for his health. Jupiter transit also reduces any major illness in the coming time. All the problems related to his health which started in 2022 will start reducing now and life will be on track.
---
The year 2023 For New Upcoming Films
As per Sanjay Dutt natal chart, on a career level, he is going through one of the best phases of his life. Saturn transit in Capricorn will bring a lot more changes in his life and at the same time his acting talent will be loved by viewers. Jupiter transits in the upcoming years will bless with sure shot success and his career growth will be more and more. As he is going through Saturn dasha and Venus antardasha which will be very helpful for his acting career in the coming time. He will do more serious kinds of roles where he will give importance to character roles this time.
---
Wealth Prospects For Munna Bhai
His financial prospects in the coming time will be far better than in 2022. He will definitely go for partnership in businesses. He will invest money in new projects and will surely get success during this time. Saturn transit in Capricorn will be extremely beneficial as per Sanjay Dutt horoscope. Venus transit in leo and libra will also bless with wealth and rich life. These transits are also favourable to make deals that bring good returns. Moreover, 2023 will start a new wave in his life as Saturn dasha and Venus antradasha will bless him with many more luxurious things in life with pure hard work.
What will be your wealth this year? Free Wealth horoscope 2023.
As per Sanjay Dutt horoscope, yes a very good and positive start for him. The year 2023 will be very favourable especially in his health aspects as he was hospitalised in this pandemic. Career-wise many more new changes can be seen in his life. He will be in that phase of life where he can try new things in acting by choosing roles or producing films because with the blessings of favourable dasha period he will surely get success-
We wish a very Happy Birthday to Sanjay Dutt and best wishes for the coming year!
Want to Lead a Celebrity Life? Talk to an Astrologer Now, First Consultation with 100%
With Ganesha's Grace,
Astrologers trained by Shri Bejan Daruwalla
The GaneshaSpeaks Team
---
---
Get 100% Cashback On First Consultation