Ranbir Kapoor Horoscope – It's Time To Be Back In Action!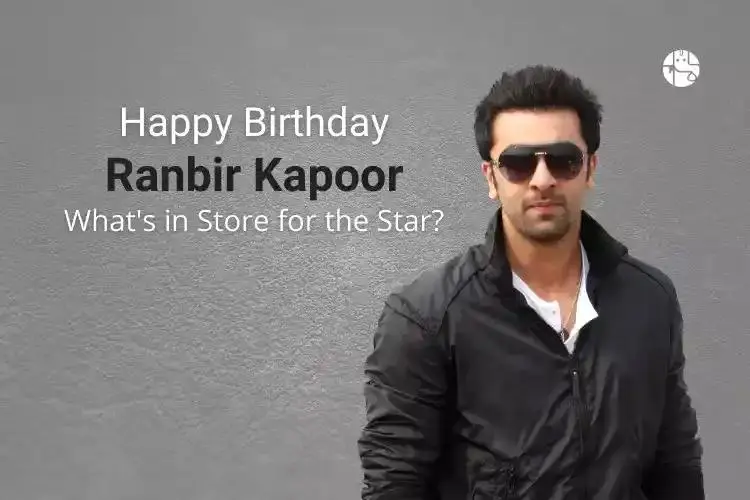 Born and brought up in a filmy Kapoor family and son of romantic hero late Rishi Kapoor, is Mr. Ranbir Kapoor. His charm and looks make everyone crazy, especially girls who are very fond of him. He is the dream man for every girl. He started his career as an assistant director for Premgranth (1993) at such a young age and then to be launched with "Sawariya" (2007 his journey has been truly hardworking and unexpected too.
He even assisted Sanjay Leela Bhansali for the movie Black (2005). Like any other actor in the industry, our Kapoor son also has his ups and downs. But that is the result of trying different films and genres. "Bachna Ae Haseeno" and "Yeh Jawaani Hai Deewani" are among the best hits. He did romantic drama "Rockstar" and comedy-drama "Barfi", which showcased his ability to act at his best. He also supports charities and is a co-owner of the Indian Super League football team Mumbai City FC.
Let us read with the help of Vedic Astrology, what makes this Kapoor son so unique?
---
Ranbir Kapoor Horoscope By Date of Birth
Ranbir Kapoor Birth Date: Sept 28, 1982
Time of Birth: Unknown.
Place of Birth: Mumbai.
Ranbir Kapoor Kundli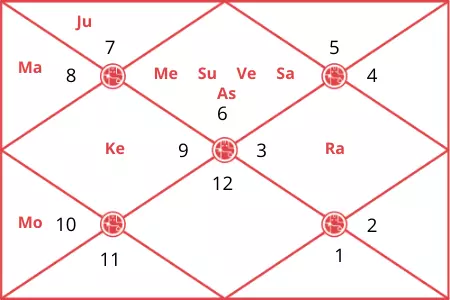 As per Ranbir Kapoor's kundli, his birth chart has Saturn as Atmakarka, making him an earnest and goal-oriented person in his professional work. He has god gifted patience, which really helps him to be successful in his acting career. His Amatyakaraka is Mercury, as it allows him to think in a very different and intellectual way. Moreover, his Mercury is exalted, too, which makes him more efficient and focused too.
Ranbir Kapoor's Zodiac sign is Capricorn, and it makes him very practical and determined too. He has auspicious Budh-Aditya Yoga, too, and it is created in the sign of Virgo, which makes him very attentive and detail-oriented. Shadow planet Rahu's placement in the sign of Gemini makes him a very talkative and flirtatious person, too, and yes, we know his charm is also amplified by it.
Know what all strengths and charm you have as per your Personalised Janampatri.
---
How Will 2021 For Chocolate Hero
Taskmaster Saturn's transit in Capricorn over the natal Moon will bring new changes in his acting career. He might want to change and select the films to perform in different ways. He will surely want to rule the audience. Beneficial Jupiter transit in Aquarius will bring confidence and freedom at its best. His past issues will be reduced now. Fighter Mars transit on natal Sun, Mercury, Saturn, and Venus might abruptly bring unexpected events in his life.
---
How Will Be His Health During Pandemic
The 2021 year will be very good for him for health-related matters as per kundli of Ranbir Kapoor. Rahu transit in Taurus in the natal chart will bring very positive results, and his desire to stay fit will be more. Beneficial Jupiter transit in Aquarius will also help change his exercise routine, and he might follow different fitness ways. Good time for him to make changes in diet too. Fighter Mars transit over natal Mars will be more intensive towards health as well, especially in pandemics.
---
Upcoming Movies
As per the horoscope of Ranbir Kapoor, his much-awaited upcoming movie is "Brahmstra", along with Senior Bachchan and Alia. The movie has already gained fame since its production. Audiences are eagerly waiting for his movie, and Ranbir's career might be on a new high after this as well. Saturn transit in Capricorn will definitely bring new performance from him.
Take your career to a new height with your Personalised Career Report.
---
Wealth Prospects For Chocolate Hero
As per Ranbir Kapoor astrology, this year may not be as favourable for him regarding wealth prospects. As he is going through Jupiter, Mahadasha and Ketu antardasha can create some restrictive hurdles in the generation of wealth. However, Mercury transit throughout the natal chart will trigger some innovative ideas to earn more wealth, but he may not implement this year. Mars transit over natal Ketu will unlock his wealth sources at year-end. Smoky Rahu will also increase his desire to earn more money to fulfil all his desires. Be calm and composed!
---
New Business and Ventures
2021 may not be suitable for new ventures and investment too. Taskmaster Saturn will guide him not to invest but plan for future investment. Beneficial Jupiter transit in Aquarius is not so good for new ventures too. Moreover, dasha is also not favourable for him and may bring many obstacles in his investments too. He might get offers, but he may not be interested in investing in it too.
As per Ranbir Kapoor kundli analysis, he is going through that phase of life where he might need change to be a better version of himself for success in future. He will surely take his time and invest a lot of energy in himself to make a change. Already he achieved success, but he will change his path to complete it differently in the coming time.
Want to Lead a Celebrity Life? Consult Our Top Astrologers Now!
With Ganesha's Grace,
Astrologers trained by Shri Bejan Daruwalla
The GaneshaSpeaks Team
---
---
Get 100% Cashback On First Consultation