Ranbir Kapoor Astrological Prediction: Delivering blockbusters films would be on his Bucket list from the later year of 2021.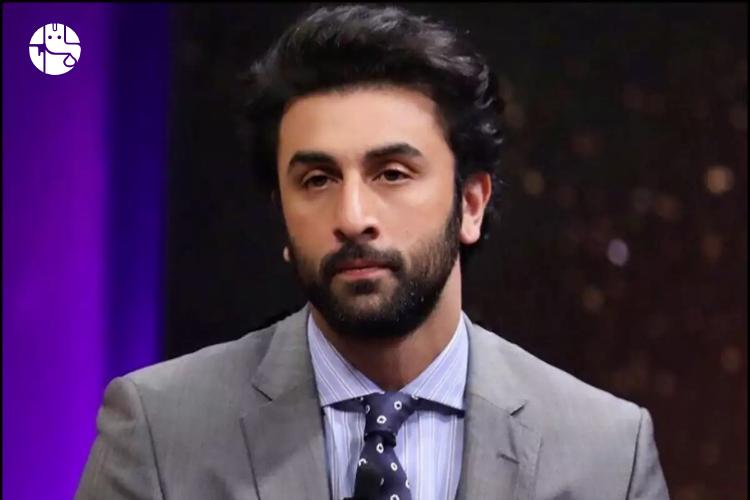 "I feel that I am an average actor and have a good belief and confidence in Myself that I can do something, and that's why I am successful." These are the phenomenal words he said while being interviewed, which shows his worthiness in the Indian Film industry.
Ranbir Kapoor, the fourth-generation scion, a self-made actor, who made his own legacy on the Silver Screen with his continued out of the box performance. Not only this, He is also one of the highest-paid actors of Indian cinema who has made his name mentioned in the Forbes Indian's celebrity top 100 lists since 2012. 
Before coming into the world of acting as a professional actor, Ranbir Kapoor worked as an assistant director in the film Black (2005) with Sanjay Leela Bhansali, followed by his sparkling acting debut in Bhansali's romantic drama film Sawariya (2007).
From that non-accepting debuting film to Unforgettable Part of Sanju, which dealt with the Dutt's troubled relationship with his father for which he received a myriad of applause from his fans and across the world made him shape his own robust inheritance in the realm of world cinema. His unusual performance of playing the most badass character on screen has made his fans speechless. Also, his image of a chocolate boy was revamped. In one of the interviews, he had revealed that for him success and failure is just a part of his life. However, he is just an average actor and has a complete belief and confidence in himself that he can achieve more in his drift. 
Presently he is busy in shooting for his next upcoming Drama Film "Brahmastra" with his co-star as well as real-life inamorato Alia Bhatt. Both of them have been dating each other for two years, and soon we may also hear the wedding bell. Both of them have recently joined the team of Brahmastra after a long break due to pandemic. 
Ranbir Kapoor is really talented and one of the luminary personalities in the film industry who has seen many ups and downs throughout his life's journey. He has been considered as one of  the biggest stars of the coming generation. Because of his ability to choose fresh content and with his powerful acting skills he has impressed millions of followers, and this will continue to impel him to come with more such kind of fresh content and sustain his successful venture. 
This astrological prediction will help you in revealing about his upcoming venture and how he will stand up to his drift. So, without wasting any time, let's move towards his birth chat and find out about his upcoming journey based on his Surya Kundalini. 
Surya Kundali of Ranbir Kapoor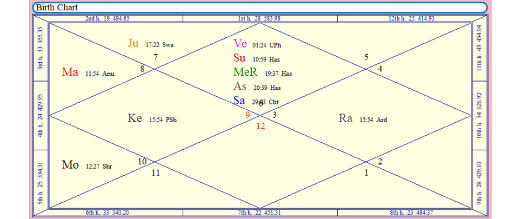 Get your Personalised janampatri done with the help of our vedic Astrologers.
Date of Birth: 28th September 1982.
Time: Not Known
Birth Place: Mumbai
Astrological Findings
According to his Birth-chart, the Sun Sign of Ranbir Kapoor is Libra. So he is a man of discipline and possesses a calm nature which is one of the reasons for his charm and success. He is a sort of practically-minded person, and his skills of choosing scripts prove these facts. He is someone who believes in quality instead of quantity, and that's the reason for his prolonged successful venture. 
Effect of Sade Sati 
Ranbir Kapoor has been going through many thicks and thins for the time being. It is because of the ramification of Sade Sati on his Natal chart. For this reason, he had to suffer some personal loss in the form of his father- cum- legendary actor Rishi Kapoor. Because of Saturn Sade Sati, Ranbir Kapoor may see some hardship in every aspect of his life, which may lead to problems in his life, and this can continue for the next two years. Want to know what your Sade Sati phase says about your health and wellness? Get a personalized Sade Sati report written by our expert astrologers.
For the later part of 2021 , Ranbir Kapoor would again bounce back with his  power pack acting and the fresh story. Delivering blockbuster films and entertaining his fans would be on his bucket list. But what will be in your bucket list? Find out in your 2021 Highlight Report. 
Concluding words
In the long run, Ranbir Kapoor eventually would make a comeback with a fresh piece of content to entertain his fans, and we are all too excited for his comeback. On his Birthday, we wish him all the good wishes and for his later life.
To Get Your Personalized Solutions, Talk To An Astrologer Now!
With Ganesha's Grace,
The GaneshaSpeaks.com Team