'Nannaku Prematho' is destined to fare well at the Box-Office, so NTR Jr. should not worry much!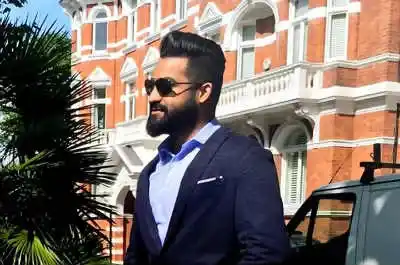 NTR Jr. is basically an artist at heart and he is sure to rise to greater heights! Jupiter's current transit shall make him think big!
Nandamuri Taraka Rama Rao Jr., widely known as JR. NTR is one of the most prominent names in the South-Indian Film Industry. The grandson of the phenomenal stalwart of South India – NT Rama Rao, NTR Jr. has always enjoyed great popularity. His affair with films began at a very young age and he even starred as a child artist in the Ramayanam, which won the National Award for the Best Children's Film for that year! He is famous for the films such as Aadi, Simhadri, Brindavanam and Temper. NTR Jr. enjoys great attention and popularity even off-screen too, and he is the brand ambassador for several brands such as Malabar Gold and various other products. Being a typical Leo by Moon Sign, NTR Jr. has versatile interests and has been an active member of the Telugu Desam Party, which was founded by his paternal grandfather. Being a descendant of an illustrious lineage, he is the nephew of actor and politician Nandamuri Balakrishna and the current Chief Minister of Andhra Pradesh, N. Chandrababu Naidu and is also the cousin of actor Taraka Ratna and politician Nara Lokesh.
How will he fare in films in the coming months? Are some wonderful projects in store for him? Let's find out with the help of the stars…
---
N. T. Rama Rao Jr.
Date of Birth: 20 May 1983
Time of Birth: Hyderabad
Place of Birth: Unknown
SURYA KUNDLI

---
Natal Promise:
Born with Venus and Rahu conjunction in Gemini, Jr. NTR's creative talents signified by Venus are amplified greatly!
Mars and Sun in Taurus bless him with tremendous energy levels, stamina and spirit. He will be able to channelize his energy by doing physical exercise or something that exhausts him physically. He should practice Kuchipudi regularly as his Sun-Mars energy will be satisfied and additionally, the demands of the Venus and Rahu conjunction will also be met if he does it regularly.
Though we do not have his exact birth time, but, as Moon didn't change the sign within the 24 hours of his birth, we can assume that he is born with Moon in Leo which makes him royal, kind hearted, magnanimous, helpful to others, noble and honourable. This is also one of the reasons why he is into charity and all welfare activites. He would even be a bit obstinate and rigid at times and his naturally overbearing self may rub people the wrong way. He would possess natural leadership qualities and would be amongst the first few who would take the initiative to do anything new.
An Exalted and retrograde Saturn in Libra makes him an extremely hard-working person. Such a powerful Saturn bestows upon him great name, fame and renown. He would be extremely practical and would prefer to be organised and disciplined.
Though he is involved in politics, he is basically an artist at soul. He would do better as an actor and artist, so he should never get completely diverted to politics by leaving art/creativity/film and the entertainment world behind.
---
The Year Ahead…
Saturn's transit over his Natal retrograde Jupiter is going to remain a bit tough for Jr. NTR. Transiting Saturn's opposition to Natal Sun and Mars may make him feel a bit stressed about various things. The Natal Mars, under the restrictive and heavy influence of Saturn will have a negative impact on his energy and stamina levels and due to the Sun being aspected by the same Saturn, he may have the feeling that he is not getting the fame and success that he deserves.
Jupiter's transit over Natal Moon is favourable till 30th January, 2016. It will help him think about the broader picture. Moreover, he will be having many expansion plans in mind. He will be taking very wise decisions regarding his film and political career.
Period of 1 ½ years starting from 30th January, 2016 will be a bit stressful for Jr. NTR as Rahu will be transiting over his Natal Moon so during that period he should avoid taking impulsive decisions and must also avoid negative thinking. Mood swings are also most likely.
Jr. NTR is going to come up with big projects and big ideas in the days to come. He will be working very hard on the forthcoming projects. However, he will need to cultivate patience due to the effect of Shani's small Panoti called Adhaiyaa – which will rule till 26th January, 2017. He should not 'give up' and must keep working in the desired direction with great patience as well as perseverance.
'Nannaku Prematho' is scheduled to release on 8th January, 2016. Considering that it's going to release when Jupiter's transit over Natal Moon will be favourable, Jr. NTR is going to receive good response. On the day of release, Venus, Saturn and Moon will be in Scorpio, exactly in opposition to his Natal Sun and Mars so he may remain a bit concerned about the film's success. It's going fare well and his performance is going to be appreciated, so he can relax about it!
Between 30th January, 2016 and 11th August, 2016, he will have to plan his productions (as director/producer) well and must avoid taking big financial or career risks.
With Ganesha's Grace,
Bhavesh N. Pattni
The GaneshaSpeaks Team
---
---
Get 100% Cashback On First Consultation