Mahesh Bhatt Birthday Prediction: Bumpy Road Ahead for Sadak Director?
Mahesh Bhatt is what you call a balancing act. His movies have always been a perfect blend of substance and entertainment. This Prominent Director started his career as a Director when he was 22 years old. But his first movie 'Manzilein Aur Bhi Hain' had not received clearance certification from censor board until he was 26. His first taste of success was the groundbreaking Arth, a movie that is always remembered along with Saransh and Zakhm, as the best of his work.
Not only his relationship with realism brought him success, but it also pushed the Hindi cinema into a new direction. The films he made were a world apart from what commercial filmmakers of his time were making and producing. In many ways, his films helped the industry break barriers between the niche arthouse cinema and commercial cinema. A completely different style of his vision can also be seen in the movies like Aashiqui, Dil Hai Ke Manta Nahin, and Hum Hai Rahi Pyaar Ke.
Millennials would be more familiar with the movies he wrote, such as Scary thrillers like Dushman and Sangharsh, the genre-defining Raaz, and movies like Gangster, Murder 2, and Hamari Adhuri Kahani. Relatable characters, relationship arcs, and a common man's exposure to crime have been running themes of his movies. Although his return to the director's chair after 20 years with Sadak 2 has not been what his fans would have expected, we still think he has got a few tricks up his sleeve for the future.
For the fans who are looking forward to his personal and professional journey, we have something interesting for you. On his 72nd birthday, we try to unveil what the future holds for this veteran for 2020-21 based on his birth chart. You can also explore what is in the store for you in the upcoming from career, health, finance to relationships with our Personalised 2023 Report today!
---
Mahesh Bhatt Birth Chart:
Date of Birth: 20 September 1948
Time of Birth: Unknown
Place: Mumbai, Maharashtra, India
SURYA KUNDLI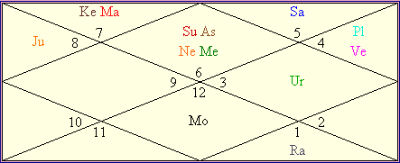 As the exact time of birth is unknown, we will predict upcoming events in the personal and professional life of Ashiqui director based on his Solar Kundali. Time of Birth is essential for the exact prediction of someone's future, however, even with Surya Kundali, we can know a lot more about him.
Coming to his Birth Chart, Mahesh Bhatt was born with Sun in Virgo sign, and he possesses all the traits a Virgo would, such as Honesty and Straightforwardness. These are some of the best qualities to have as an artist for his artistic expressions, but it can also rub some people he works with, the wrong way. However, the credit of the success that he has enjoyed over the years also goes to the Sun and Mercury, which is placed in his 1st House.
With a personalised Janampatri, you can also unlock your hidden traits and help yourself in better decision making in the future with the insights into your favourable timelines, planetary placements, and combinations.
---
Mahesh Bhatt Astrological Prediction:
With Jupiters in the Nakshatra of Uttara Ashadha, Mahesh Bhatt may stick to his style of writing and filmmaking this year. True to his personality, people also might find him strict about his work and overall professionalism. He has always been someone who has believed in presenting real-life stories, and with Moon in the sign of Aries, he is likely to practice the same in the future.
His no-nonsense attitude may irritate people or make them angry, and they may move away from him. The upcoming year both professionally and physically looks a little challenging for Mahesh Bhatt. He may have to look after his health more than ever in the coming times. The good news is that his hunger to find contemporary topics to make movies about may stay intact.
---
Planetary Transits and Mahesh Bhatt's Zodiac Sign:
Let's discuss how different planetary transits are likely to impact him. During the Rahu Ketu Transit 2020, Rahu will transit to 9th house (House of Fortune) and Ketu will transit to 3rd House (House of Enterprise) in the transit chart of Mahesh Bhatt. This may increase his responsibilities in the projects he would be working on and eventually bring fatigue. He may need to think about prior planning before investing financially in some projects.
Late November 2020 to April 2020, which would be the beginning phase of the Jupiter Transit in Capricorn, his stars are likely to be in his favour. He may feel optimistic and energetic about his life. Some challenges are predicted for Mahesh Bhatt in the later part of the Transit, during the retrograde. Arguments with family members may occur, along with some health issues for him.
---
---
---
Get 100% Cashback On First Consultation