Madonna needs only a troika to reach half-century
Pop Queen Madonna 49 going on 50 on 16th August this year – has been constantly in news due to her affairs with baseball players. This is nothing new to Madonna as because of her bold outlook and actions she has always remained in the limelight in the past – be it her for movie 'Dick Tracy' or nude posing pictures. Also, Madge's brother has revealed that she blackmailed him to join the Kabbalah Sect. Ganesha analyses her horoscope and explains why she has been surrounded by controversies currently.
Madonna
Date of birth :- August 16, 1958
Time of birth :- 07 hours 05 min.
Place of birth :- Bay City, Michigan, USA
Madonna's Horoscope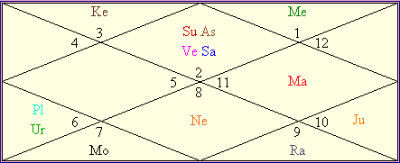 Get Your Hand-Written Janampatri By Our Experts.
Madonna's Venus Return
Ganesha observes that Madonna has Venus in Cancer in the 12th house of birth chart, associated with Sun. This makes her a very good artist. Her Venus Return took place on July 13, 2008 at 19 hours 44 minutes in Sagittarius Ascendant. This return chart is based on her current location and not on her birth place, it being the Return chart.
Madonna's Venus Return Chart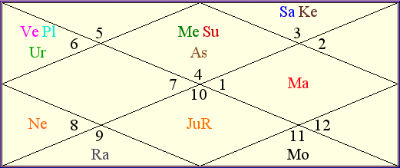 Get Your Hand-Written Janampatri By Our Experts.
Ganesha observes that the return chart has Sagittarius Ascendant which is the fifth house of the Natal chart. Venus signifies love and the fifth house too indicates the same. So first of all, because Venus return chart's Ascendant rules the fifth house of her natal chart, she is in controversies related to love affairs. Moreover, this return chart has Venus and Ketu in Cancer (the sign that signifies home and domestic matters) in the 8th house (house that rules sexual matters). This is in line with former Yankee baseball star Jose Canseco's claim that Queen of Pop Madonna wanted him to father her child. It is to be noted that she is also in limelight due to her reported affair with another baseball star Alex odriguez. Ganesha notes that in a horoscope the fifth house rules sports and related matters too. No wonder she is highly influenced by Venus Return's Ascendant which is the fifth house of her Natal Chart.
---
Natal Promise in Madonna's chart and her Relationships
Madonna has Venus in the 12th house which in itself is an indication that she may be having 'secret love relationships'. This is a natal promise and cannot be changed. This is because she has Venus in a watery sign Cancer in the 12th house of her Natal chart. In a horoscope, the 12th house rules secrets and 'bed' both and Venus rules the relationship factor. In fact, Madonna has covered all the sun signs almost! No wonder her Natal Venus is doing it's job perfectly since years!
---
Following is the list of males she has reportedly dated, till date:
Henry Rollins
John Starks
Johnny Zander
Warren Beatty
Dan Gilroy
Stephen Bray
Jean-Michel Basquiat
Mark Kamins
Stiv Bators
Norris Burroughs
John Benitez
David Lee Roth
Louie Cordero
Keith Carradine
Sean Penn
John Kennedy, Jr.
Esai Morales
Prince
Chip Z`nuff
Paul Lekakis
Anthoney Keidies
Matt Dillon
Alek Keshishian
Antonio Banderas
Lenny Kravitz
Tony Ward
Michael Jackson
Vanilla Ice
Jose Canseco
James Albright
Big Daddy Kane
John Enos III
David Duchovny
Anthony Kiedis
Bison Dele
Dennis Rodman
Tupac Shakur
Carlos Leon
Charles Barkley
Andy Bird
Mark McGrath
Billy Zane
Chris Paciello
David Blaine
Chris Rock
Guy Ritchie
Alex Rodriguez
---
Effect of Transiting planets on Madonna's chart
Currently Venus is transiting over the 12th house of her Natal Chart along with Ketu. Ganesha notes that Ketu signifies thirst and Venus rules love. She is in constant need of emotional and physical contact with someone as she is parting her ways with Guy Ritchie. Transiting Saturn passing over her Ascendant and Natal Moon indicates depression and frustration. So out of frustrations the in personal life she is desperately seeking a relationship at present.
---
When will Madonna controversies end?
Venus will be strolling into Leo on August 01, 2008 so Madonna story should end there, everyone will presume so! However, Ganesha feels that she will remain in limelight at least till Venus enters Libra in the third week of September 2008. Moreover, we will keep hearing news about her till Ketu transits over her Natal Venus. Ketu will enter Gemini on November 17, 2009. So, till then she will keep appearing in news regularly regarding her affairs/love relationship and so on. With all due respect to her talent, Ganesha feels that Madonna's image is likely to get stained by November 2009 even if she is able to deny some affairs.
Get to know what the stars indicate about your career in the year 2023 with our 2023 Career Report for FREE!
Good luck and may Lord Ganesha bless the Pop Queen Madonna.
With Ganesha's Grace,
Tanmay K.Thakar,
www.GaneshaSpeaks.com
---
---
Get 100% Cashback On First Consultation