Fans may not see much of Kareena on the silver-screen in the year ahead, feels Ganesha
Fans may not see much of Kareena on the silver-screen in the year ahead, feels Ganesha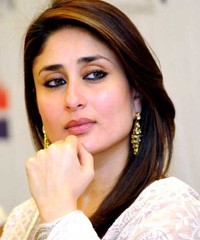 Kareena Kapoor Khan, the vivacious style icon of Bollywood, has carved a distinctive niche for herself in the contemporary world of glitz and glamour. She has established her reputation as someone who is confident of her talents and success, and is assertive and candid in her approach. With her roots in the famed Kapoor family, the first family of the Hindi film industry, cynics may comment that the path of success was already paved for her. However, in reality, things cannot have been more different, as she faced persistent opposition from her father, who was against the idea of the women in the Kapoor clan joining the film industry. But, not the one to take things lying down, Kareena made her presence felt, and the six Filmfare Awards in her kitty till now, very well, underscore this fact. Her personal life has always been in the public glare, and her recent marriage to Saif Ali Khan in October last year, was dubbed as the 'social event of the year'. Ever since her marriage, Kareena has been making waves, defying the trend of actresses moving away from the limelight after marriage. Ganesha takes a look at what the future has in store for Kareena, the fireball actress who stills makes a million hearts melt!


Kareena Kapoor
Date of birth:- 21st September 1980
Time of birth:- Unknown
City of birth:- Mumbai, Maharashtra, India
Kareena Kapoor Surya Kundli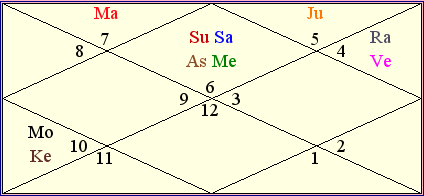 Astrological observations
In Kareena's chart, Jupiter will be transiting through the 10th House from the Natal Sun, till July 2014. After that, Jupiter will transit over her Natal Venus and Rahu.
Saturn will be transiting over her Natal Mars till November 2014.
Rahu will be transiting over her Natal Mars till July 2014.
Currently the transiting Saturn and Rahu both are in Square with her Natal Venus and Rahu.
Astrological predictions
During the year ahead, Kareena's career as a film actress may not be very active. She may not have major releases, which doesn't necessarily mean a bad thing.
The planetary transits are indicative of some surgery or a physical injury during 2014.
Ganesha doesn't foresee any major issue in her married life. However, Kareena may remain a bit upset about her progress as an actress.
The last quarter of 2013 and the first quarter of 2014 are promising for her; she would remain in the limelight during the said period of six months.
June to September 2014 will be a very important period for Kareena's career, and she may come up with a pleasant surprise during that period too!

Time constantly changes. In fact, only time changes constantly, and the rest follow accordingly. Kareena has seen great time during the past few years. The year ahead, although doesn't look that great for her, Ganesha feels that post her birthday in 2014, she will be back to the limelight with new projects.

Ganesha's Grace,
Bhavesh N. Pattni
The GaneshaSpeaks Team