How loudly will the box-office cash registers ring with Kaanchi – The Unbreakable? Finds out Ganesha
How loudly will the box-office cash registers ring with Kaanchi – The Unbreakable? Finds out Ganesha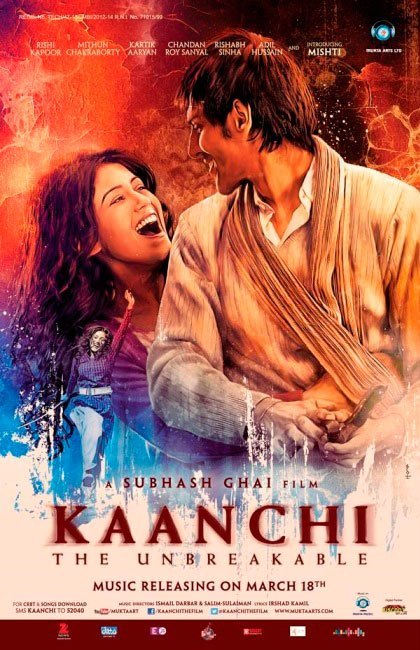 Ace director Subhash Ghai is back! After a long break of six years, he will be showcasing his skills as a director one more time with Kaanchi - The Unbreakable, starring a new actress Mishti Chakraborty and Pyaar ka Panchnama fame Kartik Tiwari. Subhash Ghai, in his usual style, changed the Bengali model's name from Indrani to Mishti for his film. Veteran actors Mithun Chakraborty and Rishi Kapoor are also playing important roles in this film, who's story revolves around the character named Kaanchi, a girl of modern times, and her fight against injustice. Known for working very closely with his music directors, Subhash Ghai has roped in Ismail Darbar and music director duo Salim-Sulaiman to compose the soundtrack of this film.

The last few films by Subhash Ghai failed to meet audiences' expectations. Will Kaanchi – The Unbreakable be a much required re-beginning for him? Will Mishti Chakraborty manage to impress the audiences? The year 2014 has not been very exciting for Bollywood, as far as the business is concerned. Will Kaanchi be able to make a difference? Ganesha analyses the Release Time Chart of Kaanchi – The Unbreakable, and finds out what the stars foretell.


Release Time Chart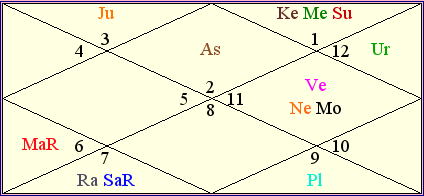 Planetary Overview
Ganesha notes that the Ascendant Lord Venus is placed in the 10th House with Moon in Kaanchi's Release Time Chart.
The Yogakaraka Saturn is exalted, retrograde and placed in the 6th House.
Mars and Mercury are in exchange in the Release Time Chart. Mercury becomes Anyo Anya Uchcha (in exaltation due to exchange).
Venus and Saturn too are in exchange.
Will Kaanchi perform well at box office?
Kaanchi is likely to open with reasonably good occupancy in theatres across India, suggest the planets.
However, as the 7th House Lord is retrograde in its Release Time Chart, and because it is in the exchange with the 12th House Lord, there are all chances of this film's business getting affected by other movies releasing on the same date.
Ganesha feels that after receiving a rather good opening, Kaanchi's business go slightly up during the weekend and then will decrease as soon as next week begins.
Venus and Moon together in the 10th House in the film's chart are indicating that some of the songs of the movie may become popular. People may also like the heroine's performance, but this factor may not act as 'crowd puller'.
Kaanchi's business abroad, however, will be good.
Summarily, Ganesha finds that Subhash Ghai's latest - Kaanchi – The Unbreakable shall do better than average business at box-office. But, it may not turn out to be a blockbuster.

Do you want to know what's in store for you on the career front during next 12 months? Avail Career Report 1 Year to get 100% personalised predictions by expert astrologers.

Ganesha's Grace,
Bhavesh N. Pattni
The GaneshaSpeaks Team

Your may also like to read:

Indian General Elections 2014 – An Astrological Perspective