Hasee toh Phasee to do good business at the BO, says Ganesha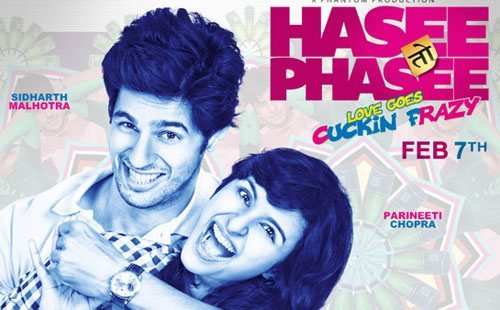 What can be expected when Anurag Kashyap and Karan Johar, two individuals with completely different cinematic sensibilities, come together to tell a story to the audiences? It is bound to have a Karan Johar brand of romance mixed with real life situations and emotions which are a mark of an Anurag Kashyap films. Movie-goers are in for a refreshing treat this Friday as Hasee Toh Phasee, a romcom produced by Anuraj Kashyap and Karan Johar, hits the theatres. Directed by Vinil Mathew, the film stars Parineeti Chopra and Siddharth Malhotra in the lead roles. The soundtrack of Hasee Toh Phasee is composed by music director duo Vishal-Shekhar.

It is not always that an unusual storyline attracts audiences and does well at the box office. Will Hasee Toh Phasee strike the right chords? Time will tell, but before that, Ganesha analyses the release time chart of Hasee Toh Phasee and foretells how the film will do at the box-office.


Hasee Toh Phasee release time chart
7th February 2014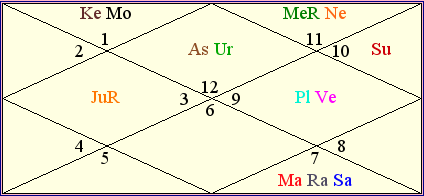 Astrological observations
Ganesha notes that Hasee Toh Phasee is releasing with Pisces Ascendant.
Lord of Ascendant and Lord of the 10th House, Jupiter, is retrograde in the 4th House.
Venus is placed in the 10th House in separating conjunction with Pluto.
Moon in Placed with Ketu.
When Moon conjuncts Ketu, it will be in opposition with Rahu. Additionally, Mars and Saturn are in opposition to Moon. Moreover, Moon is Squared by Sun.
On the other hand, Stellium of 3 planets - Mars, Rahu and Saturn – in Libra is in Trine with Mercury and Neptune.
Astrological predictions
Considering the astrological observations, Ganesha feels that the film will have a better-than-average start at the box-office.
Venus in the 10th House indicates that the female lead in the movie will surely be liked by the audience. Not just her appearance but her performance too will be noteworthy.
Songs of this movie may be average. However, the dialogues may be good as retrograde Mercury is in degreecal conjunction with Neptune.
Ganesha feels that Hasee Toh Phasee will do good business overseas.
First weekend business would also be good. However, from Tuesday/Wednesday onwards, film's business may decrease, feels Ganesha.
As the Lord of the 7th House, Mercury, is in the 12th House and with Neptune, film's business may be affected a bit due to its competitors.
On the whole, it is likely to do better than average business at the box office, feels Ganesha.

Ganesha wishes good luck to the cast and crew of Hasee toh Phasee.

Is there something bothering you on the business front? If yes, don't hesitate to avail Business Ask a Question Detailed Advice and find a solution to your problem.

Ganesha's Grace,
Bhavesh N. Pattni
The GaneshaSpeaks Team

Your may also like to read: