Shy and reserved in his personal life, actor Ajay Devgan transforms into a completely different person once the camera starts rolling. He has proved, and repeatedly so, that he is a class act and amazingly versatile when it comes to acting, irrespective of the role he is playing.

Although his initial claim to fame was as a love-lorn action hero, his more memorable roles are the ones in romantic dramas like, Hum Dil De Chuke Sanam and Pyar Toh Hona Hi Tha. He has tried his hands, successfully, in Romantic-comedies like Ishq and Golmaal, and serious cult flicks like Zakhm and the Legend of Bhagat Singh. His mesmerising performance in the latter two earned him the National Film Award for best actor.

The success of his latest film Atithi Tum Kab Jaoge has proved that besides the three Khans, devgan is the most bankable actor in Bollywood. With the actor turning 41 recently, Ganesha uses Vedic astrology system to assess his fate in the coming year.

Ajay Devgan
Date of birth:- 2nd April 1969
Time of birth:- Unavailable
City of birth:- New Delhi
Ajay Devgan's Surya Kundli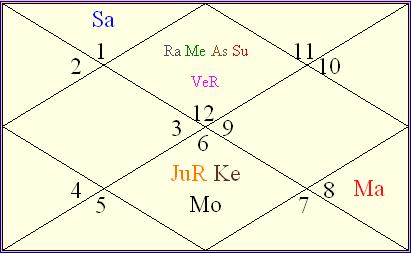 Astrological Observations


Ganesha observes that currently, Saturn is transiting over Jupiter, Ketu and Moon in Ajay's chart.
Jupiter is transiting through the 12th House from Sun, but from 2nd May 2010, Jupiter will transit over Natal Sun, Mercury, Jupiter and Sun.
Natal Mercury is in Neech Bhang with its placement in exalted Venus.
Mars - the most powerful planet in his chart - is debilitated at present, but from 26th May 2010 it will be in a satisfactory position as it will be entering Leo.
Transiting Rahu and Ketu are in square with the stellium of Rahu, Mercury, Sun and retrograde Venus in Ajay's chart.

Astrological Predictions


Ajay Devgan will have to be extra careful about his health and will have to avoid physical stress till the end of May 2010.
His film career will take a very positive turn post-May 2010 once transiting Jupiter enters Pisces.
Ajay will not only focus on acting but he will also take keen interest in other areas of film making like production and direction post May 2010.
He will however have to keep himself away from all the controversies till the end of 2010.
September 2010 to February 2011 is again a very favourable period during which Ajay may remain in the limelight.
Ajay will take well-thought decisions in this year and by the virtue of the same, he will be able to earn good money too.
He will be spending a lot on luxurious items and facilities during the year ahead.
Throughout the year, he may remain pretty concerned about family and related issues (by and large, personal life).

On the whole, the year ahead is going to be progressive for Ajay devgan. Ganesha wishes him good luck.

With Ganesha's Grace,
The GaneshaSpeaks Team