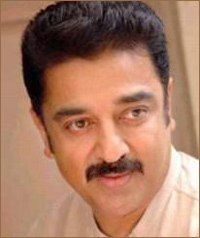 He is everyone's favourite Appu Raja, the ardent lover Vasu in Ek Dooje Ke Liye and the heart broken Somu in Sadma. With these and many other unforgettable performances to his credit, he is truly the 'Dasavathaaram' of Indian cinema. An actor, director, screenwriter, songwriter, playback singer and choreographer, Kamal Haasan can tickle the audience's funny bone even without saying a word, as he did in his silent film, Pushpak. Beginning his journey as an actor at the age of five, Kamal Haasan explored Tamil, Telugu and Hindi cinema and went on to become one of the very few Indian actors to have completed 50 years in cinema. Besides being a Padma Shri award winner, he also holds the record for receiving the highest number of National Film Awards. But everything comes for a price. Despite a soaring career, his personal life has always been controversial. His relationships with actresses Srividya, Simran and Gouthami, and marriages and divorces with danseuse Vani Ganpathy and actress Sarika have provided enough fodder to the media.

As the superstar Kamal Haasan turns 58 on 7th November, Ganesha predictions his year ahead with the help of Vedic astrology.

Kamal Haasan
Date of birth:- 7th November, 1954
Time of birth:- Unknown
Place of birth:- Paramakudi, Tamil Nadu, India

Kamal Haasan's Surya Kundli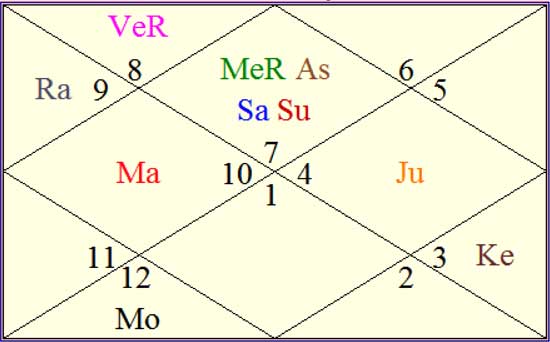 Astrological Observations
Currently, transiting Jupiter is aspecting Kamal Haasan's Natal Sun, Saturn and retrograde Mercury.
Rahu is transiting over Natal Venus.
Saturn will transit over Natal Sun, Saturn and retrograde Mercury from mid-November, 2011. Then onwards, till the end of 2014, the period will be very important for Kamal's career and health.
He is born with exalted Mars that gives him immense energy and zeal.

Astrological Predictions
Ganesha feels that the coming year would be a little tough for Kamal, as Saturn will transit through it's sign of exaltation i.e. Libra where Kamal has three planets placed.
During the year ahead his health and vitality will be the prime cause of concern.
He might come up with a long term and great/ambitious project too.
However, Kamal is likely to experience great delay in ambitious projects. The project may either be his own or someone else's, and it is likely to test his patience.
He will have to be extra careful of his public image in the second half of 2012, says Ganesha.

Showering his blessings, Ganesha wishes Kamal Haasan a very happy birthday in advance.

Ganesha's Grace,
Bhavesh N. Pattni
The GaneshaSpeaks Team
Subscribe Our Newsletters