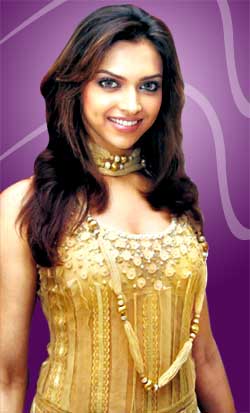 Deepika Padukone, who recently enthralled the audience with her power packed performance in Om Shanti Om, has become a household name with her first film. She is going to celebrate her birthday soon. Let us find out what Ganesha has in store for this pretty actress this birthday.
The beautiful and talented actress Deepika Padukone was born on January 5, 1986 in Manglore. While pursuing her studies in college, she decided to pursue a career in modelling due to her tall slender figure. She grew up into a sultry model with dreams in her eyes to make it big in showbiz industry.
Her Venus is in Sagittarius indicates that she is emotionally warm, outgoing and idealistic in her romantic and social dealings. She has made appearances in print and television advertising campaigns for Liril, Close-Up and Limca, receiving many prestigious modelling offers including brand ambassadorship of the Jewels of India, an annual jewellery exhibition. She hit the international scene with Maybelline making her their new international cover girl face. She has performed very well in Om shanti Om. Ganesha feels that her future prospects would be bright in Bollywood.
Sun Sextile Moon in her life will be reasonably happy and essentially peaceful. She relates easily to people in general and will enjoy a lifelong pleasant relationship with her parents and other members of her family feel Ganesha. Currently Natal Sun is under the positive influence of transiting Jupiter, which denotes that 2008 would be good for her in general. The moving Jupiter over the Sun denotes that she may get new offers from film industry. This also denotes that she has an endless faith in herself and believes that she can do anything to which she sets her mind. Her enthusiasm and confidence level runs high, and sometimes she will promise more than she can deliver. She will have confidence that relationships will sooner or later work out. Generally prosperity increases the chances for personal success and fortune, feels Ganesha. She will be more skilful during 2008. She is secure about her goal. All in all, her future seems bright in 2008. She will earn fame and name in coming days.
Ganesha wishes her a very happy and delightful birthday.
Ganesha's Grace
Nikunj Suthar
The GaneshaSpeaks Team
Subscribe Our Newsletters