Bhushan Kumar Birthday Predictions: The Year 2021 for T-Series Boss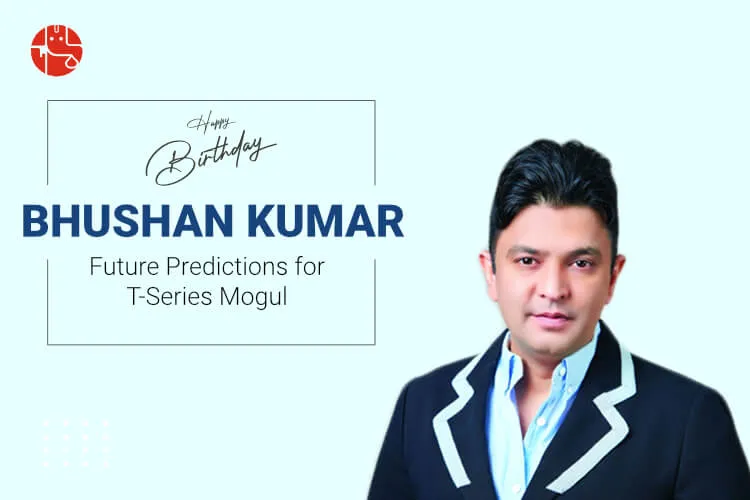 Bhushan Kumar, the managing director of T-Series, the undisputed music label company in the world, has always wanted to make a film about the life of his father, Gulshan Kumar. In 2018, he came painfully close to making that movie but it is yet to materialise. The name of the movie: Mogul! Mogul literally translates to a tycoon of an Industry, a Magnate. A title that he can reserve for himself now, with T-series' youtube channel crossing 157 Million Subscribers.
The portfolio for Bhushan Kumar does not stop at music though, T-series have been one of the most successful film producers around for many years now. Internet, which used to be the hub of film and music piracy in early 2000, is not Bhushan Kumar's biggest revenue-generating venture with Youtube. He has also produced movies like Patiala House, Ready, Aashiqui 2, Baby, Airlift, Sonu Ke Titu ki Sweety, Raid, Bharat, Saaho, Malang, Thappad, and more.
As he celebrates his 43rd birthday on 27th November, we bring you Bhushan Kumar's Birthday predictions based on his birth chart. However, since the exact time of birth is not available, we will be analysing his Surya Kundali, which is also immensely helpful in predicting one's future. Let's dive in.
---
Bhushan Kumar Birth Chart
Date of Birth: 27 November 1977
Time of Birth: Not Known
Place of Birth: Delhi, India
---
Astrological Observations of Bhushan Kumar's Surya Kundli
Born on 27th November, Bhushan Kumar's Zodiac sign would be Sagittarius. Looking at his birth chart, we can see how Jupiter will be moving over Mercury in the 2nd house of his birth-chart. The transiting Saturn would aspect Mars, Venus and Ketu in the 9th, 12th and 5th houses of the chart respectively. The transit of Rahu will move over the Sun situated in the Ascendant. Bhushan Kumar will be under the influence of Mahadasha of Saturn and Antardasha of Mercury which ends on 21st May 2023. How will all these planetary positioning and transits affect Bhushan Kumar's life in 2021? Here is how.
Know more about how planets and their transits are likely to affect your life, with Personalised Janampatri handwritten by our expert astrologers.
---
Future as a Producer
The most exciting release for Bhushan Kumar would be Bhumi Pednekar starring 'Durgavati', a horror film co-produced with Akshay Kumar. The movie will release on a streaming platform on 11 December 2020. At the time, Bhushan Kumar is under the influence of Saturn Mahadasha, which is placed in the 10th house, the house of Career and Profession. Saturn aspects the Sun in the Ascendant. Moreover, Jupiter transit in Capricorn will pass through the 3rd house, which will aspect the Moon, Mars and Rahu positioned in the 7th, 9th, and 11th house respectively. All of these astrological influences are likely to combine and make 'Durgavati' a hit among the masses, making it one of the successful releases of the year.
His next, Atrangi Re with Sara Ali Khan, Dhanush, and Akshay Kumar is all set to release on 14th February 2021. During this period, he would be blessed with the Antardasha of Ketu. That is likely to help the film get a smooth and positive release. The movie is also likely to be a success, just like Durgavati.
The third release would be 'Satyameva Jayate 2', on May 12th, 2021. The movie would also be starring his wife, Divya Khosla Kumar alongside John Abraham. At the time of the release, Bhushan Kumar will be under the influence of Antardasha/Bhukti of Venus which stands for entertainment and artistic matters. The audience is likely to welcome the movie with open arms, making it the third successful movie for Bhushan Kumar.
Do you know which planetary period is influencing your life? Find out today with a Free Birth Chart Report.
---
Another Feather in the Cap?
Looking at the strong positioning of Venus in Bhushan Kumar's birth chart, there are chances of him playing another prominent role behind the camera other than producer. He may also try out donning the hat of a Director, telling some stories he may have wanted to express for long. This year, he would be blessed with various ideas, inspirations, and skills to put his shoes in different tasks other than that of a Producer. Given his experience in the industry, this sure comes as exciting news.
Do you want to know where your career will take you in 2023? Is there a job change on the cards? Find out today with Career Report2023, prepared by our astrologers exclusively for you.
---
Home, Sweet Home
The planetary positioning and transits indicate to a happy, harmonious married life. He is also likely to play some quality time with his son Ruhaan. He may spend more romantic and quality moments with his wife, Divya Khosla Kumar.
Find out what keeps your relationship strong and how your love life will be in the future with a Free Compatibility Report.
On the health front, the year seems pleasantly uneventful as he is not likely to face any serious problems. However, it is advisable to avoid anything that involves exertion. Tension and Workload may also bring him some health issues during September/October 2021.
---
Digital Ventures of T-Series
Having tasted immense success on the big screen through a production house and Music label, T-Series and Bhushan Kumar are all set to venture into the world of Digital Media and Web-series. As we can see in Bhushan Kumar's Birth Chart, the moon is exalted, and Venus is in its own sign (Libra). Moon is likely to provide him with the required inspiration, while Venus is for art and entertainment. A combination of these two indicates the same success for T-Series in the digital world, as it has been the case with music and movies.
---
---
---
Get 100% Cashback On First Consultation