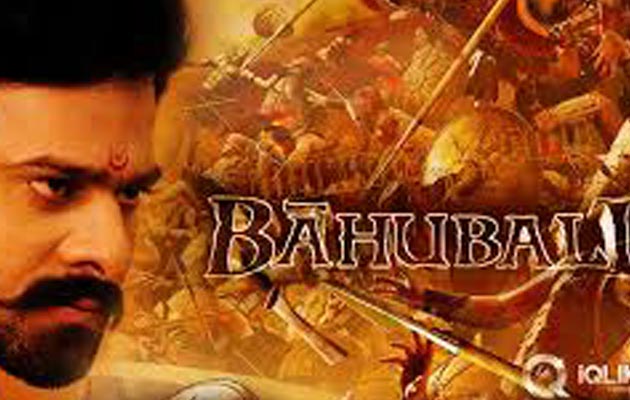 Telugu cinema's super director, screen-writer and action choreographer, well-known for directing National Award winning blockbusters Magadheera and Eega, S.S. Rajamouliis now coming up with his two part magnum opus Baahubali – the beginning. Apart from Telegu, the film will simultaneously be dubbed in English and several other Indian and foreign languages.

Winner of several awards and acclaims, many at the international stage, Rajamouli is an illustrious film-maker, and his projects are always eagerly awaited by both the masses and critics. Baahubali is one of Rajamouli's most ambitious projects, and is touted as India's most expensive film till date. Featuring an ensemble cast of well-known South cinema's actors Prabhas Varma, Rana Dagubatti, Tamnnahh and Anuskha Shetty in lead roles, the film is known to have brought together some of the biggies, including National Award winner Sabu Cyril for Art direction and V Srinivas Mohan as the Visual effects supervisor.

The Hindi theatrical version of the epic movie and its sequel shall be released by Karan Johar's company. The film Baahubali, slated to hits screens across the globe, was also featured in BBC's famous documentary 100 Years of the Indian Cinema. Here, Ganesha looks at the celebrated film director's Solar Horoscope and also at Baahubali's Release Time Chart to predict the way ahead -


S.S. Rajamouli

Date of Birth:- 10th October 1973

Time of Birth:- Unknown

City of Birth:- Kovvur, Andhra Pradesh

S. S. Rajamouli's Surya Kundli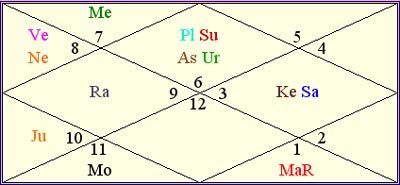 Baahubali's Release Time Chart
10th July 2015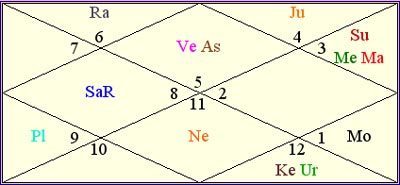 Astrological Observations
Ganesha observes that on the day the film Baahubali will release, the Moon will be transiting over the retrograde Mars in film director S. S. Rajamouli's Chart.
On the day of the film's release, the Sun, Mars and Mercury will be transiting over S. S. Rajamouli's Natal Saturn and Ketu placed in Gemini, while the exalted Jupiter will be in opposition with his Natal Jupiter.
On this day, Ganesha notes that Rahu will be transiting over Rajamouli's Natal Sun, but this will not be a degreecal transit, hence chances of it producing many ill effects are negligible.
In Baahubali's Release Time Chart, the all important planet for creative ventures Venus is placed in the Ascendant.
Further, in this chart, the Sun, Mars and Swagruhi Mercury are placed in the 11th House (of gains).
However, Rahu is placed in the 2nd House of this Release Time Chart. It is to be noted that in this Chart, the 2nd House's Lord is Mercury, which is Swagruhi, in the 11th House (of gains).
Astrological Predictions
Planets say 'yes' to the movie Baahubali and thus, besides giving an obvious warm welcome to the movie, the audiences are likely to give an overall big 'thumbs up' to the film.
The first day's opening business and the first weekend's business both are likely to be very good.
S. S. Rajamouli, as the director of this movie, will not only be appreciated by the critics, but will also receive popular adulation and some awards.
At the box office, in simple words, this film is going to mint money. Stars indicate that it may even be proven as one of the biggest blockbusters of the decade!
As Venus is in the Zodiac Sign Leo in the Ascendant House of the film's Release Time Chart, it is quite likely that every creative aspect of this movie will be highly appreciated. Ganesha also feels that owing to this planetary aspect, the performance of the actors will also be highly appreciated.
This film's direction and production style itself will also be highly rated by the viewers and critics. Planets indicate that this film is going to bag more than one awards as well, says Ganesha.
However, given Rahu's adverse transit, the producers will need to guard against a legal issue or a controversy. However, even in the case of any such event, Ganesha doesn't foresee Baahubali's overall prospects getting affected.
The stars indicate that there may have been issues with the epic's final length, which is apparent now, as the film will be released in two parts.
As for the director Rajamouli's career, Ganesha foresees that this film is going to be an important landmark in his career.
Ganesha foresees Rajamouli coming up with yet another major release now after 3 years time lapse, somewhere after October 2018 to April 2019.

Ganesha wishes good luck to the cast and the crew of the soon to be released film Baahubali – the beginning.

With Ganesha's Grace,
The GaneshaSpeaks Team