Birthday Predictions for the Legendary Actress Asha Parekh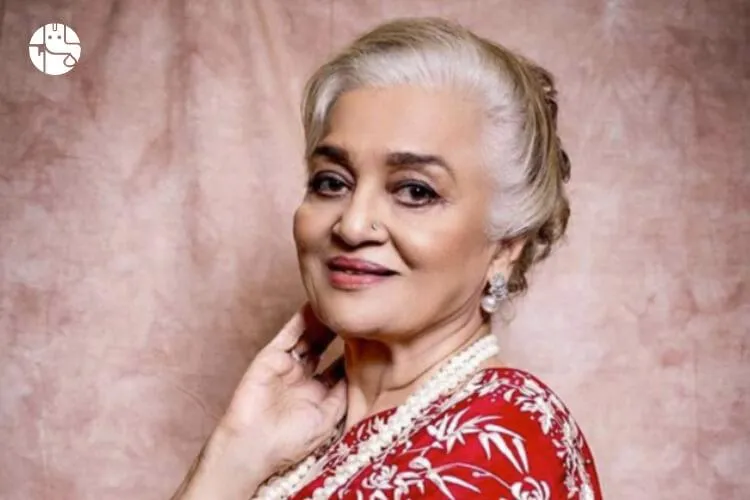 One of the most celebrated actresses of the yesteryear is Asha Parekh. She was one of the highest-paid actresses of her time, and during the golden era of Bollywood in the '60s and '70s, every prominent director wanted to work with her. She appeared in the films of those directors not only once but repeatedly. Apart from Bollywood, she has also acted in Gujarati, Punjabi, and Kannada movies.
Her career in the film industry spans over 47 years, as she started appearing in the movies at the age of ten. Being a trained classical dancer, she got her first role in Maa, a film directed by the noted director Bimal Roy when he saw her performing on a stage. Talk about setting the first foot right! After a few roles as a child actress, she left the industry to study and returned at the age of sixteen. She got her first lead role opposite Shammi Kapoor in Dil Deke Dekho after eight days of being rejected initially. From there, she never looked back and worked with many famed directors of that time again and again.
She was initially known for playing glamour girl/dancer in her movies until Raj Khosla cast her in a serious role in Do Badan. From then, fans would see her in more tragedienne roles in movies like Chirag and Main Tulsi Tere Aangan Ki. She was critically acclaimed for her dramatic roles in the movies like Pagla Kahin Ka and Kati Patang. Who can forget the melancholic "Na Koi Umang Hai…", the title song of Kati Patang? For the movie, she bagged her first Filmfare award for the best actress.
Her career, however, goes well beyond acting. After a successful career on the big screen, she donned the director's hat for the small screen and directed the TV serial Jyoti in her mother tongue Gujarati. Her production company produced projects like 'Palash Ke Phool' and 'Kora Kagaz'. She also became the first female chairperson of the Central Board of Film Certification (Censor Board). She received a Padma Shri in 1992 and was also awarded 'Filmfare Lifetime Achievement Award' in 2002.
You too can know the upcoming ups and downs likely to happen in your career, a prospective job change, or a change in profession altogether, with personalized Career Report 2023 based on your birth details written by our experienced astrologers.
As the actress gracefully turns 78 this 2nd October, her films still rule the hearts of her fans, and the industry continues to miss one of its most influential actresses on the screen. What does the future hold for this veteran actress? Let's find out what astrology has to say based on her birth chart.
---
Asha Parekh Birth Chart:
Date of Birth: 02nd October 1942.
Time of Birth: Unknown.
Birth Place: Mumbai, India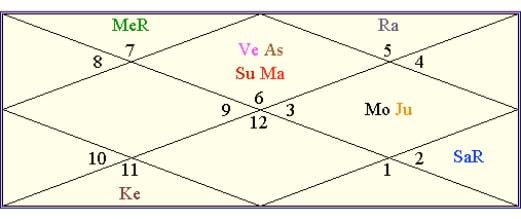 Since the exact time of her birth is unavailable, we will be analysing Asha Parekh's Surya Kundli. Though the time of birth is necessary for an accurate future prediction, a Surya Kundli can also reveal a lot about someone's personality and future. Without further ado, let's dive in!
---
Asha Parekh Horoscope Predictions By Date of Birth
Asha Parekh's Zodiac Sign is Libra according to her Birth Chart. She has reached the top of her industry with Moon and Jupiter in the 10th house, the House of Enterprise. The combination of Jupiter and Moon in the 10th house creates a very favourable Gaj Kesari Yoga to bestow abundance in native's life.
The exchange of Venus and Mercury in her birth chart indicates her interests in the performing arts, cinema, media, or communication. The positioning of Mars in the first house, the House of Ascendant is the testimony to her aspirations and ambitions, the quality of always dreaming big. At the same time, the favourable placement of the sun helped her attain a respectable position in her industry, that too at a very young age.
Want to know how the planets have aligned at the time of your birth to create a favourable yoga for you? Just in a few clicks, you can get detailed insights into all-powerful combinations present in your Personalized Janampatri.
In the coming year of 2021, the one facet of life that Asha Parekh needs to take care of is her health. She may face some minor health issues as a result of the transit of Saturn in Capricorn and Rahu in Taurus. She can avoid them with a proper and healthy diet, and getting rid of any kind of food that may lead to an ailment.
---
Happy Birthday to the Eternal Beauty:
We wish Asha Parekh a healthy and happy year ahead in 2021. She may feel content with the everlasting love of her fans, as they play her songs on loop and watch her movies on a binge!
To Get Your Personalized Solutions, Talk To An Astrologer Now!
With Ganesha's Grace,
GaneshaSpeaks.com
---
---
Get 100% Cashback On First Consultation