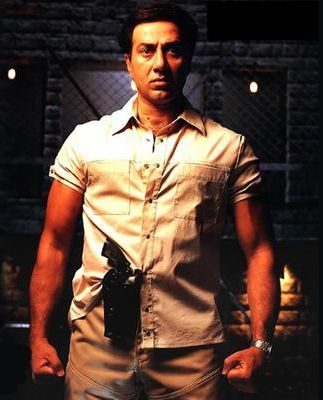 Sunny Deol has, for a long time, been the most feared on-screen nemesis of the Bollywood baddies. His 'dhai kilo ka haath' is something that every villain wants to keep at more than an arm's length. After over a decade of successful career in Hindi films, 'the Hero' is now showing the signs of ageing. His recent films have not done too well on the Box Office, 'Fox' being the most recent one. His forthcoming films are 'Filmi Khabar', 'The Man', 'Right Yaa Wrong', 'Kshitij' and 'Devaa'.

Is this the sign of good times for Bollywood's bad men, who must have been sick of being brutally assaulted by the killer on-screen punches of Sunny Deol? That, only time can tell. Meanwhile, Ganesha uses Vedic Astrology System to predict his career progress this year.

Sunny Deol
Date of birth: 19th October 1961
Time of birth: Unknown
Place of birth: New Delhi, India
Sunny Deol's Surya Kundli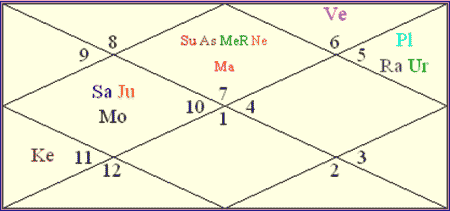 Astrological Points
Jupiter will be transiting over Ketu after 16th November, 2009
Transiting Rahu and Ketu will form Square with Natal Venus which is debilitated
Saturn is transiting over Venus placed in Virgo
Debilitated Mars will be forming square with stellium in Libra
Astrological predictions
The coming year is going to be little tough for Sunny Deol because of Rahu Ketu's square with Natal Venus – the significator of arts
Saturn's transit over Venus may make him a bit choosy about his roles. He may do very few films during the year. He will try to give his best as Saturn's transit over Venus cultivates discipline.
Till May 2010, Sunny is likely to undergo a lot of anxiety. He will have to keep a check on his alcohol consumption, in order to maintain good health as Mars will be forming square with stellium in Libra and will be transiting through watery sign.
June 2010 onwards transiting Jupiter will aspect Natal Venus and will be in force almost till the end of 2010. During this period, he will come up with good films and may even produce one. This phase also indicates increased fame and success through art.
In short, Sunny's year ahead seems favourable in parts and he may do well after June 2010.

May Lord Ganesha bless Sunny Deol with success

With Ganesha's Grace,
The GaneshaSpeaks Team