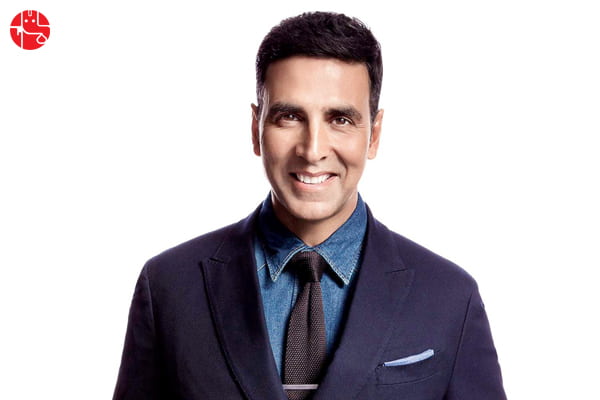 (Image Source: Internet)
Akshay Kumar is one of the few well-established and evergreen actors in Bollywood. In a career spanning over 25 years, Kumar has worked in more than 100 Hindi films and won several awards including National Film Award for Best Actor for his role in Rustam. Akshay Kumar enjoys a huge following in India and abroad and Box Office India has listed him as one of the most successful actors in the history of India. Now his much-awaited movie Pad Man is all set to be released. In order to know about his future, Ganesha has analysed his horoscope and looked into his future. Here are the findings:
Akshay Kumar
Date of Birth: 9th September 1967
Birth Time: Unavailable
Place of Birth: Amritsar, Punjab, India
Surya Kundli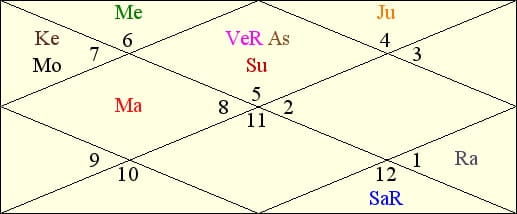 Astrological Observations:
Akshay Kumar Will Win Wide Applause In Pad Man
As far as his upcoming movie Pad Man is concerned, Saturn's transit in the 5th house points to a strong performance from him. His superb work in this movie will yield rich dividends. Akshay Kumar will not just gain monetarily but his performance will also make him more popular. This movie will be appreciated in India and other parts of the world as per his birth chart. That is about his career. What about yours?
Buy the Career Ask A Question Report and know the answer
.
Stars Will Favour Pad Man
Fortune will favour Akshay Kumar for the movie Pad Man. The movie will do well. But most of the credit for this success will go to Akshay Kumar. He will carry the movie on his shoulders. His fortunes will rise again and Akshay Kumar will be considered one of the best actors in India.
More Recognition Foreseen
Besides, the influence of Jupiter's transit over natal Moon in the third house may fetch Akshay Kumar many awards in professional life. He has already won several prominent awards so far. His tally may grow more in the time to come. His fame and popularity will also grow with the passage of time as per predictions. You can also read the future of
Farhan Akhtar
.
Concern For Public Image To Grow
At the same time, Akshay Kumar will get more inclined towards building his public image in the months to come. He will take it more seriously and work in that direction. Stars see him getting success in this area.
Fruits Of Hard Work Less Than Expected
Besides, 2018 is going to be a great period for his growth and success in the profession. However, his success may not be in direct proportion to the efforts he puts in, In other words, Akshay Kumar may not get full fruits of his hard work. But in any case, he is likely to enjoy his work and grow. You may find this article on
Salman Khan
interesting.
Popularity To Grow In Foreign Shores
There are chances that his work may get a lot of recognition from foreign shores. Akshay Kumar will win acclaim from far and wide. This could mean that his upcoming movies including Pad Man will win huge applause in foreign countries, may be even more than in India. Thus, he may become an international star.
Financial Situation To Get A Boost
Planets will propel his success in profession. They will also influence his financial situation. Akshay Kumar may make fresh deals for endorsements. He is likely to earn more not just from acting but also from other sources according to Akshay Kumar's astrology analysis. Do you want to know about your finances?
Avail the Free 2018 Finance Report and know the answer.
Good Rapport With Others
Akshay Kumar's rapport with the people around him will be warm and receptive. He will share his precious moments with family members and friends. He will also be on good terms with his professional colleagues. All this will help him in his work and he will surge ahead to actualise his potential. Overall, Akshay Kumar will make progress on different fronts in 2018.
With Ganesha's Grace,