Astrological Events Bringing Fortune To These Signs in 2021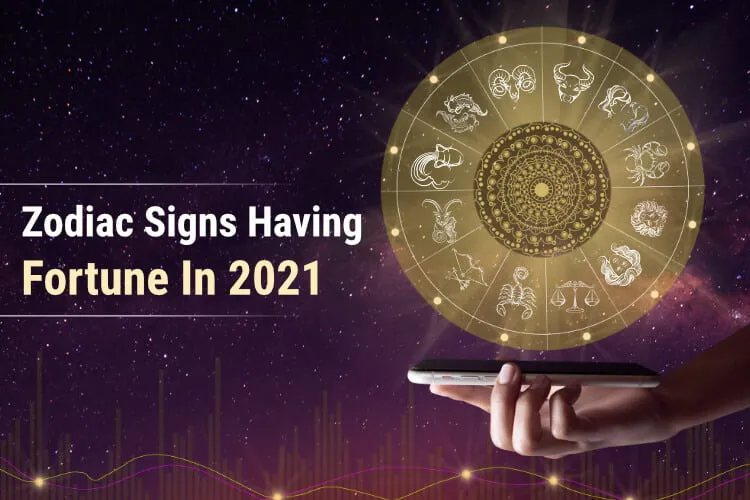 Knock Knock, the Year 2021 is calling! Woohoo, finally we are moving towards the new year after facing many rare cosmic events in the challenging year 2020. Everyone wants to be on top, but only a few are able to strike gold. Believe or not with your dedication and hard work, your good fortune also plays a vital role. We will give you a quick & impactful look of 5 Signs that will be benefited through Astrological events this year 2021.
---
Libra 2021- A Dream come true Year
Hey Libra guys, 2021 is a year that you were waiting for. You can achieve heights of success in your professional life. Also, if you are doing a job, then this year would unfold the much awaited chapter of 'Promotion'. You will be kick-starting this year on a positive note with the blessings of planets. Your marital life will be good, as well. There will be a tenth sight of Saturn in the Libra zodiac in the middle of the year, which will place them in a new spiritual environment. But as the famous saying goes, don't just dream, make it happen. This year it's very important for you to take actions wisely.
Have you got your 2023 Personalised and detailed report?
---
Aries 2021- Good Fortune Comes To your Door
Hola Aries pals, good news for you as well. 2021 will be excellent for you. You will be as energetic as Ranveer Singh and as fortunate as a person having Aladdin's Genie. Bingo! Feeling good? You should be. Just to add a bit more, at the beginning of the year, the tenth Guru will progress in your professional work. After this, Jupiter's tour will be in the 11th house, which will strengthen your social network. Your income is also going to be very high during this time. Hmmm… someone's gonna progress massively this year.
---
Cancer 2021- You will be doing what you love the Most
Shoutout to the Cancers, 2021 will be a fantastic year for you. You will do your desirable work.
The direct sight of Guru and Saturn on your zodiac sign will remain at the beginning of the year. This will boost your hard-working nature even more. Remember one thing, stick to your passion and walk along with true dedication and purpose in your head. Just turn off the mode of all negative energies in life because this can be the most fruitful year for you. To all the entrepreneurs out there, tons of opportunities towards growth are coming your way.
Is Cancer the luckiest sign in Love? Check Now!
---
Scorpio 2021 – Set Targets & Win Life!
The Lord of Scorpio is Mars, and the people of Scorpio will be full of energy in the year 2021. Although this year you will make some big decisions, that is not a room of tension for you. Chill! You will be fit both mentally and physically. You will defeat this habit of keeping all the emotions with yourself. You'll express more that you will feel the real light. We can't say that about the whole year, but in the middle, the golden days will be experienced containing some amazing opportunities.
Get tips to boost your mood Here!
---
Taurus – Bursting Happiness
Hey Taurus, how it's going? We are confident that things will go very positive next year. The bad news is, Rahu transits in your zodiac sign this year. This might give you some serious tensions but it will also make you strong mentally. Don't get panicked after listening to this, be strong and brave. You must pour your true efforts in order to achieve huge success this year. Your soul will be overwhelmed after listening to this, 'You will get closer to yourself'. Good new No. 2, Rahu will offer you a wonderful gift of the last happiness of the year. Couldn't ask for more? This is what kind of reaction we wanted.
On an ending note, we must say that it's irrelevant to think that the remaining 7 Zodiac signs are not fortunate. We all know that cosmically, 2020 was a disaster year, but we must say that people did progress. Let's not carry the baggage of 2020 and kickstart 2021 with new determination, and pledge whatever Zodiac sign you may possess. Remember, hunt every opportunity that comes to you, and say 'Om Ganeshaya Namah'.
To Get Your Personalised Solutions! Talk To The Best Astrologer Now.
With Ganesha's Grace,
Astrologers trained by Shri Bejan Daruwalla
The GaneshaSpeaks Team
---
---
Get 100% Cashback On First Consultation