Venus & Mars Conjunction in Cancer - Impact of various Moon Signs.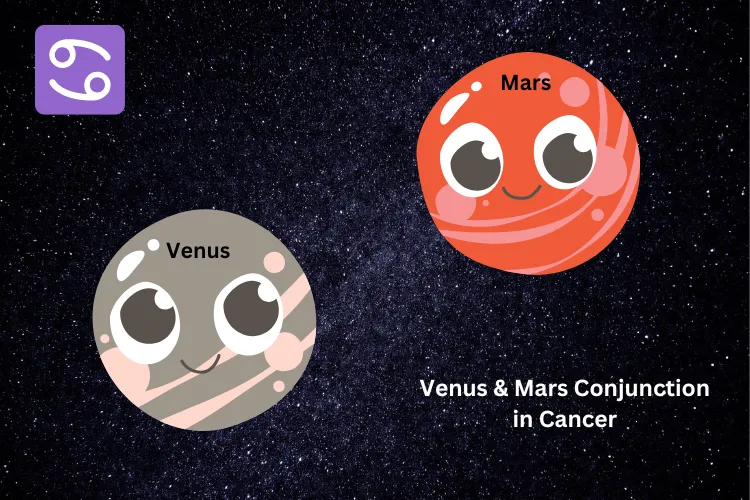 Venus represents our ability to enjoy our life. Venus relates to the overall refinement of our life system, in all its various aspects. Art, love, romance & money are the primary domains of Venus.
Mars is masculine planet which rules our vigor, enthusiasm & force. Mars and Venus both share a neutral relation to each other. Mars denotes passion whereas Venus signifies love & romance.
The conjunction of Mars & Venus in Cancer sign creates caring, committed and fun-loving attitude towards love and relationship.
The transiting Venus and Mars will conjunct in Cancer sign during 31 May 2023 to 30 June 2023. Let's foresee the impact of this conjunction of various Moon Signs.
---
Aries
This period may revitalize your love life, but you need to watch for over-sensitive reactions or make you somewhat unbalanced or uncomfortable. As this transit progresses, you will be able to convey your feelings in the right manner. Your emotions may be expansive which will have a soothing impact on your love life. The later parts will bring some passionate moments in your love life. This transit will make you learn to analyze yourself and march forward with greater clarity. 
Read more about Aries.
---
Taurus
In this transit, you will assert yourself more prominently, and you will want to address the problems areas more positively. It will help you sort out some existing problems and make you able to develop intimacy with your beloved one. The love, warmth and harmony you feel is stronger than ever during this time. This can be a good phase to go on dates. Do not let any anger or ego linger for any reason, big or small. As the transit advances, this may lead to an increase in positive energy, confidence, love, romance and intimacy.
Read more about Taurus.
---
Gemini
During this transit, you are likely to meet interesting peoples, and you will be more open to people who are quite different from yourself. You may also come across opportunities for romance, which will be exciting for you. This period will help you to work on your effectiveness, and see exactly what has been holding you back from achieving the pleasure and satisfaction that you want. Illusions about yourself and your relationship with your mate will get dissolved, if any. Do you have concerns about your relationship? Then, Get Guidance With Relationship Ask Question: Detailed Advice
Read more about Gemini.
---
Cancer
You will have a wealth of feelings and accomplishments in your love life during this period. You will want to come out, and you may also have the energy to do more and take on challenges for more pleasure and romance. During the later parts of this transit, you will want to be surrounded by romance, love and beauty.
Read more about Cancer.
---
Leo
This transit is likely to bring the fresh air of romance in your love life. Your ability to relate yourself well with your loved one might enhance your love prospects. You will experience a positive flow of warmth and feelings during this time. You will expect to get a cooperative response from your partner if you are in a committed relationship.
Read more about Leo.
---
Virgo
As this transit begins, you will have a very realistic and no-nonsense attitude and this will help you establish a cooperative, harmonious relationship. You will be more interested in the similarities than in the differences between yourself and your partner. As the period progresses, you can expect positive results in matters related to the future of your relationship. Social gatherings will also be very positive for you at this time.Avail Solutions To Issues In Personal Life With Personal Ask A Question – Detailed Advice
Read more about Virgo.
---
Libra
This transit will bring positivity and optimism in your love life. It will also inspire you to reveal your deepest feelings with the ones you love. As this transit progresses, planets are likely to bring some fresh opportunities for romance. Taking the lead and attempting a meaningful dialogue with your partner will help you build a positive impression.
Read more about Libra.
---
Scorpio
This period would take you on the path of enjoying your love life and lift your spirits if you are involved in a relation. It is the time to take decisive steps to take your relationship to the next level of harmony and joy. A meaningful conversations and meetings will help you infuse a new spirit in your relationship as the transit progresses. You will unconsciously prepare yourself to re-evaluate your relationship.
Read more about Scorpio.
---
Sagittarius
During this period, you will be able to enjoy your relationship with little ups and downs either because of lack of good communication or miscommunication. On some days, you may feel that the relationship is not under control. Avoid miscommunication and misunderstandings to avoid any further friction.
Read more about Sagittarius.
---
Capricorn
This period will begin with a positive note for your love and relationship segment. Both of you will have the same feeling of love and romance. Your confidence is going to help you bring some better changes in your relationship. Cultivating and maintaining an optimistic approach will do wonders for you.
Read more about Capricorn.
---
Aquarius
This period will bless your love life; hence, you will feel more rejuvenated and may also enjoy your relationship romantically. Cultivating a little more patience is going to pay you a good happy life. Giving space to your partner will help make matters more amicable. However, you need to guard your relationship against outside interference or disturbances.
Read more about Aquarius.
---
Pisces
This period is likely to have a favorable impact and your relationship is likely to flourish. Your attention will be brought to something that might have been missing or lacking in your relationship. This could be a good time for you to propose or to express your feelings to someone.
Read more about Pisces.
For Instant Solutions! Talk To Astrologer Now.
With Ganesha's Grace,
---
---
Get 100% Cashback On First Consultation