Trendy Hairstyle that Suits You Perfectly as per Your Zodiac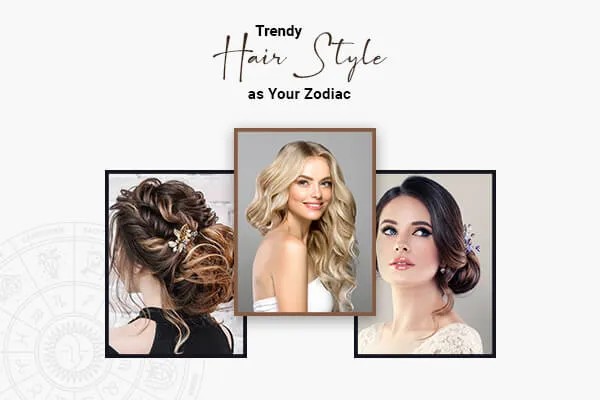 Ayushmaan 'Bala' Khurana made us realize how important our hair is ! But a perfect hairstyle not only adds confidence but also enhances our personality. As we consider career, love-relationship, health, personality traits based on zodiac, the sun signs can also help predict what kind of hairstyle suits you best according to your zodiac. Every individual possesses different and unique characteristics as per their zodiac. Aries is a fire elemental, while Pisces is a water elemental, therefore styling according to zodiac can add extra stars to your persona.
Let's take a look at what kind of hairstyle suits you best.
---
Aries Hairstyles
Aries Woman
Aries women are free-spirited and full of confidence. They love adventurous things, and are born leaders. Because of their bold attitude they easily become the center of attraction. Being Aries if they want to go for short hairs, 'bob cut' suits best with their audacious personality. No doubt, this will compliment your outspoken nature. Although, if you want to go for long hair, 'half boho bun' will be a great choice.
Aries Man
You will always find an Aries male engrossed with some new project or planning about new leadership goals. They always prefer simple but classy hairstyles. Crew cut, Military cut, or tapered cut is just perfect for them.
---
Taurus Hairstyles
Taurus Woman
Venus is the planet lord for stubborn Taurus, which is responsible for love and beauty. You prefer to keep your hair long and wavy. Although, your curls give a perfect shot with open hair, a simple messy bun can complement your beauty.
Taurus Man
Venus is responsible for your charming personality. You are steady and grounded and have the capacity to rejuvenate people around you. You love to attract people's attention, therefore you prefer long hair and keep it tied in a ponytail. Curls can enhance your look, for that you can use good hair products available.
---
Gemini Hairstyles
Gemini Woman
These dual personality females keep themselves busy on social networking sites and social gatherings. They love exploring new things. As per their temperament shoulder length hair goes well, that can be curly or straight. You can also experiment with different hair color shades. For special occasions you can go for 'waterfall braid'. This will look good with your shoulder length hairs.
Gemini Man
Indecisive but gifted Geminis love to be trendy. They love doing experiments with their hair cut and hair colors. For youthful appearance they can go for a Mohawk haircut and color it with their favorite hair color shade. In this way, they would experience the looks of both the worlds, and be suave and clean at the same time.
---
Cancer Hairstyles
Cancer Woman
Introspective and always try to balance between emotional and material realms, Cancerians are self-protective and take some time to open up to people. Cancerians don't go for so many changes at once, and like to play safe. Instead of doing experiments, they opt for classic ponytails high or low, that will complement their personality.
Cancer Man
Cancerian males are very much attached to every aspect of their life and are touchy about it. Hairs are no exception. To remember their youth, they prefer to have youthful hairstyles. Classic haircuts with a royal touch are cancerians chic. Although they like to have long hair, it is hard to maintain, a hair spa can be another important place for them in a busy schedule.
---
Leo Hairstyles
Leo Woman
Bold and rebellious Leo always likes to be on the dominant side. Leo is ruled by the sun, which governs life and vitality – they love to celebrate. Long or short but it will be curly for sure, that will enhance your celebration mood. Curly locks make their face more pretty. Don't forget Halle Berry, Tapsee Pannu with pretty locks.
Leo Man
Naturally thick manes are their identity. They love their long and maintained hair, which requires good styling products and regular oiling. They prefer to color their beautiful mane too.
---
Virgo Hairstyle
Virgo Woman
Virgins are logical, hardworking and creative. They are life-long learners, always seeking for new things. A long side ponytail is just perfect for these compassionate creatures. You can set your hair free just like your thoughts or can keep a beautiful 'Bob cut' to experiment with your look.
Virgo Man
These perfectionists don't like to spend time on styling and looks, they prefer a simple and sober look. Short hair cut matches their temperament that requires less time and effort. However, you need to visit barbar more often to keep them short. You can also use wax, or gel to fix them for a longer duration.
What is Horoscope Fashion? All About Outfits Based on Zodiac Sign,
---
Libra Hairstyle
Libra Woman
Scales always seek a balanced life. Not only are they hopelessly romantic, but also keep praising beauty around them. Libras thrive in creative and exquisite ambience – they appreciate the finer things. Picking up specific hairstyles is injustice to their creative self. Instead they can accessorize their hair with some beautiful hairband or hair clips to quench their creativity. For special occasions side braids are perfect for them.
Libra Man
They have eternal love for beauty, elegance, and all things that have an aesthetic appeal to them. You love applying hair gel, hair spray or hair serum to attract attention of opposite sex. You like to experiment with different hairstyles whether new, old or funky. No doubt, with the 1960's retro look you can create a new style statement.
---
Scorpio Hairstyles
Scorpio Woman
Highly energetic, powerful and passionate Scorpions love doing complete makeovers. In case you want to go for a short hair, you can have cropped french Bob, which can create wonders for you. With long hair, you can experiment dutch braids. This complements best with your mysterious personality.
Scorpio Man
You love being the center of attraction. Short hair and shaved look goes perfect with your secretive character. Ethics means a lot to you, therefore you don't prefer to use any artificial hair products.
---
Sagittarius Hairstyle
Sagittarius Woman
Adventure seeker archers are full of confidence and optimism, which make their personality even more charming. They don't need any special hairstyle. They are meant to carve their own path. They don't follow trends but create style statements. Whether a braided look or a flawless free hair, they look mesmerising in every hair style, but a ponytail is good for their wanderlust attitude.
Sagittarius Man
They are born adventurous. These Hodophiles cannot sit in a single place for a long time. Short hair that needs less attention and maintenance is perfect for these archers. However, you love trying different looks, but any trendy hairstyle can suit your adventurous self.
What Future holds for you. Know your personalised birth chart here. Click her
---
Capricorn Hairstyles
Capricorn woman
Capricorn are humble, compassionate, hardworking and big time optimists. They may seem stubborn to some but once you get to know them, you'll soon realize they are loyal and loving. No obstacles can stop them from achieving their objective. They prefer Simple and Elegant style, so side braids can solve that purpose well.
Capricorn Man
Practical and ambitious capricorn prefer to live a disciplined life. While you are in office, you might want to sport a look that is very sleek and look professional, and you would love to go for simple, traditional, and non-messy hairstyles. You can go to buy some styling products to set your crown for a longer duration.
---
Aquarius Hair Style
Aquarius woman
Compassionate but rebellious aquarius love wandering. Matching to the changing and demanding lifestyle of yours, medium length hair is perfect for you. You're gifted with natural curls that can accompany a high pony which is easily manageable.
Aquarius Man
Aquarius is a good communicator and loves experimenting with different things. They prefer creative hair style, therefore half pony goes perfect with your temperament. It complements your creativity and personality both.
---
Pisces Hairstyle
Pisces woman
These dreamy creatures love to experiment with look, style. They keep changing from open hair to ponytail to different styles of braids. Half-up hair bow may be a good option to engage your experimental nature.
---
---
Get 100% Cashback On First Consultation