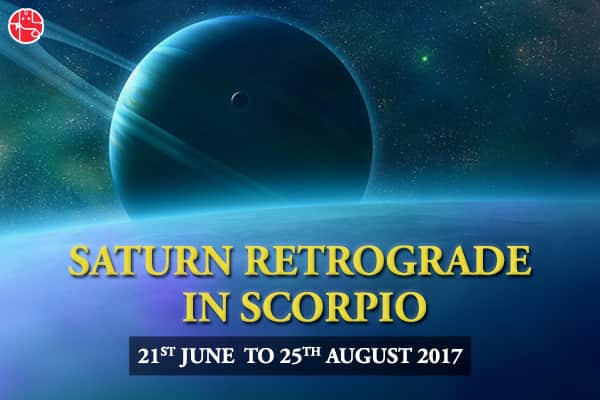 Saturn Retrograde Dates
Saturn Retrograde in Scorpio will take place between 21st June 2017 and 25th August 2017. Saturn will turn direct in Scorpio on August 25, 2017 and will stay in the sign till October 26, 2017.
The Importance Of Planet Saturn
Saturn holds a very unique and interesting place in the list of celestial bodies. It is considered the watchman of our conscience. It is also called a serving & spiritual planet and is stated to move in a slow, thoughtful pace. Most significantly, Saturn is justice loving and is supposed to be a great judge in the Indian astrology. Many people share certain beliefs about Saturn which are not true. It is generally believed that Saturn brings hurdles and difficulties in the lives of people. But this is far from real. Saturn influences the lives of the individuals as per his/her karma (the good or bad actions). If the actions of the natives are meritorious, Saturn not merely gives them good results but also moves them on the path to Moksha (salvation).
The Impact Of Saturn Retrograde On The 12 Moon Signs
Saturn Retrograde In Scorpio For Aries
- Retrograde Saturn In 8th House
Saturn Retrograde In Scorpio For Taurus
- Retrograde Saturn In 7th House

Saturn Retrograde In Scorpio For Gemini
- Retrograde Saturn In 6th House
Saturn Retrograde In Scorpio For Cancer
- Retrograde Saturn In 5th House
Saturn Retrograde In Scorpio For Leo
- Retrograde Saturn In 4th House
Saturn Retrograde In Scorpio For Virgo
- Retrograde Saturn In 3rd House
Saturn Retrograde In Scorpio For Libra
- Retrograde Saturn In 2nd House
Saturn Retrograde In Scorpio For Scorpio
- Retrograde Saturn In 1st House
Saturn Retrograde In Scorpio For Sagittarius
- Retrograde Saturn In 12th House
Saturn Retrograde In Scorpio For Capricorn
- Retrograde Saturn In 11th House
Saturn Retrograde In Scorpio For Aquarius
- Retrograde Saturn In 10th House
Saturn Retrograde In Scorpio For Pisces
- Retrograde Saturn In 9th House