Sankashti Chaturthi
According to the Hindu calendar, there are two Chaturthi in the month. The Chaturthi falling in Krishna Paksha is known as Sankashti Chaturthi. Whereas Chaturthi falling in Shukla Paksha is known as Vinayaka Chaturthi. The fast of Sankashti Chaturthi fulfills all kinds of wishes and removes all kinds of troubles. The special grace of Lord Ganesha is obtained by fasting on Sankashti Chaturthi.
The list of Sankashti Chaturthi coming in the year 2021 is as follows
---
When is Sankashti Chaturthi 2021?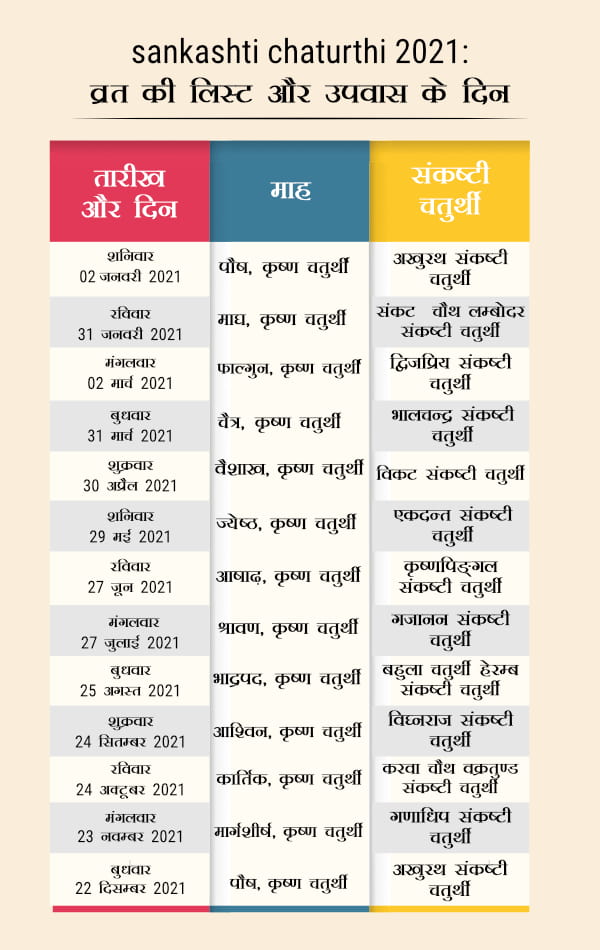 ---
List of fasting and fasting days
Sankathara Chaturthi is also known as The fast of Sankashti Chaturthi is dedicated to Lord Ganesha. By observing this fast, the devotees pray to Lord Ganesha to remove their sufferings. According to the Hindu calendar, this fast is observed on the fourth day of the full moon of every month (Chauth of Krishna Paksha). Ganapati ji is considered the first worshiper in Hindu religion, and takes away all the troubles. There are 13 Sankashti Chaturthi fasts throughout the year. Sankashti Chaturthi is known as 'Ganesh Sankathara' or 'Sankathara Chaturthi' in Tamil Nadu.
---
How to worship Sankashti Chaturthi?
Take a bath with pure water in the morning and wear clean clothes.
Worship Lord Ganesha by offering sesame seeds, jaggery, laddus, durva, sandalwood. After that
recite the story of Ganesha.
Worship Lord Ganesha and chant mantras.
After worshiping Ganesh ji in the evening, complete the worship by offering Arghya to the moon.
---
What to do during Sankashti Chaturthi fast?
The fasting of Sankashti Chaturthi is very difficult. Do not consume any kind of grain in it. Fruits, tubers and roots can be eaten on the day of Sankashti Chaturthi. You can break the fast after offering arghya after seeing the moon in the evening. After breaking this fast, in the evening you can eat sago khichdi, potatoes and peanuts.
---
Ganesh Mantra for Sankashti Chaturthi
गणपति जी की पूजा आप इन मंत्रो से कर सकते हैं।
ॐ गं गणपतये नम:
वक्रतुण्ड महाकाय सूर्यकोटि समप्रभ:, निर्विघ्नं कुरु मे देव सर्वकार्येषु सर्वदा।।
ॐ एकदन्ताय विद्धमहे, वक्रतुण्डाय धीमहि, तन्नो दन्ति प्रचोदयात्॥
For Instant Solutions! Talk To an Astrologer Now.
Get Your Free Daily Horoscope Report
---
---
Get 100% Cashback On First Consultation