Nakshatra Matching For Marriage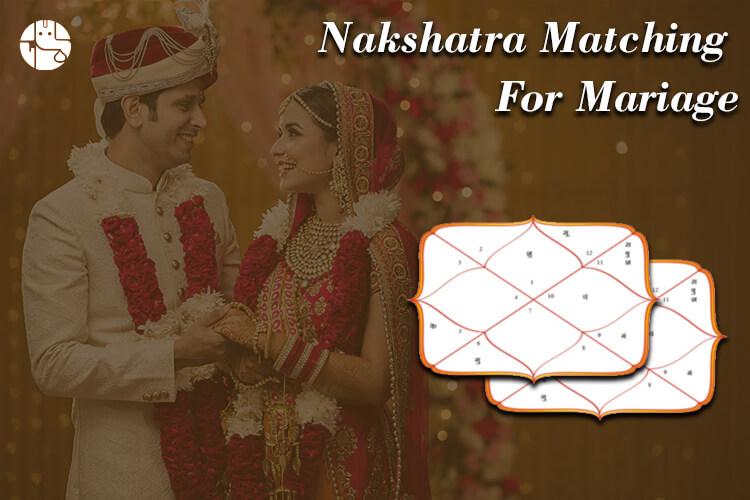 'Marriages are made in heaven!' Many of you would have heard this saying multiple times. Meeting a completely unknown person and tying the knot of a lifetime with them can be scary. In Hindu culture, marriage does not simply happen between a girl and a boy, but both their families also come together. Hence, it takes one of the key factors to make sure the couple is a good match.
Finding out the Janma Nakshatra (birth star) is considered to be vital in marriage matching according to Vedic astrology. It is the Nakshatra in which the Moon was present during one's birth time. The Moon conducts its journey through one Nakshatra in a day. There are 27 Nakshatras that constitute a zodiac, influencing the person as per the 9 planets (navagrahas). Hindus have been considering these Nakshatras to determine the auspicious Muhurats (time slots) and dates to carry out any important event in life. 
Therefore, for marriage proposals, the Hindus prefer 'star matching' (Nakshatra porutham) as the topmost factor. In this, the Nakshatra and Rashi porutham of both the bride and the groom are analyzed. It is considered to be a stronger compatibility if more number of stars match in both the native's horoscopes. In the end, the couple will have a deeper level of intimacy resulting in a marriage that lasts forever. When parents start the journey of matchmaking for their son or daughter, they look at their Janma Nakshatras along with Rashi and other planetary placements. This is when Vedic astrology comes handy to determine a perfect match. 
An expert astrologer can help conduct the Kundali milan by date of birth. For this, the birth charts of both the bride and groom are analyzed. The placement of stars and planets in both the individual's birth chart can help one know how fruitful the marriage is likely to be. Online calculators can also help to find out one's Nakshatra by date of birth. Horoscope matching can then be done online by feeding in the Nakshatra and other details of the boy and girl. This birth star matching for marriage derived by sages has been used since ancient times and continues to be used now. It helps one know the compatibility and longevity between the couple after marriage. 
Conclusion
Marriage matching by Rashi and Nakshatra helps one know the presence of any doshas that might affect the marriage negatively. If there is a dosha in the person's chart, an astrologer can guide them with remedial solutions to neutralize its effects. This can save the marriage from any negativities. Hence, it is for the best to get the Nakshatra matching done before moving forward in marriage.
To Get Your Personalized Solutions, Talk To An Astrologer Now!
With Ganesha's Grace,
The GaneshaSpeaks.com Team