Chief Communications Officer Mercury Turns Retrograde: How Will You Be Impacted?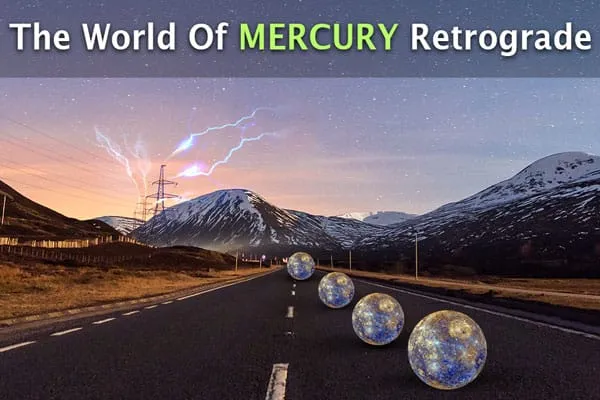 That time of the year is back, when Mercury will be turning retrograde. Between 19th December, 2016, and 8th January, 2017, the planet of intelligence and logic will be travelling in a reverse gear in the Sign of Sagittarius. The retrogression of this planet can cause problems in communication, interpretation of information, relay of information and performance of gadgets. Moreover, there are high chances of Internet speed related issues during this phase. There are a lot of ways in which this transit may affect us, but to make things more clear for you, we present predictions based on your Moon Sign. Read and arm yourself for the crazy period.
Please note: These are Moon Sign based predictions, but, the effects will also be applicable for the Ascendants.
---
1) Aries
Mercury's transit through the 9th House anyway indicates higher chances of travel for you, but during the retrogression, you may have to set out on sudden, unplanned trips. You will have to be well prepared before you start your journey as you might incur unforeseen expenses. At your workplace, there may be misunderstandings or unnecessary arguments with colleagues. Moreover, you may face some new hurdles in your daily routine. Read more about Aries.
Mercury Retrograde Survival Tip –
To ensure that things do not take an awry turn, ensure that you set out for your activities a bit early, which will help you to make it to the destination in time.
---
2) Taurus
The retrogression of Mercury in the 8th House will not augur well for you as your relations with others could suddenly face a low phase which could bother you. Well, financially, you might gain or lose unexpectedly, but the chances of the latter seem stronger, so crush any urge to splurge, at least till the retrogression lasts. There may be serious communication issues in your love life, which may spoil the camaraderie between the two of you. The health of a family member may require attention. Read more about Taurus.
Mercury Retrograde Survival Tip –
It would be better not to hide your emotions or feelings with your loved ones during this phase to avoid any conflicts.
---
3) Gemini
As your Sign Lord will be moving in a backward motion, you may face problems in expressing yourself and dealing with people. Interpersonal issues are likely, so try to be extremely clear in your communication as well as interactions with others. People may feel that you are being cold or rude, but it is just that you are not being able to express yourself clearly. Differences of opinion with spouse and/or business partner are likely. Read more about Gemini.
Mercury Retrograde Survival Tip –
Do not assume anything and if there is any doubt then clarify it, as this will save you from major misunderstandings with people.
---
4) Cancer
During this period, you will be in the explorer's mode and will want to try unconventional methods at your workplace. Before you begin any activity, it would be better to the ground work well, as otherwise there will be duplication of efforts later on. You may be prone to seasonal ailments, so take good care of health. You are likely to spend high amounts for entertainment, but avoid going overboard. Read more about Cancer.
Mercury Retrograde Survival Tip –
This is the time slow down a bit and be alert about the things going on around you.
---
5) Leo
You will have to handle your finances with extra caution currently, as Mercury's retrograde movement will have a direct impact on your money matters. Amy sort of family issue will have to be dealt with in a mature and patient manner or otherwise things may get worse. Your performance in general will witness some fluctuations. It would be better if you go a bit slow when it comes to matters related to speculation. Read more about Leo.
Mercury Retrograde Survival Tip –
Be very careful in financial dealings and make a commitment, only when you are sure.
---
6) Virgo
During the retrogression of Mercury, who happens to be you Sign Lord, you will feel like spending more time at home. This phase will also provide you the opportunity to plan the next move in your career. Be polite while dealing with seniors. You are advised to take proper rest and to not overexert yourself. Read more about Virgo.
---
7) Libra
Your fortunes are likely to fluctuate during this period and thus, do not completely rely on your luck in important matters. Some hidden desires may come to the fore during this period. You will feel like expressing yourself more through writing in this phase. Communication problems with siblings are most likely in this phase. Read more about Libra.
Mercury Retrograde Survival Tip –
To avoid letting your efforts go waste, get clarity about what exactly is to be done. Also, ensure that the messages or mails that you send to your clients are delivered.
---
8) Scorpio
Surprisingly, there may be sudden gains, but, only if you grab the opportunities at the right time. But, high expenses are also foreseen. Though friends may be supportive, it would be better to not borrow money from anyone. Moreover, if you are planning to something new, then be very sure about the financial aspects. Some hidden secrets might be revealed during this period. Read more about Scorpio.
Mercury Retrograde Survival Tip –
Accept the changes and embrace the new things in your life with positivity.
---
9) Sagittarius
Relationships and career are the two areas that will be getting impacted during this transit. All your efforts may not materialise into effective results, but do not let this affect your morale. Verbal interactions between you and your spouse may now seem a bit cluttered and you may not be on the same page as your partner, which will create confusion. Read more about Sagittarius.
Mercury Retrograde Survival Tip –
Work towards maintaining a balance between your personal and professional life.
---
10) Capricorn
During this phase, you will face fortune blocks. Even normal and easy tasks will seem cumbersome for you and thus you may be disinclined to try anything new. Some troubles for father are indicated. Those into higher education will have to be careful as some hurdles are foreseen. You may face some skin related problems, so be careful. Maintain proper hygiene and consume green, leafy vegetables. Read more about Capricorn.
Mercury Retrograde Survival Tip –
Protect your skin and take care of your health. Also, you should develop spirituality.
---
11) Aquarius
This transit may affect your bonding with friends because of your inability to communicate or false commitments. You need to drive safely and be cautious while travelling. If you are a student, then you will be presented with the opportunity to cover the course or syllabus that you may have missed recently. Some important files or your belongings that you may have lost or misplaced earlier may now come back. Read more about Aquarius.
Mercury Retrograde Survival Tip –
Make sure that you are able to deliver what you commit to others.
---
12) Pisces
Uncertainty in personal affairs is likely and this aspect may ruffle your feathers. But, instead of overreacting in tricky situations, you will have to analyse the situation well. Be very careful in formal communication, as there are chances of some issues cropping up. Due to various distractions, you may find it difficult to achieve targets within the deadlines. Read more about Pisces.
Mercury Retrograde Survival Tip –
Make sure that you talk less and listen more as this would be helpful in understanding the perspective of others.
Talk to an Astrologer Now, First Consultation with 100% Cashback! 
With Ganesha's Grace,
Aakansha Jhunjhunwala
(Special Inputs: Aaditya Sain)
The GaneshaSpeaks Team
Do you know, your birth star or Nakshatra has a very important influence on your personality and behaviour? Get your Birth Star Report for FREE now!
---
---
Get 100% Cashback On First Consultation