Satyanarayan Katha: Procedure and Significance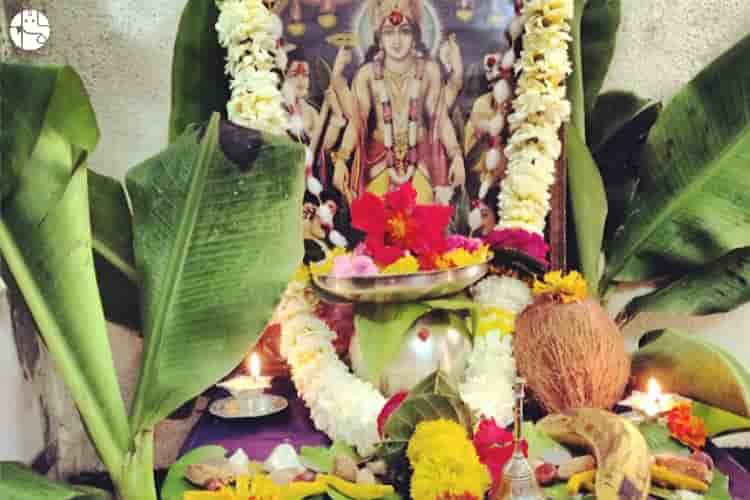 Satyanarayan Katha is performed to worship Lord Satyanarayan, a form of Vishnu. Satyanarayan is a compound word amalgamated with two words Satya and Narayan. Satya means truth and Narayan means one who is present in everything and everybody and a supreme of all. Satyanarayan Katha is performed by everyone irrespective to age, sex and marital status.
1- When is Satyanarayan Katha performed?
a) Satyanarayan Katha can be performed any time but performing on Ekadashi and Purnima is considered to be more auspicious.
b) Apart from Ekadashi and Purnima, Sankranti and the day of the solar eclipse are also considered auspicious.
c) Satyanarayan Katha is also performed before the major occasions of life like marriage, house warming, new office or venture, and so on.
d) Satyanarayan Katha is also performed after the achievement of success like getting a job, getting admission in a foreign university or graduate.
e) The puja is performed on special occasions like childbirth, birthdays, Godbharai and many more.
f) Individuals also conduct Satyanarayan Puja when they are suffering from a prolonged illness or suffering from losses from quite a long time.
2- Why is Satyanarayan Katha performed?
Satyanarayan Puja benefits
a) According to Hindu Mythology, the sage named Narada asked Lord Vishnu some formula of ending the miseries of the people on the Earth. To that Lord replied, performing Satyanarayan Katha or Puja would give ultimate happiness and Moksha in the Kaliyuga to the devotees.

b) Satyanarayan Katha is performed to offer our gratitude to Lord Satyanarayan.
Devotees performed fast on that day so that negative thoughts stay away from the mind.
c) Satyanarayan Katha is performed to overcome the problems and the difficulties of life.
d) The sins or wrong deeds of a previous birth or similar factors can be overcome by performing Satyanarayan Katha.
e) Devoting time to Lord Satyanarayan means devoting time for truth and worshipping is a way of being truthful to oneself and others.
f) By performing Satyanarayan Puja or Katha, we can achieve our goals and also fulfil our aspirations. We can avail success in our life.
g) We can improve our physical and mental health by performing Satyanarayan Puja or Katha.
h) Satyanarayan Puja or Katha protects us from conducting evil or doing wrong deeds and teaches us to follow the path of truth and goodness.
Are you planning to expand business or job change? Are you facing a tough time in your business or job? Know about your finances, career and married life for the year 2020.
3- How is Satyanarayan Katha of Satyanarayan Puja performed?
Satyanarayan Puja Procedure
a) On the day of Satyanarayan Katha or Satyanarayan Puja, devotees will perform Satyanarayana fast called Satyanarayan Vrat until the puja gets over the devotees will take the blessings of God and breaks the fast by having prasadam or offerings to God.
b) The friends and relatives are invited for the Satyanarayan Puja so it can be a get-together and can encourage unity and harmony in the family.
c) A prasadam is prepared for Lord which includes Panchamrut, a mixture of milk, curd, ghee, honey and sugar, fruits, suji halwa and tulsi leaves.
d) The entrance of the door is decorated with Ashoka leaves.
e) The altar is placed in an East-North direction and is decorated with flowers and banana leaves.
h) A Kalash is placed in the centre of the altar and Shrifal covered with red cloth and the red thread is tied around Shrifal and placed on the Kalash along with the Ashoka leaves.
i) The idol or the picture of Lord Satyanarayan is placed on the altar and fresh flowers, kumkum, abir, rose powder is offered to the Lord.
j) The devotees should sit facing the altar and then the puja is started.
k) The puja begins by first worshipping Lord Ganesha to bring good luck then Navgrah Puja and later Kalash Puja.
l) The Katha or story of Satyanarayan is recited while doing the main puja of Lord Satyanarayan. The Katha or story is of five parts and it emphasizes on the benefits of performing puja and the experiences of great devotees who performed the puja.
m) It also includes the repercussions on the individuals who offended the puja or the Lord Satyanarayan and also the life of these individuals in the next birth and sufferings in the current life.
n) Everyone should be present during Katha, and it should be chanted or listened carefully and peacefully.
o) All the devotees bow in front of Lord Satyanarayan and ask for the forgiveness of their sins and blessings for the fulfilment of their desires.
p) After Katha, Prasadam is offered to the Lord followed by Aarti and then prasadam is distributed among devotees which include blessings of the Lord.
q) Devotees break their Satyanarayan fast or Satyanarayan Vrat by having prasadam and one who ignores the prasadam has to face the consequences later in life.
Talk to an Indian astrologer and know about different Vrat can be performed in a year to be blessed with name, fame and money.
4- What can you eat in Satyanarayan fast?
a) While performing Satyanarayan fast or Satyanarayan Vrat devotees can have fruits and milk until the Puja is over.
b) After puja devotees have to breakfast by having prasadam offered to God, then they can have anything. Avoid having non-vegetarian food and eggs on the day of Satyanarayan Katha.
To Get Your Personalized Solutions, Talk To An Astrologer Now!
With Ganesha's Grace,
The GaneshaSpeaks.com Team