Understanding The Meaning And Importance Of Guru Poornima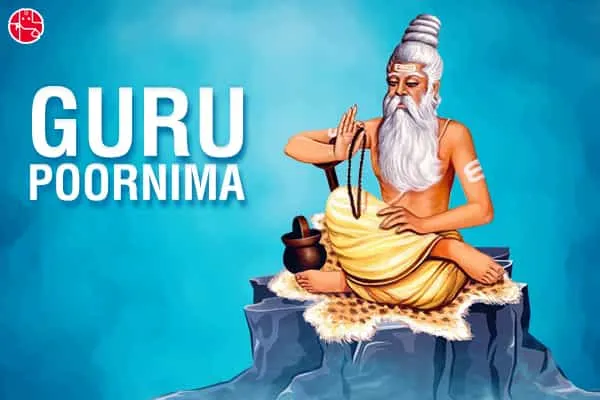 The Date And Significance Of Guru Poornima
Guru Poornima is an Indian festival that is celebrated as per the Hindu Moon Sign calendar to express reverence towards your Guru, your teacher or mentors. It falls on the day of the full moon or Poornima of Ashadh month. Etymologically, the word Guru has been derived from two parts – Gu that means darkness and Ru that is the antidote to the darkness. Naturally, the word Guru implies someone who shows takes us away from the darkness of ignorance to the light of knowledge. This year Guru Poornima festival falls on July 3, 2023.
There is a Shloka that states –
Agyan timirandhasya gyananjan shalakaya chakshurunmilitam yen tasmai shri gurave namah
The festival of Guru Poornima is believed to have been celebrated by Buddhists first, as their Guru – Lord Buddha is said to have delivered his first sermon at Saarnaath on this day. Hindus used to pay homage to Vyaas Muni on the day of Guru Poornima. This is why Guru Poornima is also known as Vyaas Poornima and Gnyaan Poornima, it also being the birthday of Guru Ved Vyaas.
---
Guru Poornima Is Not Just For Spiritual Aspirants
Currently, those walking on the spiritual path tend to express their reverence towards Shankarachaarya. In fact, Guru Poornima is not the festival of spiritual masters only. You may also express reverence to your school teacher or any other kind of teacher/ guide/ mentor on this auspicious day. Teachers actually make our career. They hold a lot of importance in our life.
The planet of Jupiter – kind, optimistic, giver of knowledge and wisdom that it is – is also referred to as Guru, and thus, myriad literature also associates Guru Poornima with the worship and offering of reverence to the Lord Jupiter or Guru – the benign planetary teacher! You may also please the Lord Jupiter this Guru Poornima or offer respect to your Gurus by instituting an attuned (Siddha) Guru Yantra on this day.
It is also believed that Lord Dattatrey considered some animals and birds as his Guru. So, the enstire idea is to look for positive powers around you, and take them as a blessing, imbibe them whole-heartedly, from anyone who has them.
Guru is also equivalent to 'Tridev' – Brahma, Vishnu and Mahesh, and as per the Indian culture, only Guru (the spiritual master) is considered as someone who can show the path that leads to one of these Gods. The following Shloka confirms this belief –
Gurur Brahma, Gurur Vishnuhu, Guru Devo Maheswaraha Guru Saakshaat Parabhrahma, Tasmai Sri Gurve Namah
---
Guru Poornima In The Present Context
In the contemporary scenario, this festival is celebrated or observed in various ways in schools, institutes of higher learning and creative arts organisations. The creative art forms of dance and music follow this tradition of the Guru-Shishya Parampara very dearly. Students trained under the Hindustani Classical music tradition express their high regards towards their Gurus by giving public performances on this day. In various cities of India, Indian classical music shows are also arranged on this auspicious day.
The place of Guru is very high in the Indian culture and mythology. And, they are filled with the famous legends wherein the pupils have gone to lengths to please or appease their mentors. We are also aware of Sandipani Rushi, Eklavy, Baiju Bawra and many other stories related to Guru Shishya.
Guru Poornima is basically the festivals of the 'seekers' – the seekers of the divine wisdom, knowledge, spirituality, peace and greater prudence.
On this auspicious day you can do the following –
Take blessings of your Guru, and offer Dakshina if possible.
You may recite Guru Leelamrut or Datta Bawani.
You may also recite Saai Charitra.
If you do not have an appointed Guru, you may also perform the Pooja of your family deity.
You may also offer yellow clothes or Sandalwood, yellow pulses (daal) at a temple or to any Brahmin on this day.
Guru Poornima can also be called as the 'Teacher's Day', as per the Indian spiritual practices and culture. Sant Kabir has rightly stated that –
Guru ke sumiran maatr se, nasht vighn anant Taase sarv aarambh me(i), Dhyaavat hai sab sant
(Just by remembering your Guru, you will be able to overcome all the obstacles. That's why at the beginning of everything, Guru is remembered – not only by the saints, but also by many common people)
To Get Your Personalized Solutions, Talk To An Astrologer Now!
With Ganesha's Grace,
GaneshaSpeaks.com
---
---
Get 100% Cashback On First Consultation