Effects of the Venus Transit in Scorpio on Gemini Individuals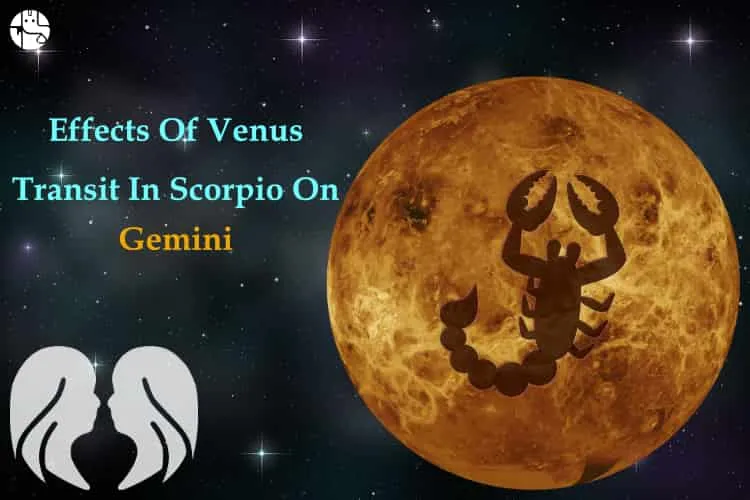 The transit of Venus would take a dip into a gloomy and fierce water sign, Scorpio on October 28, 2019. The transit would take intense vibes on relationship, wealth, luxury, fame and self-esteem. The lucid planet is a significator of relationship and love and both of these are very important in everyone's life. Individuals are deeply passionate about the relationship at a personal and professional level when Venus transits in Scorpio sign.
The planet is transiting to the sixth house in your birth chart of Janampatri. The house is considered a malefic house for the planet. It is a significator of wealth and well being. The transit of Venus in the sixth house is likely to give average results to Gemini individuals. The transit foresees some health issues and problems from opponents. You may face challenges in business deals and personal relationships.
---
Effects of Venus Transit in Scorpio on Gemini individuals
You may face some health issues during this transit period. You may face some stomach related ailments, gastric problems, and digestion problems. There are chances of acid reflux and acidity. You are likely to spend more money on medicine and medical consultation.
You should avoid oily food and junk food or the food that is difficult to digest. You must exercise, workout and go for a walk to remain fit. You should avoid eating late nights as it would create digestive problems. You should avoid drinking milk at night time.
You may have to face competition and struggle in your career and business. Your opponents may give you a tough time during this period. You should be ready for that and avoid arguments with your colleagues and superiors. You should stay away from office politics as it would affect your career growth. You should stay away from complex situations and controversies for your career growth and success in professional life.
Your opponents may increase in the workplace and remain active during this period. This would lead to mental stress and pressure as your opponents would try their level best to win over you. You may find difficulty in achieving your goals due to mental stress. Lack of mental peace would create difficulty in concentration at the workplace. You should practice yoga and meditation regularly to attain mental peace.
(Also Read: Effects of the Sun transit in Libra on Gemini Individuals)
Business deals would work with some hindrances. Dealings with suppliers, customers and distributors may not be smooth. You are advised to postpone major deals to avail of desired results.
The period is challenging for personal relationships. There would be a lack of harmony in the relationship with your spouse. There are chances of disputes, misunderstandings, and disruptions with your partner. So avoid arguments and communicate effectively with your partner. You are advised to keep the "You are right" attitude during this period to avoid disputes.
You should spend more quality time with your partner to strengthen the relationship. The understanding between you and your spouse would also improve. You should plan to dine out or go for a long drive to spend quality time with your partner. You can plan to go on a trip to some romantic destinations. You should give surprises to your partner to make him/her happy and make your relationship strong.
To Get Your Personalized Solutions, Talk To An Astrologer Now!
With Ganesha's Grace,
GaneshaSpeaks.com
---
---
Get 100% Cashback On First Consultation