Know How Stellium will affect Scorpio Zodiac Sign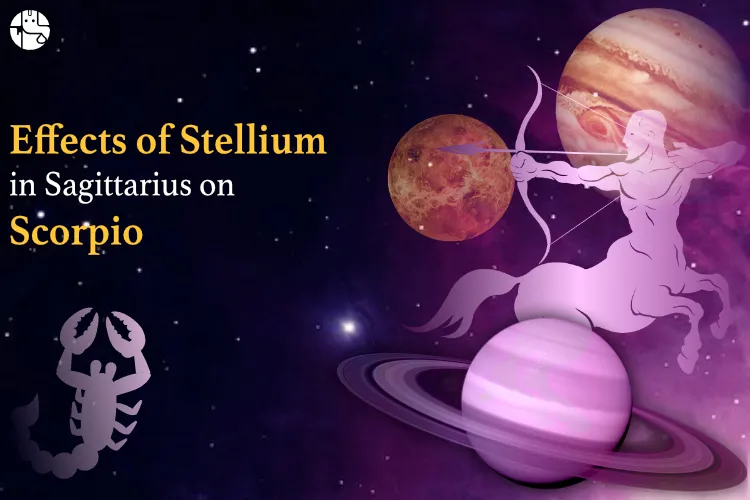 An event where three or more planets come together in one house and zodiac sign is called a Stellium. The three powerful planets Jupiter, Venus, and Saturn are going to form a Stellium in Sagittarius zodiac sign starting from November 21, 2019. It will remain for a period of one month approximately. These planets would act as one force and throw a drastic impact in this period. You can take a hint of how the energies would blend during this phase and how it would affect each zodiac sign. In astrology, this Stellium will have different impacts on different signs depending on the house in which it would form.
The Stellium for the Scorpions will form in the second house of their Janampatri. This is the house of possessions and finance-related matters, family, loss, and speech. Hence, the Stellium would impact these areas of your life which can turn out to be a blessing or a curse. It is predicted that the effects of this Venus, Jupiter, and Saturn conjunction on Scorpions would be moderate to good in finance matters. There are chances of disagreements during this time. Ganesha suggests you to be thoughtful before making decisions.
---
Effects of Stellium in Sagittarius on Scorpio Individuals
(Kindly note: the below predictions are mentioned according to Moon sign.)
Blessings from the three planet conjunction in terms of money matters are on their way to you. You are likely to see an improvement in financial matters and status. You will see this as an end result of your efforts and hard work.
Your performance at work may improve and your sincerity and dedication would make your bosses happy. This would, in turn, help you get an increment during this phase. If you work as an independent person, you are likely to get paid more. Business individuals might see a rise in their profits thereby increasing their financial gains.
The increase in monetary inflow during this time would also help you invest money. You might plan an investment for property or any other systematic long term planning.
Being a dark and mysterious personality by nature, it is possible that you would get attracted to gloomy things. Do not get drawn to those shadowy things even if they seem really pretty. They may have some bad effects on you causing a loss in the end. Get a recourse of our remedial solutions for problems in your life.
It is suggested that before taking any decisions you consider and evaluate all the options which are there in front of you. Only after that, you should give your consent to anything. Whether it is your work-related matter, a business tie-up or in personal life, you should remain careful and vigilant about what you allow into your life.
At the family front, some auspicious work is foreseen during this phase. It can be the start of something new in your family or career. You may celebrate a religious occasion with your family at this time. You may also visit a temple to carry out the auspicious works for the betterment of your life.
However, there might be few moments of differences in opinions which can hamper your state of mind. It is advised that you take control of your intense nature and tackle situations with a fair understanding and with prudence.
Overall the Stellium of Jupiter, Venus, and Saturn in Sagittarius seems to give mixed results in your life. In all, you are advised to remain mindful and take decisions wisely.
To Get Your Personalized Solutions, Talk To An Astrologer Now!
With Ganesha's Grace,
GaneshaSpeaks.com
---
---
Get 100% Cashback On First Consultation