Know How Stellium will affect Sagittarius Zodiac Sign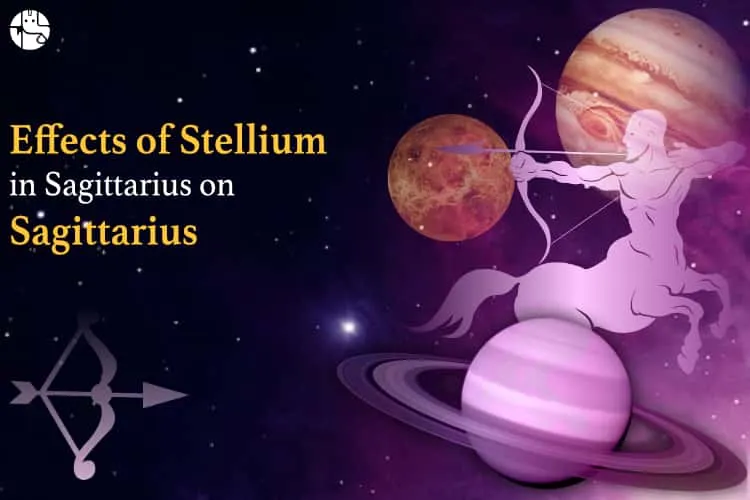 The conjunction of three planets namely Venus, Saturn, and Jupiter in your own zodiac sign is going to form from November 21, 2019. As per Vedic astrology, the three planet conjunction holds the utmost significance and can be a life-changer. This phenomenon is called a Stellium and it will remain in one particular house of a native's birth chart for approximately a month. This way there would be a huge amount of driving energy and force on each zodiac sign individuals. Its impact would depend on the house in which the Stellium would form as each house is a significator of different areas if life.
It is the first house of your Janampatri in which the Stellium is forming for the archers of the zodiac. The areas of life which are signified by this house are health and basic constitution, longevity, complexion, brain, honor, dignity, prosperity. The effects of Venus, Jupiter, and Saturn conjunction on Sagittarius individuals would directly impact these areas of their life. The effect of the Stellium can be a boon or a bane for a sign, however, Ganesha has good news for you. You would fulfill some great work which was awaited since long.
Let's find out more on how the Stellium would impact this mutable fire sign.
---
Effects of Stellium on Sagittarius Individuals
As a mighty and fearless sign of the zodiac, you love honor and lead a dignified life. You should make some contribution to the welfare of the society. You can take up projects which are important for the betterment of those around you. Planets are in your favor for some good deeds during this phase.
This would, in the end, give you the satisfaction which was awaited for a long time. The ownership in the efforts you put forth would make you feel contented in life. You would be happy and mentally at peace.
The Stellium in your sign is the phase which shows that you would visit a few places of pilgrimages. In search of attaining spiritual growth, you love to explore new places. Hence, this is a good time of your life when you can look for it and get divine bliss. This would stimulate positivity in your heart.
(Also read: How will Sun transit in Scorpio affect your zodiac sign?)
You are highly enthusiastic about gaining knowledge. This period of the Stellium can be utilized to focus on enhancing your skills and talents. You can widen your horizons and explore new ideas. You can even read books or meet new people who could help you out in your further journey.
You may complete a project for which you had been working for a long time. The completion of the work you were assigned would help you get recognition in the office. Your bosses might also appreciate your efforts.
If you have been working on a business task for a long period of time, it might get accomplished during this phase. You may get your desired results in the work you complete and would feel satisfied. This would give you relaxation and joy. To yield good results in your business or career in the future, get your personalized 2023 yearly report now!
Overall, the conjunction of the three powerful planets in Sagittarius seems to be a good time of your life. Make the best use of this phase and happiness is on its way to you!
To Get Your Personalized Solutions, Talk To An Astrologer Now!
With Ganesha's Grace,
GaneshaSpeaks.com
---
---
Get 100% Cashback On First Consultation