Know How Stellium will affect Capricorn Zodiac Sign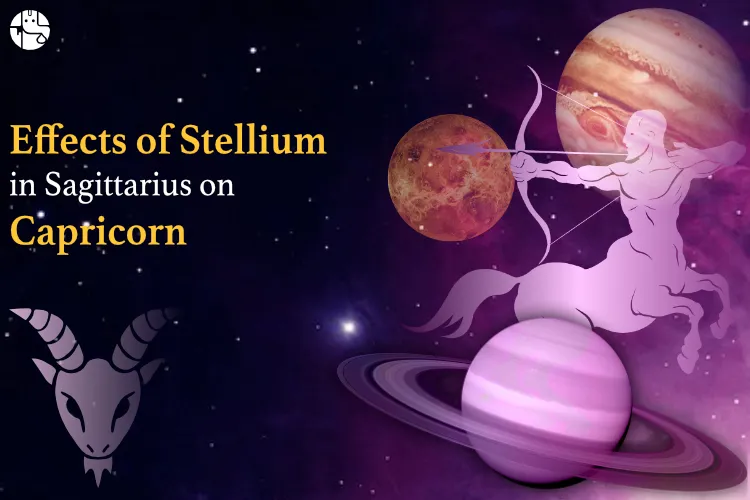 In astrology, the Stellium is a group or gathering of three or more planets in one house and zodiac sign. From November 21, 2019, the Stellium of Jupiter, Venus, and Saturn is going to be formed in Sagittarius zodiac sign. It will remain in the particular house and sign for approximately a month. This way there would be a huge amount of energy and a combined force of the three planets which would have impacts on each zodiac sign. As all the three represent different powers and are the significators of different houses, the combined impact may be different for different signs. The effects of Venus, Saturn, and Jupiter conjunction on Capricorn zodiac sign would depend on the house it forms in.
For the smart goats, the Stellium would be forming in the 12th house of your Janampatri. This is the house which signifies expenditure, loss of wealth, distant travel, foreign land, spiritual learning, physical disease. Hence, these are the areas of your life that are going to be majorly impacted due to Stellium in Sagittarius 2019. This might not be a blissful phase of your life and you need to be mindful. Ganesha is telling you to buckle up as there are some unexpected expenditures on their way for you. You are suggested to remain careful and also take good care of your health during this time.
Let's read in detail how the Stellium would affect this cardinal earth sign.
---
Effects of Stellium in Sagittarius on Capricorn Individuals
Though you are known to manage your things quiet responsibly and with utmost self-control, there are chances of some unwanted expenses during this phase. As the Stellium is formed in the house of expenditures, you may end up spending money on the things which were unplanned.
The money you spend could be for your love partner, family matters, with friends or for your personal goals. Your finance budgets make get affected due to unwanted expenses coming up all of a sudden for business individuals.
Hence, you are suggested to remain very vigilant about spending your money and plan your budget accordingly. You should maintain a record book or a sheet where you can track all your expenses. This should help you see the clear picture and manage your finances.
(Also read: How will Sun transit in Scorpio affect your zodiac sign?)
You are likely to plan some fun trips with your friends or family. It might be possible that you go on a long vacation to a destination you were thinking about for a long time. This would give a good time with your closed ones and also help you calm your mind from your daily routines.
Your health may remain a bit down during this phase. Hence, you should not take your health lightly as some ailments may occur. It is suggested that you take extra care of your health. You should eat healthy and nutritious food. Doing meditation, exercise and yoga would also give mental relaxation and release stress from day to day work during this time.
Moreover, you are suggested to be careful while driving as there are chances of accidents. Be cautious and follow all the safety traffic rules while driving.
In a nutshell, the Stellium in Sagittarius is going to be a bit of a task for you. For an in-depth analysis of the year 2023 for you, get our personalized report!
To Get Your Personalized Solutions, Talk To An Astrologer Now!
With Ganesha's Grace,
GaneshaSpeaks.com
---
---
Get 100% Cashback On First Consultation