Jupiter Transit 2021 Effects on Taurus Moon Sign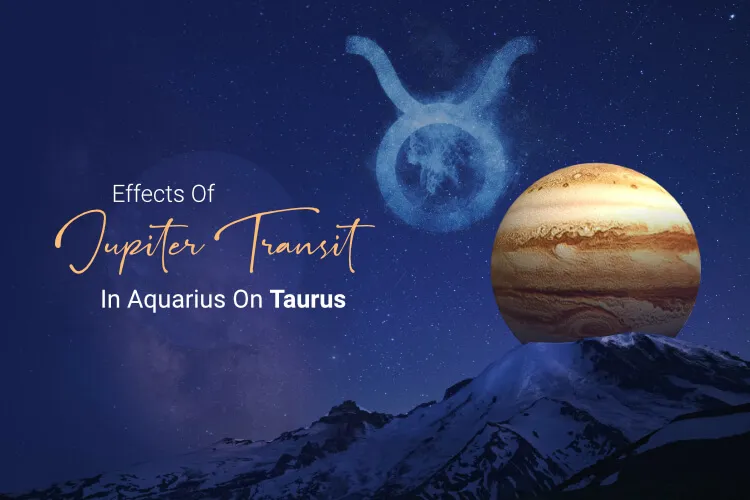 After almost 13 years, Jupiter is entering Aquarius on 6th April 2021. For Taurus pals, it will be a watchful event as Jupiter is passing through the 10th house, the House of Career and Profession. Also, Jupiter will retrograde in your 10th house from June 20, 2021, to September 14, 2021. And after that, it will again join Saturn in Capricorn.
---
Transit of Jupiter Through 10th House
Your sincere efforts will only be recognised in your social and work circle if Jupiter is strong in your birth-chart. However, the influence of Jupiter in the 10th house will help you keep a distance from all kinds of problems. And it will affect your health, finance, career, love and relationship. So Taurus, tighten your seat belt and have a drive through the impacts of Jupiter Transit 2021 on all areas of your life.
---
Jupiter Transit 2021 Effects on Taurus Health
Health Prospects
Your mind would be occupied with one thing or the other in this transit phase.
Taurus Females should watch their words and be clear in communicating their ideas.
It's not worth, holding your opinions even on small things. This may indulge you in big arguments, hampering your mental peace.
Also, getting worried about unnecessary things won't help you in any way.
Refrain from creating family issues and picking up health injuries when Jupiter is in the Aquarius sign.
Taurus students should be careful during the month of May-June 2021 as they may get injuries due to falling.
However, you will have a whale of a time from July.
Watch your steps on the wet floor and avoid eating outside food as you may have a stomach ache.
Seasonal changes can bring some minor ailments.
Be cautious while driving and avoid trips as accidents are on the cards from 15th June to 1st July 2021.
Also, you may have issues related to mental health or headaches. Some unexpected health issues can pop up from 17th August to 10th September too. So try to rest easy.
Remedies for Healthy Life
To attain mental peace, you are advised to recite the Omkar mantra, especially elders during this transit period. Students are advised to worship Lord Vishnu by chanting "ॐनमो भगवते वासुदेवाय" in the morning. However, worshipping your clan deity would be beneficial for Taurus females. Taurus males are suggested to offer Rudrabhishek to Lord Shiva on Monday and worship their clan deity on Friday.
For personalised insights of Jupiter transit impacts on the health front, Uncover Handwritten Jupiter Transit Report Now!
---
Jupiter Transit 2021 Effects on Taurus Career & Finance
Career Prospects
On the career front, you may not get desired results.
Refrain resigning from your current job in April. Patiently face the situation as good times may come to you soon.
Taurus students who have completed their graduation or masters this year may get stranded in May and June. It is because you are likely to face career-related issues.
While dealing with such issues, hasty decisions may put you in dire straits. However, guidance from elders can help to make precise decisions. Those who are appearing for entrance exams, especially for government jobs, may not get favourable results.
However, never pause your efforts and preparation as your hard work will not go in vain even if you feel like that. This will help to achieve the desired success later.
Natives planning to start a new business should avoid exploring new strategies in their work.
Those who are associated with the partnership business may feel like losing trust. But it is advisable to keep calm and attain mental peace.
Professional workers should take care of their jobs during the month of April. Otherwise, you may lose your job, which, in turn, may increase your mental stress.
However, the influence of Jupiter in the 10th house is not favourable for getting a new job at ease.
For personalised insights of Jupiter transit impacts on your career, Uncover Handwritten Jupiter Transit Report Now!
Financial Prospects
Stock market investments should be on hold for the time being.
However, the time is suitable for accomplishing pending work related to your parental properties.
You will feel confused when making a vital investment decision.
So, all important financial decisions should be made after having expert guidance.
For personalised insights of Jupiter transit impacts on your financial matters, Uncover Handwritten Jupiter Transit Report Now!
Remedies for Progress in Career
You can get over all the struggles in your career by reciting Hanuman Chalisa every evening. Also, it helps to keep your profession on the right track. In case you are dealing with any crucial issues, you should read Bajrang Baan on Tuesday and Saturday. You can appease Lord Hanuman with zero hassles by performing Hanuman Puja online.
---
Jupiter Transit 2021 Effects on Taurus Love & Relationships
Love & Relationships Prospects
Chances are that you may indulge in arguments with your partner.
Lovers may have small fights with their partners, and you may get emotional pain too. Hence, you may not enjoy a good time with your loved ones.
All the married natives are advised to take a back seat when dealing with your spouse.
Also, be mindful when it comes to your words. It may help you to survive the storm.
You should try to maintain good relations with your parents. Getting frustrated for small things may strain relationships with your mother.
Also, get on swimmingly with your father too.
However, needless to worry as all straining personal relationships will improve in July 2021.
But Taurus females should avoid proving their point in front of in-laws throughout the transit period.
You should take care while speaking or behave friendly with your father. The 1st week of April will be a challenging time for you. In July, you may be able to improve your previously spoiled relations. In July-August, female natives should refrain from arguing with their in-laws because it may spoil your husband-wife relationship.
Be humble to see your mistake. Also, you can't correct the mistake by pointing fingers at others.
Deal with issues patiently as over-excitement and frustration are not friendly either. Both will indulge you in unnecessary fights.
Hey Taurus, are you engaged? If yes, wait for the marriage yoga, and take your relationship to the next level.
Take care of your words when you meet friends, especially between 15th May and 15th June.
Also, you should peacefully spend time with your siblings from 17th August to 10th September.
Overall, it is challenging for Taurus in regards to their love & relationship.
For personalised insights of Jupiter transit impacts on your love & relationships, Uncover Handwritten Jupiter Transit Report Now!
Remedies for Maintaining Peace in Personal Life
To maintain a good relationship with your loved ones, worship Lord Shiva by performing Jal Abhishek to Shivling, and also recite the Panchakshar mantra every morning. Performing Rudrabhishek Puja can also help to have cordial relationships and get overall problems.
In a Nutshell,
The impact of Jupiter transit in Aquarius on the Taurus Moon Sign will be as follows:
---
---
Get 100% Cashback On First Consultation