Jupiter Transit 2021 Effects on Scorpio Moon Sign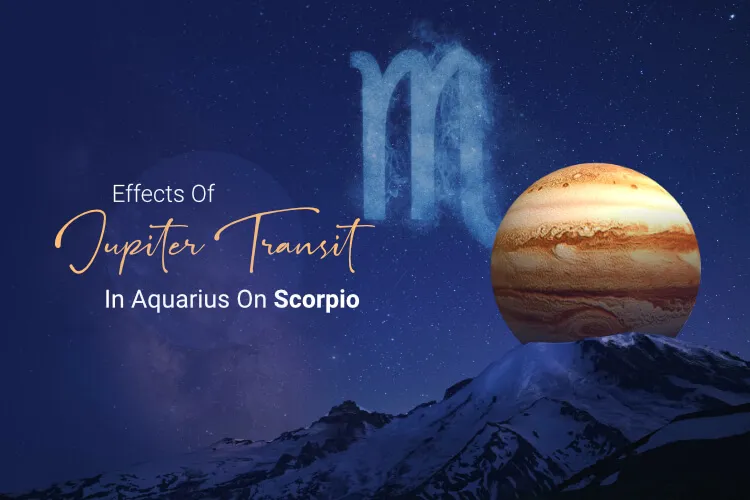 Jupiter will bid goodbye to all the prohibitions it was having with Saturn in Capricorn on 6th April. Yes, you heard it right! Everyone knows Jupiter is a naturally auspicious planet and will move to Aquarius on April 6, 2021. This shift will activate the 4th house of Scorpio natives. However, Jupiter will be progressive in optimistic Aquarius until June 20, and then it will retrograde to be back to supremely uncomfortable placement in Capricorn on September 14, 2021.
---
Transit of Jupiter Through 4th House
The favourable change in an individual's lifestyle could be on the plate when Jupiter enters the 4th house. You may enjoy luxury comforts like owning a lavishing house, buying a swanky car or purchasing land. Due to Jupiter transition in Aquarius, you may earn unexpected gains and can have a fine grip over financial matters too. Moving on, now it's time to get to the bottom of Jupiter transit impacts on native's life.
---
Jupiter Transit 2021 Effects on Scorpio Health
Health Prospects
Jupiter acquiring Aquarius signs may perturb your health status.
Female natives may face stomach problems while male natives may succumb to obesity or gas acidity problems.
Elders are advised to take extra care of their health in these 4 months. Women who are about to deliver babies may face serious health troubles, which may raise their mental tensions. In this case, you are suggested to strictly follow the doctor's advice.
Couples preparing for conception are advised to avoid considering the dates between 1st May to 26th May 2021.
Natives who want to plan their vacation should avoid the period of 17th April to 10th May 2021 as you are likely to pull up injuries probably due to accidents.
Scorpio individuals planning to undergo eye surgery can book an appointment between 15th July to 16th August 2021 to have a successful operation.
Remedies for Healthy Life
To encounter health challenges, Scorpio natives should keep Lord Shiva in their prayers. Also, natives should offer Jal Abhishekh to Shivling in order to deal with health concerns. Elders are suggested to keep themselves engaged in reading Bajrang Baan on a daily basis to attain good health.
For personalised insights of Jupiter transit impacts on the health front, Uncover Handwritten Jupiter Transit Report Now!
---
Jupiter Transit 2021 Effects on Scorpio Career & Finance
Career Prospects
This transit of Jupiter in Aquarius ticks all the boxes right except few ones in regards to your career.
Scorpio natives who are willing to work abroad or finding opportunities to study abroad are likely to taste success.
The influence of Jupiter may increase burdens on the shoulders of professional workers and may challenge their mental abilities.
Job seekers may get success in finding opportunities between 5th June to 17th July 2021.
The same thing goes with the natives who want to change their job. Yes, you may achieve success too, from 17th May to 18th June 2021.
Students appearing for government exams between 17th May to 15th June 2021 or from 16th August to 10th September 2021 may have more chances to qualify for the government exams.
Jupiter will be stronger in the month of August sitting in the Aquarius sign, and therefore, you may find interest in learning religious things.
For personalised insights of Jupiter transit impacts on your career, Uncover Handwritten Jupiter Transit Report Now!
Financial Prospects
Transiting Jupiter may help you to resolve your financial woes.
It opens up opportunities for you to start a new business.
Following 10th June 2021, you may accomplish your pending works more smoothly.
It provides a suitable time for you to make investments in the family business and further helps you to make important decisions too.
Stock market investors should save the dates from 5th June to 25th June 2021 as it would be the perfect time to make investments. Post 17th July, you should only explore your investments plan after having a word with your financial advisor.
Partnership business owners may receive maximum profits.
Money savers should circle the dates 16th July to 10th August as this will be a great time to invest in mutual fund schemes or to create FDs.
Loan seekers may get quick approval if they apply from 7th April 2021 to 8th May 2021.
For personalised insights of Jupiter transit impacts on your financial matters, Uncover Handwritten Jupiter Transit Report Now!
Remedies for Progress in Career
Job seekers or natives who are willing to change their job should recite ॐ गण गणपतये नमः or read Sankat Nashan Ganesh Stotram to clear hurdles from their path. Performing Ganesh Puja may also help to uplift your career. Natives planning to start a new business or those who want to work in foreign countries should read Hanuman Chalisa on a daily basis.
---
Jupiter Transit 2021 Effects on Scorpio Love & Relationships
Love & Relationships Prospects
While Jupiter is on its way to Aquarius, you too can be on your way to enter a new phase of a relationship.
Yaas, the wait for singles is probably over as they may get a marriage proposal between 16th April to 16th June 2021.
You may restore your sweet relations with your mischievous buddies.
Jupiter transit not only helps you to develop new relations but also calls off marriage delays.
Male natives are advised to take care of relations with their relatives and children as you may indulge in arguments during Jupiter transit in Aquarius.
Females natives are suggested to be cautious of their relationships with their fathers and in-laws. Besides, you may enjoy a great time with your siblings.
Moreover, you will continue to maintain good relations with your mom, but from 5th June to 15th July 2021, you may have a war of words with your maternal uncle/aunt.
Natives in a marriage relationship may enjoy quality time with their spouse. However, you are suggested to refrain from being aggressive with them.
Professional workers can expect good support from their seniors. But, they should be aware of their colleagues as they may have ego clashes.
You can plan your holidays between 26th May to 18th June 2021 as it will be the perfect time to accompany your friends.
For personalised insights of Jupiter transit impacts on your love & relationships, Uncover Handwritten Jupiter Transit Report Now!
Remedies for Maintaining Peace in Personal Life
To remove obstacles from your relationships, you should recite the Vishnu mantra ओम नमो भगवते वासुदेवाय. Also, you can offer bel leaves/Jal Abhishek to Shivling before chanting the Lord Shiva mantra on a daily basis. Ultimately, this will also help you to strengthen relations with your spouse.
In a Nutshell,
The impact of Jupiter transit in Aquarius on Scorpio Moon Sign will be as follows:
---
---
Get 100% Cashback On First Consultation