Jupiter Transit 2021 Effects on Capricorn Moon Sign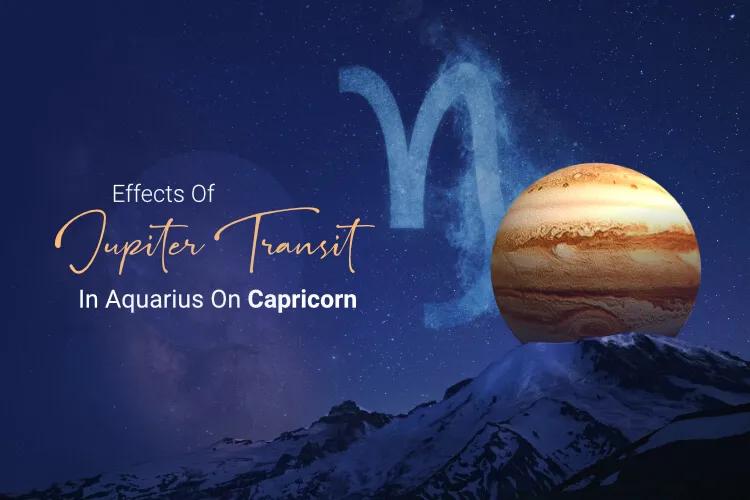 The guru of Gods, Jupiter, will be occupying the Aquarius sign in April 2021, impacting the individuals carrying the Capricorn Moon sign. Currently, Jupiter is progressive in the Capricorn and soon it will make an appearance in the Aquarius. Therefore, it would be interesting to see what Jupiter has on a plate for the sea-goats. Not to forget that Jupiter will be present in the 2nd house of Capricorn horoscope, and thus, it is necessary for us to check what the 'biggie' offers to the natives from the 2nd house.
---
Transit of Jupiter Through 2nd House
Jupiter is passing through the 2nd house of Capricorn natives. So, it may uplift your fortune and may enhance your wealth. You may earn more positivity and focus in your work or business, which may lead you to achieve your desired goals. On the flip side, Jupiter placement in the 2nd house may hamper your health. So without ado, let us have insights into which areas of life could be affected by the transition of Jupiter in Aquarius sign. Also, know the precautions to be taken in this phase. Hence, stay glued and scroll down to know more.
---
Jupiter Transit 2021 Effects on Capricorn Health
Health Prospects
Jupiter transit in Aquarius may show no mercy on Capricorn pals regarding their health.
Individuals may experience weakness with minor health issues like cold, fever, or neck pain between 15th of April and 26th of May 2021.
Some of the Capricorn adults may complain of muscular pain too.
In mid-June or early August, male natives may undergo urinary problems, intestine problems, or hemoglobin problems. While female natives may deal with a stomach ache, pregnancy issues, or gynecological issues.
And therefore, it is suggested to be under the supervision of the doctors.
Children may get into health issues like diarrhea or vomiting between 10th April and 10th June 2021, and thus, it is advisable for them to look after their eating habits.
Elders are suggested to consider the month of July to perform their Cataract operation as it will be a suitable time to have eye surgery.
Remedies for Healthy Life
The period from 15th April to 26th May 2021 and from 4th June to 15th July 2021 is a worrisome time for Capricorn's health. But to maintain stable health during this phase, you are advised to follow a food diet religiously and make sure you have adequate sleep. Capricorn natives can recite the 'Gayatri mantra' or offer water to the Sun while chanting 'ॐ कालीन सूर्याय नमः' mantra to get back to their normal health.
For personalised insights of Jupiter transit impacts on the health front, Uncover Handwritten Jupiter Transit Report Now!
---
Jupiter Transit 2021 Effects on Capricorn Career & Finance
Career Prospects
In the field of career and finance, Jupiter transition is a sign of relief for Capricorn mates as it offers favorable times to you.
Natives in search of their jobs may meet desired opportunities between 1st June and 15th July 2021. In other words, you may get a chance to work in the field that you love the most.
Commuters may receive a promotion letter from their chiefs.
You may unlock your achievements between April and July as a reward for your hard work, which may enhance your career growth.
Job seekers are likely to find more opportunities in the technical department or civil services.
Natives who are unable to pass the government exams may overcome failures between 1st May to 15th June 2021.
Also, students willing to get admission in the top universities/colleges may find their names in the merit list.
You may involve yourself in banking courses, English learning courses, or any other activities while pursuing your studies.
For personalised insights of Jupiter transit impacts on your career, Uncover Handwritten Jupiter Transit Report Now!
Financial Prospects
Occupying the Aquarius sign, transiting Jupiter shows a yellow card to the Capricorn natives. Right, you are being cautioned for money and financial prospects. So, you may need to postpone your financial plans for a while.
But something to cheer about Jupiter of Aquarius (considering the position of the Moon) is that the benevolent planet has its 7th aspect on your 8th house, meaning it will help you to recover your stuck money.
And this is not the only positive thing to experience in this transition as male natives are likely to earn profit from parental property, regaining their financial strength.
Overall the transit period is challenging. So, in this tough phase, you are advised to avoid taking money on loan. Else, you may fall short of repayment only, increasing your money debts.
Natives having mental stress because of money shortage can expect a lending hand from their family, but it's needless to expect support from their friends or others.
However, you are advised to keep your stock market investment or property investment plans for hold. However, gold investments can be done between 4th May and 29th May 2021.
The best time to invest in mutual funds or to keep fixed deposits is from 2nd May to 26th May 2021.
Small business owners may not have any hiccups in their works as you would be busy developing new strategies.
Capricorn natives associated with the import-export business may develop new foreign relations by making business trips.
Remedies for Progress in Career
Professional workers who are struggling to find jobs or natives who are dreaming of getting a promotion are suggested to recite the 'Ganesha mantra' or read 'sankat nashan ganesh stotram' to achieve success. Students who wish to complete their education abroad should worship Lord Shiva. However, those who want to achieve stable growth in their career or business are advised to chant the Guru mantra or Ganesha mantra.
---
Jupiter Transit 2021 Effects on Capricorn Love & Relationships
Love & Relationships Prospects
This movement of Jupiter may ask natives to undergo a tough test of their relationship. And therefore, you should offer enough time and space to your partner to make sure you do not indulge in the tug of war.
Moreover, if you fail to keep harmony, then your relationship may hang on a thin thread.
Be it a love relationship or a husband-wife relationship, natives should not run out of trust, love, and honesty, suggest the experts.
You are advised to stay away from a conspiracy as it will harm your own relationship.
If you are keen to learn about your partner's traits by consulting their friends, then you should not blindly trust anyone. Otherwise, your relationship may spoil by false statements of any third person, and as a result, you two may decide to part ways.
Lovers who are easily getting frustrated or facing misunderstandings with their partners may approach the court. So, it is best to deal with patience in such matters.
Capricorn natives are suggested to take care of relations with their friends as well as siblings to maintain good relations with them.
During the transition, it can be possible that you may have mental stress, which may restrict you to accomplish your goals.
Vedic astrological analysis suggests that you may strain relations with your parents too.
Remedies for Maintaining Peace in Personal Life
Lovers who are finding difficulty in taking their relationship at a higher level should recite the Shukra mantra on Fridays. Also, those who have issues in relations with their partners or parents should worship their clan deity to resolve their matters. However, by chanting Surya Mantra, Capricorn natives may develop a good self-image in a society.
In a Nutshell,
The impact of Jupiter transit in Aquarius on Capricorn Moon Sign will be as follows:
---
---
Get 100% Cashback On First Consultation