Annular Solar Eclipse 2023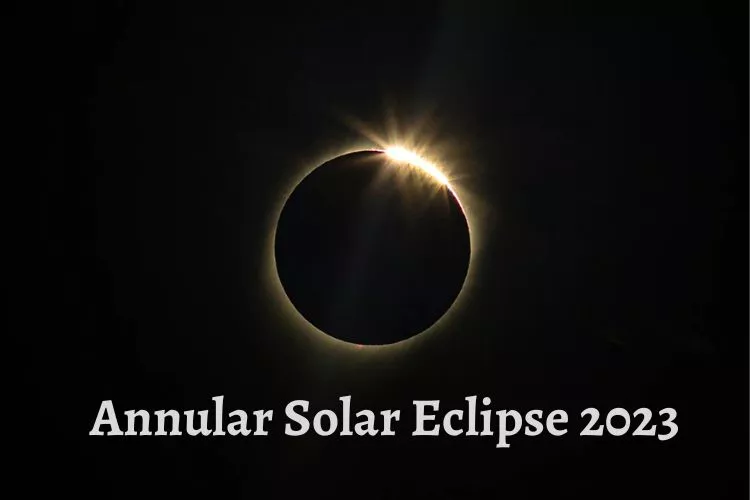 This year, the 2023 Annular Solar Eclipse will take place on Saturday, October 14, 2023, on the day of Bhadrapad Amavasya. It will be in the Virgo Zodiac sign and Hasta constellation. This annular solar eclipse in 2023 will not be visible in India, so no restrictions are required to follow.
On October 14, 2023, the annular solar eclipse begins at 9:13 AM and ends at 12:03 PM.
Let's discuss the eclipse's effects on the twelve Zodiac signs.
---
Effect of Annular Solar Eclipse on Aries:
Your professional advancement may face challenges as the celestial energies influence it in the sixth house. This could impact your job-related earnings or daily income. It's crucial to prioritise maintaining good relations with your superiors to navigate potential obstacles in your daily work. If you're in business, conflicts with employees might arise, and you may not receive the desired support from colleagues and higher-ups. While there could be unexpected gains from previous investments, be prepared for increased expenses that could disrupt your financial plans. Unfortunately, your relationship with your spouse may also experience some strains during this period.
Read More About Your Zodiac Sign Aries.
---
Effect of Annular Solar Eclipse on Taurus:
This eclipse affecting your fifth house could pose significant challenges for students, making their educational pursuits more demanding. Pregnant women are advised to avoid watching this eclipse altogether, opting for safer activities like watching TV or refraining from social media exposure. Fortunately, you'll enjoy harmonious relationships with colleagues and subordinates, facilitating achieving your career goals. Business expansion endeavours will prove fruitful, and you can expect improvements in your relationships with your spouse and family members. Overall, while there may be academic hurdles, your professional and personal spheres are poised for positive developments during this period.
Read More About Your Zodiac Sign Taurus.
Sort Out Your Relationship Issues. Avail the Relationships Ask Question: Detailed Advice Report.
---
Effect of Annular Solar Eclipse on Gemini:
Anticipate a gradual yet consistent professional growth trajectory where your primary career objectives will hinge on your dedicated efforts. Prioritise your mother's well-being and nurture harmonious relations with her. Caution is advised when dealing with land, property, or construction matters, and those involved in this sector should exercise caution when contemplating significant transactions and meticulously scrutinising documents. During the eclipse phase, anxiety or tension may surface, with individuals experiencing heart issues advised to avoid venturing outdoors to prevent a spike in blood pressure. Nonetheless, your overall health is expected to improve steadily over time.
Read More About Your Zodiac Sign Gemini.
---
Effect of Annular Solar Eclipse on Cancer:
Prepare for a surge in your workload and job responsibilities in the coming period. Exercise caution when dealing with senior officials, as your interactions with them could be pivotal. Building new professional connections will require sincere efforts on your part. This eclipse occurs in the third house, associated with courage, valor, and sibling relationships. It's advisable to refrain from embarking on new adventures and take care to avoid conflicts with younger brothers and sisters. Short work-related trips may not yield significant results. There's also a potential for emotional or physical distance in your relationship with your spouse during this phase.
Read More About Your Zodiac Sign Cancer.
---
Effect of Annular Solar Eclipse on Leo:
The position of this eclipse in your horoscope carries significant weight, as it has the potential to disrupt familial relations if harsh words are spoken. Financially, caution is advised as hasty decisions may lead to blocked funds or increased risk of losses, prompting a temporary hold on investment decisions. On a brighter note, your communication and presentation abilities will enhance at work, garnering you respect, appreciation, and recognition. In your business endeavors, profits are set to rise through numerous deals. Moreover, you can anticipate a more harmonious and cooperative response from your partner, fostering a congenial atmosphere in your personal life.
Read More About Your Zodiac Sign Leo.
Plan Your Year Smartly With The Help Of 2023 Detailed Yearly Report
---
Effect of Annular Solar Eclipse on Virgo:
Given that this celestial alignment occurs in your zodiac sign, your health should be a top priority. Be particularly mindful of avoiding negative mental stress, as your zodiac is currently influenced by a combination of three planets (Sun-Moon-Mercury). On the job front, despite your diligent efforts, there's a possibility that your Head of Department or superiors may overlook your performance. While you maintain your composure, conflicts with your partner may arise, potentially affecting your partnership business. This period presents an opportune time for long-term investments, making financial planning a wise move. Overall, your health is expected to remain at a moderate level during this phase.
Read More About Your Zodiac Sign Virgo.
---
Effect of Annular Solar Eclipse on Libra:
During this phase, prospects related to foreign affairs will experience a notable upswing, and your long-standing aspiration to travel abroad is poised for fulfillment. If you're involved in Import-Export endeavors, expect an advancement in your progress. However, unanticipated financial outlays may disrupt your overall financial planning, necessitating prudent spending and avoiding unnecessary loans. Exercise caution in legal, governmental, or liaison matters. Any afflictions to the left eye or leg require prompt attention. Furthermore, differences in major life aspects between you and your spouse could lead to relational distance during this period.
Read More About Your Zodiac Sign Libra.
Solve Your Finances Problems in 2023 With The Help Of the 2023 Finance Report
---
Effect of Annular Solar Eclipse on Scorpio:
While this eclipse may not bring harm, it's wise not to anticipate significant gains. Avoid becoming a guarantor for relatives or friends to safeguard your reputation and relationships. While its overall impact may not be highly influential, expect expenses on luxury items. On a positive note, your sources of income will see improvement. Your dedication and sincerity in your career will enhance, with support from associates and colleagues propelling your progression. Major professional and business deals are likely to yield profits during this period, making it a mixed but generally favorable phase for your professional and financial pursuits.
Read More About Your Zodiac Sign Scorpio.
---
Effect of Annular Solar Eclipse on Sagittarius:
This eclipse carries a unique significance for you as it occurs in the central house of your zodiac sign, signaling a period of both ups and downs in your professional journey. Be prepared for potential conflicts with your immediate boss or higher-ups, but this turbulence will also bring about improvements in your professional and social status, accompanied by new responsibilities. Consider the possibility of capital purchases or investments during this phase, particularly favorable for long-term financial planning. Past investments are set to yield better rewards. On the personal front, your married life will remain happy and fulfilling, but do take heed of your health amidst demanding work schedules.
Read More About Your Zodiac Sign Sagittarius.
---
Effect of Annular Solar Eclipse on Capricorn:
This eclipse has an impact on your house of luck, creating a perception that luck isn't favoring your endeavors or that your hard work isn't yielding its deserved fruits. Possible differences of opinion with your father could arise. However, you'll successfully cultivate new income streams, ensuring a steady and satisfactory flow of earnings. Relations with loved ones will flourish, and your marital life will be marked by happiness and harmony. You'll also find it easy to acquire spiritual knowledge, making this period conducive to religious activities and visits to spiritual places. Despite the challenges, there are opportunities for personal and spiritual growth during this phase.
Read More About Your Zodiac Sign Capricorn.
Are You Facing Difficulty in Your Career or Professional Life? Talk to Our Astrologer and Get a Solution.
---
Effect of Annular Solar Eclipse on Aquarius:
This eclipse carries significant weight for you, as it occurs in a potentially troublesome area of your chart. It's imperative that you refrain from traveling on the day before or after the eclipse. During this period, avoid making major decisions, especially concerning financial matters and inherited property. Managing your finances will be challenging, with potential setbacks in meeting financial commitments despite a decent income flow. Achieving conjugal bliss will necessitate sincere efforts, and extra attention is required if you're in a committed relationship. Overall, exercise caution and prudence during this phase to navigate potential challenges effectively.
Read More About Your Zodiac Sign Aquarius.
---
Effect of Annular Solar Eclipse on Pisces:
This eclipse influences your seventh house, which pertains to your life partner, making it crucial to exercise care in this relationship. Avoid incidents that could strain your bond during this phase, as conflicts and arguments with your spouse may have lasting repercussions. Be cautious in legal matters and public interactions. Property-related loans are likely to get approved during this period, and your health will show gradual improvement. However, short-term investment decisions may not yield favorable results. Prudent choices and maintaining harmony in your personal and legal affairs will be key to navigating this eclipse's impact effectively.
Read More About Your Zodiac Sign Pisces.
To Get Your Personalized Solutions, Talk To An Astrologer Now! 
With Ganesha's Grace,
---
---
Get 100% Cashback On First Consultation