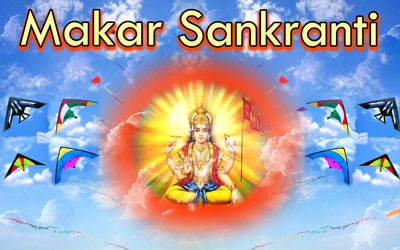 Significance of Makar Sankranti
Makar Sankranti holds a lot of significance in Indian culture. This festival signifies the movement of the majestic Sun towards North. Intrestingly Makar Sankranti, being a solar event, arrives on the same date every year in the Gregorian Calender. The term Sankranti has been derived from the Sanskrit word 'Sankramana', meaning "commencement of movement".
There are various sankrantis, of which, two are major. Makar Sankranti is one of the two major Sankrantis, the other is known as Kark Sankranti. Makar Sankranti is the beginning of an auspicious period as well. The festival being dedicated to The Sun God and him being the symbolic representation of divinity, wisdom and life it bring forths the best in you. It helps clear all the hurdles you are facing to move ahead in your career.
Makar Sankranti is celebrated with great fanfare pan India. The celebrations begin from 13th and continue til 16th in various parts of the country. In Punjab this is celebrated as 'Lohri ' on the 13th, singing songs and dancing around. Gujarat is seen celebrating it as 'Uttarayan' on the 14th, flying Kites and eating Scrumptious food. In Tamil Nadu and Andhra Pradesh it is observed as 'Pongal' on 15th, where they worship Sun God and their cattle. Assamese are seen enjoying Bihu Dance and Songs celebrating 'Magh Bihu', on the 16th.
Let's see what more is there to this colourful and joyous festival.
Makar Sankranti, Astronomically and Astrologically holds a lot of significance. Sun and Saturn are said to be inimical planets. Though during this period Sun enters the House of Shani (Lord of the Sign Capricorn) and stays for a month with his son. During this period Sun forgets his anger towards Shani and their enimosity. Thus symbolizing the significance of relations.
It also holds a significance for farmers as it is celebrated as a harvest festival. Many farmers along with their family worship their cattle, tools and land, thanking them for a good harvest and asking for an equally good crop the following year. In some of the remote villages in India farmers are found sitting together with their families and cattle to decide how and what should be cultivated in the following year during Makar Sankranti.
During this period, a lot of religous and astrologically relevant and important gatherings are held pan India. They are more commonly known as Melas in India. One of the most prominent of them is the Kumbh Mela, held once every 12 years, at one of the four holy places, namely Haridwar, Prayag, Ujjain and Nashik. Some of the others are, Magh Mela and Gangasagar Mela. These are held annually at, Prayag and Sagar Island situated at the southern tip of Ganga Delta in the Bay of Bengal respectively. During these melas, devotees believe in taking a dip in the Ganges followed by praying to the Sun God.
Thus, we observe that Makar Sankranti is a festival which bears a lot of significance with many perspectives to it. The celebrations are diverse, delicacies prepared are distinct, methods of observing the festival are varied, yet the spirit and enthusiasm amongst people is the same! Such is the beauty and wonder of this festival connected with the very loved Sun God!
Let us all begin a new life with a bright light within us to shine brighter and brighter. May this Sankranti bring peace, prosperity, love and happiness in your life. Ganesha wishes all a very warm and joyous Sankranti!!
PN: Though, according to the Gregorian calender, Makar Sankranti arrives on the 14th of January every year, this year in 2016, Sun will enter the House of Capricorn around 1:27 am on the 15th of January. Hence all the religious customs and rituals should ideally be followed on the 15th this year.
Subscribe Our Newsletters