6 Mukhi Rudraksha: Importance and Benefits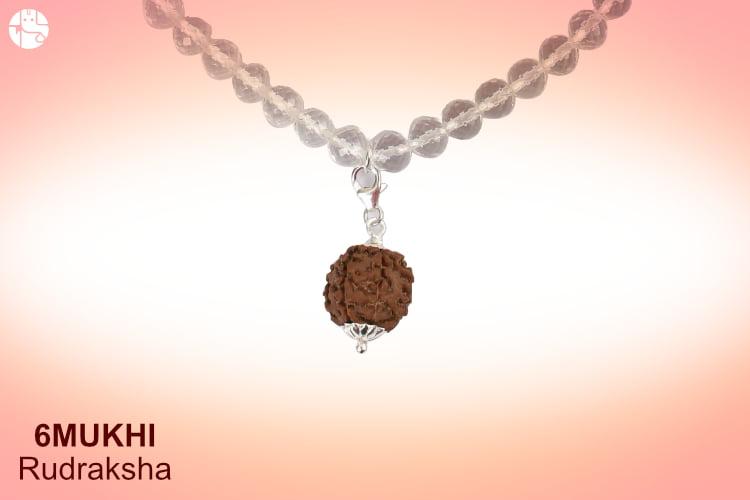 Bestowed with the blessings of Lord Kartikeya the 6 mukhi rudraksh is one of the most auspicious and holy fruit. Lord Kartikeya is the elder son of God Shiva and Goddess Parvati. The wearer of 6-mukhi rudraksha is blessed with the innate qualities of Lord Kartikeya and has a youthful appearance and courage.
The six mukhi rudraksha is governed by the planet Mars and hence it is very effective in nullifying the malefic effects of Mars on the wearer. It affects the Muldhara Chakra. Hence, it provides the wearer with mental inertia and makes him mentally strong yet calm. Its mool mantra is "Om Hreem Hoom Namah".
Importance of six face rudraksha
The combined effects of lord Kartikeya and planet Mars accelerates the importance of 6 mukhi rudraksha to greater level.
It pacifies the malefic effects of Mars and helps the native who have Mangal dosha in their birth chart.
The wearer becomes a warrior and faces all the challenges with great valour.
He is blessed with youthful appearance.
All his desires are fulfilled with less hindrances or struggle.
The wearer enjoys stability in all spheres of life.
It makes the wearer focused and grounded.
Benefits of wearing 6 mukhi rudraksha
The 6 mukhi rudraksha provides many benefits to its owner.
It makes the wearer active by removing dullness or laziness.
It enhances stamina and endurance of the wearer.
The wearer becomes capable of making great property for himself.
He also owns many vehicles.
It makes the wearer spontaneous and witty.
It helps the wearer take proper and timely decisions.
Health benefits of 6 mukhi rudraksha
It helps in reducing obesity
Helps relieve joint pain, especially the knee pain
Helps fight arthritis
It relieves a piles patient from pain
Purifying and energizing the six mukhi rudraksha
Though there are innumerable benefits of wearing 6 mukhi rudraksha, yet it needs to be purified and energized for achieving the maximum result. Anyone can easily buy the 6 mukhi rudraksha online but it should be worn on Tuesdays only. On Tuesday, the one who desires to wear this rudraksha should get ready for the puja and energise the beads by cleaning it with Gangajal at the dawn time. Keep nine peepal leaves on a copper plate and place the rudraksha over it. Smear sandal over it and offer fresh flowers. Chant the mool mantra 'Om hreem hoom namah' 108 times before wearing it. Overcome your fears and clear your mind! Book a Rudrabhishekam Pooja today.
This rudraksha can be worn in red silk or woollen thread as a chain or can be capped in silver or gold and worn as a bracelet. It can also be enshrined in the mandir at home.
It is important to buy a genuine rudraksha from an authentic dealer even if one wants to buy it online. A common man can also identify a real rudraksha by the water test. The beads should be dropped in a glass of water. If they float immediately, they can be considered genuine. The six mukhi rudraksha has six lines running clearly from one end to the other without breaking.
Nutshell
The holy six face rudraksha is blessed with divine powers and properties of Lord Kartikeya. It is ruled by the planet Mars. It can help attain qualities of a warrior, calmness, prosperity and many other health benefits. One should possess it and worship it with dedication and devotion to achieve desired results.
To Get Your Personalized Solutions, Talk To An Astrologer Now!
With Ganesha's Grace,
The GaneshaSpeaks.com Team