What Is PanchMukhi Rudraksha And Why To Wear It?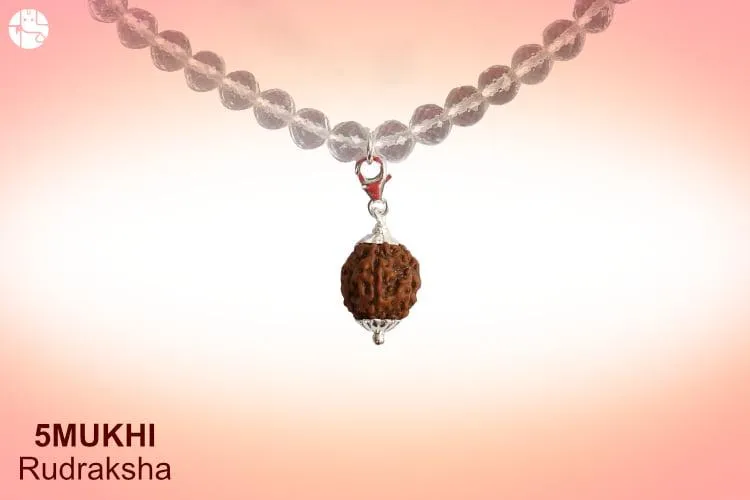 Panch Mukhi Rudraksha is one of the most productive Rudrakshas amongst all the beads. Research proves that the Rudraksha tree yields about 90% of Panch Mukhi Rudraksha beads. Many Brahmacharyas, Priests and Sadhus use Panchmukhi Rudraksha original mala to chant various mantras. Planet Jupiter is known for its uniqueness and is the ruling planet of the original Panch Mukhi Rudraksha. Thus, this bead is a very powerful bead that helps to represent one's own identity and increases the quality of uniqueness in oneself. There are two very powerful qualities of Panch Mukhi Rudraksha that helps the wearer in mental as well as spiritual growth. This Panch Mukhi Rudraksha bead puts all the chakra points in symmetry. Many Vastu people suggest placing Panch Mukhi Rudraksha in the home as it helps to protect every family member as well as is advantageous to everyone in the family.
Do you know why Original Panch Mukhi Rudraksha is best for every family member who is placed in the worship place at home? The answer is that this bead has the power to remove all the fluctuations of characteristics in a human body like Anger, Greed, Lust, Ego and affection. These characteristics of human nature play a great role in life as well as are prime reasons to rebuild or destroy one. Thus, Panch Mukhi Rudraksha is also known as a powerful bead as it has a direct impact on human nature. The ruling deity of Panch Mukhi Rudraksha is Kaalagni and is also another name of this Rudraksha bead.
This bead is useful for every age group, and there is no barrier to wear this bead. Rudraksha Panchmukhi can be worn by anyone. Well, Original Panchmukhi Rudraksha has the power to bring peace to mind and soul of the wearer. This Rudraksha Panchamukhi is well known to rescue adverse death. This Rudraksha helps to bring contentment, treasure, and well-being.
Rudraksha PanchMukhi Mrityunjaya Mantra helps to eliminate all the problems in one's life. The wearer should chant the Mrityunjaya mantra while wearing Panchmukhi Rudraksha. This bead is primarily found in Nepal, Thailand, Burma and Indonesia these countries are the producers of seeds of original Panchmukhi Rudraksha. One can wear this bead with silk or wool thread capped in gold/silver to get the maximum profit out of it. The Beej Mantra of Panch Mukhi Rudraksha is "Om Hreem Namah".
---
Overall Benefits Of Panch Mukhi Rudraksha:
One who wears Rudraksha Panchamukhi attains all the health benefits.
This bead has the power to bring peace to one's mind and soul. It also removes the variances of Human Nature, making the wearer calm and composed.
Panch Mukhi Rudraksha helps to maintain mental stability as well as plays a great role in the psychological growth of the wearer.
This bead gives the best results to the mind of the wearer. One who wears this power, Panch Mukhi Rudraksha, experiences positive effects on the mind.
This bead helps one to improve the respiratory system of the wearer.
Panch Mukhi Rudraksha has the power to calm the mind and helps in taking the right decisions in particular situations.
Many people use this Panch Mukhi Rudraksha as a lucky charm to boost their luck in different things.
Panchmukhi Rudraksha uses doesn't end here; it helps to cure loss of memory during memory lapses.
One who wears Panch Mukhi Rudraksha gets the benefit to escape from an unfortunate death.
This bead has the power to pacify the malefic effects of its Ruling Planet, Jupiter.
It helps one to seek peace, good health as well as plays a great role in strengthening one's mental peace.
Medically, people who suffer from obesity, blood pressure problems, heart problems, stress management issues, diabetes, piles etc. can be healed with original Panchmukhi Rudraksha.
With all the health benefits, this Rudraksha cures problems of liver, kidney, bone marrow etc., One should opt for this bead if he/she is suffering from such problems.
Book Panchmukhi Rudraksha to grab all its benefits!
---
Available Colors Of Rudraksha:
This Rudraksha is available in white, red, yellow and black colours. Every colour of Rudraksha has its importance. White Panchamukhi Rudraksha helps to boost self-confidence and eliminates one's problems in life. Red Panchamukhi Rudraksha should be worn to get rid of all the past sins as it burns all the Past Karmas of a person. One who desires a comfortable, as well as peaceful life should opt for yellow coloured Panchamukhi Rudraksha, whereas if one wants to gain spiritual benefits, health benefits, wealth, success etc., should opt for Black coloured Panchamukhi Rudraksha.
---
Procedure Of Wearing Panchmukhi Rudraksha
Before wearing Panchmukhi Rudraksha, it should be strengthened by a Brahmin Pandit in the temple of Lord Shiva.
This Panchmukhi Rudraksha involves Pran Prathista Pooja from the Brahmin Pandit, and one should wear it immediately this Pooja. Remember to be clean before wearing this bead, as it has a really powerful impact.
This Pran Prathistha Pooja should be scheduled by the Pandit as it is important to do this Pooja on a good date and day. Thus, the wearer should pay good attention to the date and day that may help him/her to bring good luck.
This bead is said to have a powerful impact on a person's life as well as energizes the surroundings too. One should thus take care of visiting some places like funeral services, home of a newborn baby etc. As this bead spreads, powerful radiation one should take care of places to wear it so that it doesn't harm anyone around the wearer.
Be careful to stay away from dirty places, or once you wear this powerful Panchamukhi Rudraksha, you should take care that your hands are not soiled.
In case one needs to remove this bead for any personal reasons, one should keep it in a worship place in a neat box.
Keep in mind that Panchamukhi Rudraksha brings happiness and peace. Thus, it's you who wants to benefit from it. You should buy it with your own money and shouldn't borrow it to buy this powerful bead to get maximum profit.
Beads of Panchamukhi Rudraksha should be tightly stringed so that any of the beads isn't misplaced.
One should avoid alcohol or non-vegetarian food while wearing Panch Mukhi Rudraksha.
The most preferred days to wear this Rudraksha Panchamukhi is Monday or Thursday.
One should make sure that this bead is cleansed with Gangaajal every day. This helps to preserve the purity of this bead.
One should oil Panchamukhi Rudraksha every day and pray it using incense sticks so that it gives positivity to the soul of the wearer.
One should buy Panchmukhi Rudraksha, whose natural contours are visible. There is the availability of Panchmukhi Rudraksha online, and one should take care that all the beads are proper and not cracked.
One who is truly devoted to this Panchmukhi Rudraksha will sense an attachment towards it and will see changes in himself/herself. One should always trust and keep patience with the natural way of working of Rudraksha.
Last but not least, Lord Shiva graces his blessings to the one who has trust in him. Thus, the wearer should always pray for blessings to get the maximum benefit out of Panchmukhi Rudraksha.
To Get Your Personalized Solutions, Talk To An Astrologer Now!
With Ganesha's Grace,
GaneshaSpeaks.com
---
---
Get 100% Cashback On First Consultation