Rudraksha for peace and welfare: Panch Mukhi Rudraksha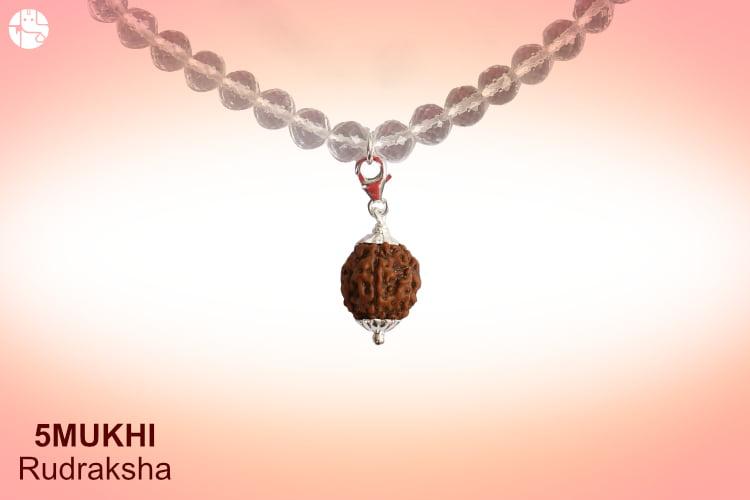 The five face rudraksha is the most commonly found and is known to be the most powerful of all. The five elements - the earth, sky, air, water and fire, are controlled and balanced by the panch mukhi rudraksha. It is also symbolic of the five Pandavas. The 5 face rudraksha represents Kaalagni Shiva. It is ruled by the planet Jupiter. It is most commonly worn by the sages and common people too. It awakens the Upa Guru in the wearer. This results in self- realisation and divine wisdom.
Importance of panch mukhi rudraksha
Though it is easily available and very common, the importance of 5 mukhi rudraksha cannot be questioned upon.
It helps in removal of malefic effects of the ruling planet Jupiter.
It enriches the wearer with intellect and wisdom.
It makes the wearer self-aware.
It is significant in chanting mantra and while doing any Jaap.
5 Face Rudraksha Benefits
Since the five face rudraksha balances the five elements, it helps in balancing and maintaining the wearer's good health and life.
It helps in enjoying all the comforts and luxuries of life.
It protects from untimely death.
It brings optimism in thoughts and life.
It attracts the benefic Jupiter and saves from its malefic effects
It removes the dullness and makes students interested in studies
All those who aspire to be singer, public speaker or have to attempt for some competitive examination are advised to possess this rudraksha.
Those who are shy, introvert or timid should wear it.
It relieves the patient of asthma and helps in curing problems related to the thyroid gland.
It helps in curing digestive problems.
It helps in maintaining cholesterol and blood pressure.
It can combat insomnia
One who wants to take full advantage wearing five mukhi rudraksha should soak these beads in water overnight. Then consume the same water in the morning on empty stomach.
Power of Five Mukhi Rudraksha
The panch mukhi rudraksha is powerful as it has the divine blessings of five devas - Lord Shiva, Lord Vishnu, Lord Ganesha, Surya Dev and Goddess Bhagwati. The combined divine powers of these Gods makes it possible for the wearer to find solutions to any life related problems. The wearer attains mental peace and overall healthy and happy life. It never lets the wearer deviate from the path of truth. The five faces of this rudraksha are symbolic of preservation, detachment, obligation, destruction and creation. You can also perform a Rudrabhishekam Puja to appease Lord Shiva, with our Vedic Purohits.
Take Aways
It should be taken care that rudraksha is not an ornament. It has spiritual and divine powers. 5-mukhi rudraksha also needs to be energized before wearing with proper puja. It should also be worshipped with chanting of its mool mantra "Om Hreem Namah". Without proper rituals wearer will not be able to take advantage of the powers and benefits of panch mukhi rudraksha. These beads should be worn on Thursday or Monday.


To Get Your Personalized Solutions, Talk To An Astrologer Now!
With Ganesha's Grace,
The GaneshaSpeaks.com Team