Two Mukhi Rudraksha – Union of Shiva and Shakti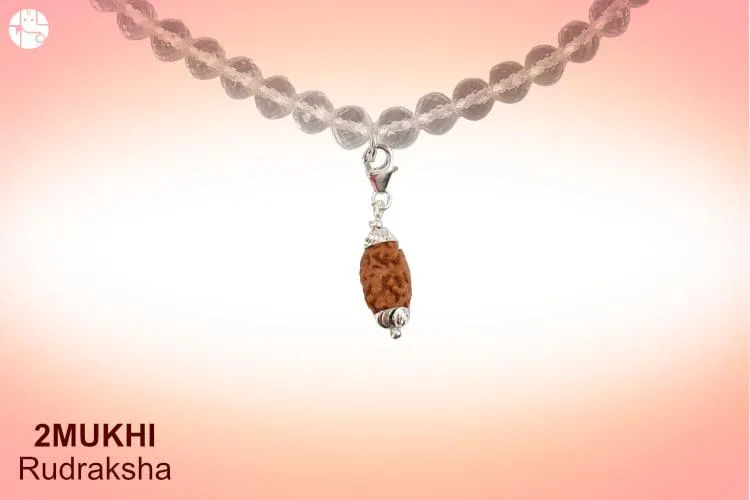 Ruled by the planet Moon, the divine do Mukhi rudraksha signifies the unification of Lord Shiva and Maa Parvati. The 2 Mukhi Rudraksha is symbolic of balance between the masculine and feminine powers in nature, as it represents the Ardhnareshwar form of the deities Shiva – Parvati. This form of rudraksha strengthens the foundation of the truth that male and female energies exist in a single body.
---
Purification before embracing the rudraksha
The 2 faced rudraksha comes naturally with two faces or lines. In Nepal and India, it is usually found in an oval shape. Regardless of where you buy it from, if you wish to wear the 2 Mukhi rudraksha you should first purify it with Gangajal. It is important to energize the beads and wear on a Monday only. So, wake up early in the morning, on Monday and get prepared for a small puja. Wash the rudraksha with Ganga jal and then place it on nine leaves of peepal tree.
Apply sandalwood powder and offer flowers to it. With dedication and concentration chant "Om Namah" 108 times and wear the rudraksha or place it in the mandir. This Rudraksha should be worn in silk thread or encapsulated in gold or silver in the form of chain or bracelet. With benefits of 2 Mukhi rudraksha, you can also book Rudrabhishekam Pooja today to gain health, wealth and peace of mind
---
Benefits of 2-mukhi rudraksha
There are many benefits of wearing 2 Mukhi rudraksha. A few are mentioned below.
It helps in decreasing the malefic effects of Moon.
It relieves the problems related to kidney, intestine and the left eye
It enhances harmony in relationships
It removes obstacles in the path of marriage
It helps childless couples for begetting children
The wearer has a successful partnership in business
It strengthens friendship and other relations
---
Importance of Two Mukhi rudraksha
Other than health benefits, 2-mukhi rudraksha is also important for many other reasons. Its importance lies in the fact that it has divine and mystic powers.
It blesses the wearer with total contentment
It removes fear and gives emotional stability
Its wearer and also the family gains respect in society
---
Nutshell
With the blessings of Lord Ardnareshwar imbibed in it, the 2 Mukhi rudraksha removes all obstacles in the wearer's life and gifts him divine peace of mind. The mere touch of such a pious element can bring positivity in life. By just chanting "Om Namah Shivay" with a rudraksha string in hand, anyone can bridge the gap between God and Man.
To Get Your Personalized Solutions, Talk To An Astrologer Now!
With Ganesha's Grace,
GaneshaSpeaks.com
---
---
Get 100% Cashback On First Consultation